« January 2012 | Main | March 2012 »
Sunday, February 26, 2012
McCamley Announces Candidacy for House District 33
Former Doña Ana County Commissioner and Small Businessman to Focus Campaign on Economy, Education, Energy, and Ethics. Bill McCamley formally announced his candidacy for House District 33 in a statement released Sunday:
"First I want to thank Representative Gutierrez for her service. She has been a tremendous public servant and representative of our district. I wish her good luck in her candidacy for New Mexico Democratic National Committeewoman.
"I am running for House District 33 because I want to create jobs for the region, help our kids get those jobs with strong education programs, create new energy resources locally, and clean up corruption. I will also work hard to support neighborhoods in Las Cruces and Mesilla, keeping our communities great places to live."
"As someone who has been employed in the public, non-profit, and now the private sector, I bring the experience necessary to make a true difference and get things done. I will work hard in the campaign and as a Representative, knocking on every door, listening to every voter, and being a voice for the communities of Southern Las Cruces and Mesilla."
McCamley will focus on the following issues in Santa Fe:
Economy: State regulations should be streamlined and a "one stop shop" process should be created, making it easier for businesses to do what they do best; create jobs. Furthermore, government entities should work to fund targeted infrastructure and training programs to attract new jobs to the area.
Education: We need to put our students in a position to graduate and get a good job. Entities such as the new Early College High School on the campus of NMSU should be supported ad replicated.
Energy: With gas prices on the rise again, we can't take our eye off of the ball regarding energy. Solar, wind, and bio- fuels, all things that we can develop locally, should be promoted and developed.
Ethics: Gridlock, corruption, and a refusal to enter the 21st century have led many voters to believe that Santa Fe is broken. Transparency, new ethics policies, and getting big money out of elections will all help to restore confidence in the government.
McCamley has lived in Doña Ana County for 20 years. When he served on the Doña Ana County Commission from 2005 to 2008, his district included 8 precincts from House District from 33. He was Chairman of the Commission in 2005 and Vice Chair in 2008. McCamley has worked as the Director for the New Mexico Rural Development Council, at NMSU, and for New Horizons West, an educational non-profit in Animas, NM. He is currently employed with ROJO Ink, a Las Cruces custom clothing company that feeds starving children in the world's poorest nations.
McCamley has a BA from New Mexico State University, where he served as President of the student government, and a Masters in Public Policy from Harvard's John F. Kennedy School of Government.
February 26, 2012 at 12:37 PM in 2012 Legislature Races, Candidates & Races | Permalink | Comments (3)
Friday, February 24, 2012
We gots to get this bill signed! SB9
Great creative video from ClearlySK. Describing the SB9 bill and how important it is for Governor Susana Martinez to sign it into law. Keep our tax dollars here in New Mexico.
When life hands you lemons, make those lemons pay their fair share in taxes.
February 24, 2012 at 12:59 PM in NM Legislature 2012, Susana Martinez, Taxes, video | Permalink | Comments (0)
Senator Dede Feldman Will Not Seek Re-election in Senate District 13
Special Message and Post Session Wrap up from Dede
Dear Friends, Neighbors and Constituents,
Sixteen years ago I ran for the New Mexico Senate using a theme, "A Passion for the Possible." I have worked hard to keep that passion alive and push the envelope when it comes to affordable health care, good government, consumer and environmental protection.  I've had my share of victories and defeats.  I count my successes by the scores—a Do-Not-Call bill, a Fund for People with Brain Injuries, a Nurse Advice Line, lower prescription drug prices, controls on health insurance companies, a statewide water plan, and several laws to control campaign spending and provide open government.
Now it is time for me to move on into new fields, and clear the way for someone new to carry the torch for Senate District 13 in Santa Fe. I have been honored and humbled to serve the people of the North Valley—and beyond.  Some of my most satisfying moments have come in partnership with my constituents, working on common problems and giving you an opportunity to participate in important decisions that should be decided by citizens, not just office holders.  In a democracy, after all, citizens are the highest office holders.  And so, I am not stepping down as much as branching out into the real world outside of the Roundhouse.
But don't expect me to keep quiet or vanish from the scene.  Much has yet to be done.
I believe that every person has a project whether they are conscious of it or not.  It's the thing that drives you, that defines you and gives your life meaning.  My project has been to give ordinary people a voice in what goes on in this country, to leave things a little better than I found them and to give back, to make available to others some of the economic opportunities, some of the educational benefits that this country has offered to me.
I have focused on what I considered to be the greatest injustice: Health Care.  Martin Luther King said it best: "Of all the forms of inequality, injustice in health care is the most shocking and inhumane."
I will continue this focus in writing and journalism projects, a renewal of my communications company, and support for the causes I hold dear. I will still be walking the streets and talking the talk for candidates I believe in, and who knows, someday I may become one again. But now I must move on.   I will be on the job throughout the remainder of my term, which ends in Jan. 2013.  You will hear from me regularly with updates about state and local issues, campaigns and opportunities for action.  I will step up my blog and continue my e-mail newsletter. And stay tuned.  I am working on a book, hopefully out next year, on how the New Mexico legislature really works.
After the Dust Has Settled Wrap-Up
It wasn't just me who thought things were a bit slow.  Only 77 bills passed the legislature this time—the fewest for a short session since 1976.
Among the good ones were several Memorials that don't require the Gov.'s signature. One to recommend that the US Constitution be amended to overturn Citizens' United, another for a study of a basic health care plan for low-income folks.
Three constitutional amendments will be on the ballot to clean up the PRC by removing the insurance division and the corporations' registry, and requiring commissioners to meet basic educational standards.
Two good bills are now on the Governor's desk—call 505-476-2200 to urge her to sign them.
1) SB 9 closes tax loopholes enjoyed by out-of-state "big-box" stores and levels the playing field for small businesses. It also actually lowers the corporate income tax rate slightly.
2) HB 74 stops the Conservancy District from requiring absentee ballots to be notarized to be valid in their elections. The practice has discouraged voters and depressed turnout in elections that fly below the radar screen.
Good bills that died: Sen. Jennings' compromise on Drivers' Licenses; Sen. Wirth's measure to require transparency for "Super Pac" contributions; my bill to ban fireworks in time of extreme fire danger; Sen. Bernadette Sanchez' bill to stem the rising tide of heroin and prescription drug overdoses; a bill banning legislators from immediately becoming lobbyists; Sen. Michael Sanchez' bill to make home foreclosures fairer, and Rep. Brian Egoff's tax credit for energy efficient home purchases and green renovations of foreclosed properties.
Thank you once again for the opportunity to serve you.  It has been a high point of my life.
With a heavy heart—but confidence in our community, 
Sen. Dede Feldman
February 24, 2012 at 12:19 PM in Candidates & Races, NM Legislature 2012 | Permalink | Comments (6)
Senators Encourage FCC Effort to Make Campaign Advertisements More Transparent

Sen. Tom Udall (D-NM) and seven other senators issued a letter to Federal Communications Commission Chairman Julius Genachowski yesterday encouraging swift implementation of a proposed rule to make political advertisements more transparent.
"With the 2012 election season already underway, citizens have a right to know who is purchasing public airtime to support or oppose candidates," the senators wrote. "More people rely on TV stations for information than any other medium, making transparency in advertising critically important.  However, the creators of campaign ads often hide behind confusing organizational names that do not provide adequate information about who is actually paying for the ads, or worse, can actually mislead the public about the identity or purpose of the advertisement.
"The online posting of information in broadcast stations' political file cannot wait until months after the election; citizens deserve to know who is responsible for funding these advertisements today."
This problem has become widespread in this election cycle with the Citizens United decision creating a proliferation of ads backed by opaque outside groups. A recent analysis by OpenSecrets.org found that, as of January, more than 95% of spending on the 2012 elections had been backed by outside groups as opposed to candidates and political parties. At the same point in 2008, the ratio was roughly 50-50.
The proposed rule would require broadcast stations to make files related to political advertisements available publicly online. The stations are currently required to make the files available to the public, but only in paper form. Additionally, the Senators requested that the information be posted in a searchable database to make it easier for voters to find information about the ads they are viewing.
In addition to Udall, the letter was joined by Sens. Jeff Merkley (D-OR), Al Franken (D-MN), Sheldon Whitehouse (D-RI), Michael Bennet (D-CO), Mark Begich (D-AK), Daniel Akaka (D-HI), and Jon Tester (D-MT).
The full text of the letter follows below and is available online here.
February 24, 2012 at 12:03 PM in Citizens United, Sen. Tom Udall, Transparency | Permalink | Comments (0)
HIV/AIDS Interview With CD1 Candidates; Guest Blog by Marshall Martinez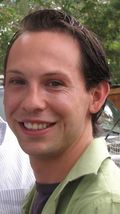 Following is a guest blog by activist Marshall Martinez.
Roughly a month ago, I wrote a guest post on Democracy for New Mexico about Federal HIV Policy issues.  (that blog can be found here.)
After writing that blog, I interviewed the 3 Democratic candidates for the First Congressional District house seat about these same issues.   The goal of this post is not to endorse any of the candidates.  It is not intended to portray any candidate in a better or worse light than the others.  My goal is purely to remind the public of the importance of this issue, and relay to the public the thoughts of my local candidates and elected officials on this oft-forgotten issue. 
In 2012, HIV continues to have a deadly grip on our society and there are many ways that the federal government can help us avoid necessary deaths and transmission of this virus.  This issue will be near the top of the list of considerations I use when choosing my candidates for the June 5th Primary and November 6th General Elections.  I implore you to put them somewhere on your own list, as well.
I interviewed Michelle Lujan Grisham—current Bernalillo County Commissioner and former Secretary of the NM Dept. of Health; Eric Griego—NM State Senator and former ABQ City Councilor; and Marty Chavez—former NM State Senator and Mayor of ABQ.
My first topic of discussion with the candidates was a relatively black and white issue: Syringe Exchange Ban on a federal level.  This ban works much like the "Global Gag Rule" prohibiting any federal funding to be awarded to any organization that also provides clean/new needles to IV drug users to help prevent transmission of HIV and other blood-borne pathogens.
All three of the candidates immediately answered this question the same, they would approach such an issue from a public health perspective.  They understood that morality and politics have no place in this particular debate, as we are simply putting more people at risk because we as a society have judged their behavior as unworthy of protection.  Chavez called the issue a "low hanging fruit" for the conservatives who believe they could easily win on an issue that is hard to explain to the average voters,  Griego stated that the issue "needs to be de-politicized" and Grisham stated that the "ideology behind the issue is inappropriate and irresponsible."
Criminalization of HIV-positive people is a major issue in the US.  Many states have laws that criminalize or increase the severity of crimes based on HIV status.  There is no doubt the goal of this was to reduce transmission because of malice or negligence, but we now know as advocates that is not the outcome achieved. In discussing this issue, Grisham immediately said we need to do more work on education about the issue, since this is still a problem.  She also insisted that we focus our energy on prevention, rather than continuing to spend resources enforcing criminalization statutes.  Griego said the first step in addressing these issues is to think about public health; once we have discovered what works to expand public health, we do the "right thing," regardless of fears or feelings of morality.  Griego also said we can count on him not to support criminalization in New Mexico if any were to be introduced.  Chavez, while questioning the role of the federal government in state laws on criminalization, pointed out his record as a state senator—sponsoring the difficult and often trailblazing legislation at the time, including his law that finally outlawed spousal rape in NM.  The connection he made was that, though de-criminalizing HIV might not be popular even today, it's the right thing to do and he would be happy to support it. 
The issues get a bit more difficult, having to navigate budget/revenue issues and healthcare reform, while keeping the discussion focused on HIV policy.  The candidates didn't have a difficult time, but I sure did.  AIDS Drug Assistance Program (ADAP) is funding used to help low-income and underinsured people living with HIV afford their medications.   States face budget cuts in every area and some states have already begun to develop waiting lists for ADAP funding, preventing thousands of Americans from accessing the life-saving medications they need.  Grisham immediately made connections that I didn't have to draw for her: "treatment of the virus is prevention of the virus. We have to set the framework for priorities in our nation's budget, which means we have to stop having the conversation as a budget conversation and have it as a policy conversation as well."  Chavez explained that we have severe budget issues in this nation, drawing the picture of borrowing .42 for every dollar spent from foreign investors.  Griego drew the largest distinction on this particular issue, pointing out that he supports more broad changes to healthcare policy in America, rather than tweaking a still broken system.  Griego was quick to demonstrate that there are many barriers to making HIV medications—and all life-saving/improving medication more affordable—including but not limited to patent laws, HMO/pharmaceutical formulary revisions, and our lack of better high risk insurance pool policy or "public option" in Federal Healthcare Reform.    It's not easy to parse budget, healthcare, and HIV Policy issues clearly.  Each candidate demonstrated a different understanding and approach to these issues, though all agree clearly that access to HIV medications is our moral obligation.  
Rounding up the conversations, I discussed prevention methods and their funding, how to make this issue more "sexy" on a societal level, and my own less frequently discussed issue of doctors giving positive test results without knowing or considering the emotional and psychological weight it has on the patient.  The three candidates had much to say on these topics, though each of them were flattering and supportive in a similar fashion—telling me that the work I am doing is helping to raise the public profile of HIV Issues.  I appreciate the flattery guys, but let's not add to my already growing ego!!!
In all seriousness, each of the candidates approached this topic more conversationally, bringing in much more of their individual experiences and ideas about policy overall. 
Griego pointed out his success with a Public Safety Tax for the city and creating programs that are geared toward prevention, his recent accomplishments on Addiction Issues in the South Valley and understanding a community approach to prevention and healthcare overall.  Griego has a wonderful grasp on community based approaches to healthcare and especially prevention techniques for multiple issues, including HIV.  Coming from a community that is close-knit and knows that positive relationships can have a huge impact the prevalence for higher risk behaviors, he understands that approaching high risk behaviors with our youth is the key to creating a healthier generation and or target of reaching a Generation without AIDS, soon.  
Chavez has a lengthy legislative and executive history with many policies of which to be proud.  He reminds us of the creation of the "311" system in Albuquerque, which is all about relaying information to people in Albuquerque, and points out that in a digital age, when technology puts information at the tip of or fingers there is no reason that we can't create more easily accessible information and resources for doctors, patients and average citizens regarding HIV.  He also pointed out that I do not know if our current Representatives' or Senators' offices would be able to direct a caller to information on testing, preventing or accessing counseling for HIV, if he were the CD-1 Representative his office will be able to direct constituents to HIV Information.  
Grisham has much public health information to backup her understanding of these issues.  She pointed out that we ought to create incentives for medical schools to develop curriculum that helps students deliver HIV positive test results with care for the emotional and psychological aspects.  Grisham also understands, with incredible nuance the need and benefit of evidence-based prevention methodology.  With such rich background in Public Health, Grisham is able to speak eloquently to the need to have full policy discussions around these issues, rather than trying to pull the larger issue away from the budget, prevention or healthcare debate. 
It is fair to say that we are very fortunate to have such understanding, compassionate, and morally sound Democrats running in the First Congressional District, at least with Regard to HIV Policy.  Whether it is Mayor Chavez speaking with remorse and grief over the loss of friends in the 80s and 90s to this horrific plague; Senator Griego speaking with passion to the abilities we have to prevent and even eradicate this plague from our society with the strength of a community-based approach to healthcare; or Commissioner Lujan-Grisham delving deep into the intricate details of policy and public health, ready to debate with the most conservative personality backed up by evidence; we are blessed in the First Congressional District. 
All three candidates promised they would continue to research, discuss, advocate for, and champion the issue of HIV prevention and treatment.  I challenge you, as voters and constituents in this district, to hold these candidates accountable to their promises; I will continue to do so to the best of my ability.  This is an issue of moral and fiscal obligation in our time, 30 years after the onset of this plague, and we must band together to eradicate it from our world.  
February 24, 2012 at 09:25 AM in AIDS/HIV, Eric Griego, Guest Blogger, Healthcare, Martin Chavez, Michelle Lujan Grisham, Public Policy | Permalink | Comments (2)
Thursday, February 23, 2012
The War on Women and the Pass on Men
Women we have to rise up again! We have to. The news last night was all about women's private parts. The outrage of the past couple of days is the consideration of the Virginia legislature passing a law that women having an abortion would have to have a trans-vaginal probe.  This comes on top of the other outrage over the past weeks regarding access to birth control pills.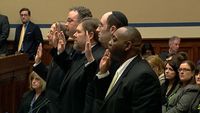 Representative Darrell Issa R-CA conducted a hearing on contraception a few days ago, here is a recap of that men only meeting. The photo to the right is the panel, and it speaks louder than words.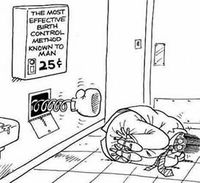 What is missing from this debate is the other component of getting pregnant, the man's penis. When sitting watching the republican debate last night and hearing the candidates proclaim moral high ground on women's bodies, a commercial came on for Viagra, yep, the hard-on medicine that is not even mentioned in this discussion. How has Viagra changed the pregnancy rates? Why is Viagra covered by insurance companies and accepted by the moral conservatives? When the debate continued I could not help but imagine who on the panel uses Viagra.
Another topic missing from the discussion is condoms. How about that guys? That always worked to catch the soldiers marching to an egg. There are other ways to prevent pregnancy besides birth control pills, morning after pills and abortion, all of which are in the control of a woman. The males could take easy responsibility as well. But that would be no fun because the men could not continue their own sexual enjoyment on a whim and their perceived right and desire to control women's bodies.
So, no abortions, no birth control, vaginal probing yes, Viagra big yes, condoms not so much.
Oppression of Women
The oppression dates back centuries. Catholicism and modern day Christianity was and still is based on the oppression of women. It is hard to focus on this post because of the outrage I feel. Where to start? It seems like most of recorded history has had oppression of women, and now here we are in 2012 still fighting the same battles. The photo to the right and down is of a witch trial court taken 1692. Not much different then the congressional panel above taken Feb. 2012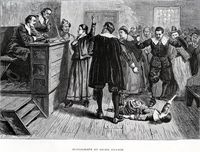 Well, the witch trials are one good doozy of a place of absurd craziness:"During the Great Hunt, witches were accused of "impractical" and "traceless" crimes. They had intercourse with the devil and various demons at unlikely places and times. "Unregistered" babies from hidden pregnancies (i.e., no known babies were missing) were scarified and/or eaten, with no remains ever found. Sacred objects of unspecified origin were spoiled and misused.Global disasters were caused that brought no profit whatsoever to the accused, e.g., hail, caterpillars, droughts, floods, plagues. All in all, accusations were identical irrespective of time and place of the trial, but no solid evidence ever turned up."  This quote was taken from the article; Misconceptions about the Great Witch Hunt. This article claims the great witch hunt took place between 1600 to 1750, and that less than 1,000,000, one million that is woman who were tortured and killed, lots of brutal torture to drive the devil from the wretched woman. Don't forget the burned at the stake way of killing too, good ole hangings, and all done on display for the public's enjoyment.
Women's Suffrage Movement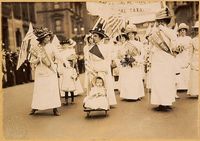 Let's fast forward 70 years to the Women's Suffrage movement lasting 100 years, from 1820's to the 1920's. From History.com: "On Election Day in 1920, millions of American women exercised their right to vote for the first time. It took activists and reformers nearly 100 years to win that right, and the campaign was not easy: Disagreements over strategy threatened to cripple the movement more than once. But on August 26, 1920, the 19th Amendment to the Constitution was finally ratified, enfranchising all American women and declaring for the first time that they, like men, deserve all the rights and responsibilities of citizenship." So, not even 100 years ago the US women got the right to vote.
The Equal Rights Amendment has never been ratified.
The strong women of the time kept fighting for our rights. In 1923, the National Women's Party proposed an amendment to the Constitution that prohibited all discrimination on the basis of sex. First brought before Congress in 1923, the Equal Rights Amendment has been introduced into every session of Congress between 1923 and 1972. In its original form, the ERA advocated for the end of gender bias in 18 short words: Men and women shall have equal rights throughout the United States and every place subject to its jurisdiction.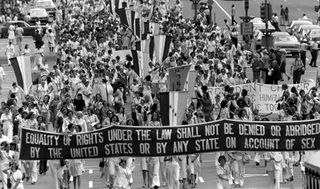 The amendment was rewrote in 1943: Equality of rights under the law shall not be denied or abridged by the United States or by any state on account of sex.
After 50 years of inaction, "in 1972 the ERA was sent to the states for further action. For the amendment to become law, three-quarters of the states needed to ratify the ERA within a 7-year time frame. Although reaching the magic number of 38 states initially seemed likely, strong opposition to the ERA surfaced among far-right religious groups, states' rights advocates, businesses, and other traditional organizations. By 1977 only 35 states had ratified the ERA. After much public pressure, Congress extended the deadline for ratification to June 30, 1982. However, the tide had already turned by 1980 when the Republican Party removed support for the ERA from its platform. That same year, the election of Ronald Reagan as president ushered in a significantly more conservative era." For more of this ERA history see this link.
Roe v. Wade
Now we move onward to the battle over a women's right to choose, the very famous Roe v. Wade case. One of the most private decisions between a woman and her doctor that the right wing republicans and some democrats just cannot help getting involved with and passing laws about. The Supreme Court ruled on this right to choose and issued its decision on January 22, 1973, with a 7-to-2 majority vote in favor of Roe.
Launch a new Women's Lib Movement 
If anyone told me we would be having a discussion over the rights of women to use birth control in 2012 I would say you are you are joking. The right for a woman to choose what to do with her body I could believe would still be being fought, but not with so much vigor and ability to win. 
We must elect democratic women to office. We have to encourage women to run in all levels of government. Remember we have a strong woman candidate here in New mexico running for Congressional District 1, Michelle Lujan Grisham. We need to bear pressure on all men to keep our fight and rights on the front burner. We must make sure that we keep control of the NM State Legislature, many of these new laws are being passed at the state level. In my opinion it is an all hands on deck call. We must stand up for the woman's rights our fore-mothers, and sisters fought so hard for. The oppressors never rest.
Maybe we really have to Burn our Bras this time.
February 23, 2012 at 06:08 PM in Michelle Lujan Grisham, NM-01 Congressional Race 2012, Women's Issues, Women's Right to Choose | Permalink | Comments (5)
Governor Martinez, Can't You See the Elephant in the Room?
From ProgressNow New Mexico.
"We can do so much more to level the playing field for our small businesses, to put more New Mexicans back to work."
-Governor Susana Martinez, 2012 State of the State Address
Earlier today, Governor Martinez signed into law her self-described "Major Tax Reform Package" that benefits her campaign donors while costing state and local governments $50 million per year in lost revenue. Noticeably absent from this "major" package of bills is SB9, the bi-partisan legislation that would lower the tax burden on all of New Mexico's most successful businesses.
SB9 is now the infamous "elephant in the room," as it represents the most common-sense measure to level the playing field for New Mexico businesses, but is one the governor has yet to sign. SB9 would close the egregious tax loophole that allows "big box" stores like Best Buy to pay a lower tax rate than established local businesses like Baillio's. Unlike the bills Martinez signed today, SB9 is a revenue neutral bill that would reward our most successful businesses by lowering their corporate income tax rate, thus allowing them to create new jobs and invest in our local communities.
Instead of ensuring local businesses have a fair marketplace in which to compete, the tax bills Governor Martinez signed today will reduce taxes exclusively for the construction and manufacturing sectors, two industries that contributed almost $900,000 to Martinez's gubernatorial campaign. These contributions included more than $350,000 from home builder Bob Perry, her single largest individual donor.
"The legislature gave the governor the tools to reward every successful New Mexico business, not just those who can afford to give the biggest political donations. Let's hope that the governor does the right thing and signs SB9 into law as part of her next tax reform package," says Pat Davis, Executive Director of ProgressNow New Mexico.
February 23, 2012 at 02:49 PM in Business, NM Legislature 2012, ProgressNow New Mexico, Susana Martinez, Taxes | Permalink | Comments (0)
Planed Parenthood Action Fund Endorses Martin Heinrich for U.S. Senate
PHOTO at right: Planned Parenthood of New Mexico CEO
Jenny Black talks prevention with Martin Heinrich, February 10, 2012.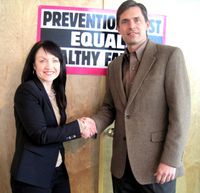 The Planned Parenthood Action Fund announced its endorsement today of Democratic candidate Martin Heinrich in his race for the U.S. Senate in New Mexico. The Planned Parenthood Action Fund is the advocacy and political arm of Planned Parenthood Federation of America, the nation's leading reproductive health care provider and advocate.

"You have been a strong supporter of women's health and we know you will continue to be a dedicated advocate for our organization," said President of the Planned Parenthood Action Fund Cecile Richards in a letter to Heinrich.
"For 95 years Planned Parenthood has provided women and families in New Mexico with vital health care services and education and it is truly an honor to receive their endorsement," said Heinrich. "New Mexicans can count on me to continue to stand up for women's health and reproductive rights, and support policies based on commonsense and science, not the demands of the special interests and ideological crusaders."
Martin Heinrich is a longtime champion of women's rights. From his earliest days in Congress, Heinrich has stood up for women's health and equality, including a woman's right to affordable health care and the right to choose. When Republicans in the House sought to restrict how women with private insurance could spend private dollars through the Stupak-Pitts amendment to the Affordable Health Care Act, Heinrich voted no. When the Republican majority tried to cut off federal funding to Planned Parenthood, which provides essential health services to one in five women at some point in their life, Heinrich fought back.
February 23, 2012 at 03:22 AM in 2012 NM Senate Race, Candidates & Races, Human Rights, Rep. Martin Heinrich (NM-01), Women's Issues, Women's Right to Choose | Permalink | Comments (4)
Tuesday, February 21, 2012
District Judge Releases New State House Redistricting Maps for Supreme Court Consideration
By Sterling Fluharty, Owner of Southwest Political Services, www.swpsnm.com
District Judge James Hall released two "preliminary" redistricting maps for the State House last night at 8:00pm.  These maps were drafted at the request of the New Mexico Supreme Court.  They are now available on the website of the New Mexico legislature.
Prior to the Supreme Court's involvement, Judge Hall had adopted Executive Alternative Plan 3, which, according to the Supreme Court, had following features: 1) "the lowest population deviation between districts," 2) "it adhered to the Voting Rights Act," 3) it incorporated the "Multi-Tribal/Navajo Nation plan," 4) "it reasonably satisfied secondary reapportionment policies," and 5) it decided partisan considerations were secondary.  Democrats appealed this map, which had been favored by the Governor, to the State Supreme Court.
The Supreme Court ordered Judge Hall to follow New Mexico's guidelines for redistricting: 1) "Maintaining low population deviations from equal districts using data from the most recent U.S. Census," 2) "Comporting with the Voting Rights Act and federal constitutional standards," 3) "For purposes of Section 2 of the Voting Rights Act, only eligible voters affect a group's opportunity to elect candidates," 4) single-member districts, 5) contiguous and compact districts, 6) respecting political and geographic boundaries, including neighborhoods, 7) "Preserving clear communities of interest" that share "common social, economic, and cultural interests," 8) "Preserving cores of existing districts," 9) minimizing contests between incumbents, and 10) "a judge should not select a plan that seeks partisan advantage," so "partisan bias" needs to be considered.
The Supreme Court shared its conclusions with Judge Hall: 1) "precise population equivalence" cannot be the highest priority, 2) Executive Alternative Plan 3 "did not undergo the same scrutiny for partisan bias that the majority of plans previously considered had undergone,"  3) incumbent pairings "contributed to the partisan performance changes in the plan,"  4) House District 63 in and around Clovis needs to remain an "effective majority-minority district," 5) include the Multi-Tribal/Navajo Nation plan without any change, 6) the regions selected for the three pairings were appropriate, but it needs to be partisan neutral, 7) the District Court was not obligated to adopt the State House map in House Bill 39, and 8) the Governor was rightly allowed to submit redistricting plans.
The Supreme Court sent the case back to Judge Hall and provided "Remanding Instructions": 1) use an expert, 2) parties should not submit additional evidence, 3) "consider historically significant state policies," 4) as allowed or justified by New Mexico guidelines, use "greater population deviations," 5) parties may submit briefs and reintroduce previous maps, 6) Deming, Silver City, and Las Vegas should be kept whole in districts by using greater population deviations, 7) "devise a plan that is partisan-neutral and fair to both sides," 8) any Democrat-Republican consolidation "should result in a district that provides an equal opportunity to either party" or "some other action may be taken to mitigate any severe and unjustified partisan performance swing," 9) District 63 must become an "effective, citizen, majority-minority district as that term is commonly understood in Voting Rights Act litigation, and as it has been represented, at least in effect, for the past three decades," and 10) finish by February 27.
The new maps from Judge Hall succeed at meeting most of the requirements set out by the Supreme Court.  Brian Sanderoff was employed as an expert.  Apparently parties did not submit additional evidence and state policies were reviewed.  Population deviation increased modestly, particularly outside of tribal areas, and stayed within the accepted overall range of plus or minus five percent.  Deming, Las Vegas, Mountainair, and Tijeras were unified.  The extent to which geographic boundaries like the Rio Grande were respected appears to have not changed.  Single-member contiguous districts were preserved.  District compactness and core retention both increased slightly.  The Multi-Tribal/Navajo Nation plan was preserved.  The incumbent pairings stayed at three and in Central Albuquerque it was partisan neutral.  And the maps were submitted a week before they were due.
The new maps from Judge Hall continue to split a few communities of interest in Albuquerque, such as the International District, neighborhood associations like Academy Acres North and Taylor Ranch, and historic neighborhoods like Huning Highland.  Silver City remained split between districts.  The Supreme Court may consider whether these and other examples constitute "clear communities of interest."
Judge Hall's latest maps lack any calculation or mention of the voting-eligible population.  The Supreme Court explained that when determining whether a map fulfilled the conditions of the Voting Rights Act, "the question is whether the minority group has a citizen voting-age majority in the district."  This was a general statement, but the Supreme Court also specified that District 63 must become an "effective, citizen, majority-minority district as that term is commonly understood in Voting Rights Act litigation, and as it has been represented, at least in effect, for the past three decades."  Before redistricting, the voting-age population in District 63 was 54.6% Hispanic.  The executive map approved by Judge Hall reduced the voting-age population in the district to 54.0% Hispanic.  According to census data on citizenship status for the counties and census tracts that coincide with the precincts in District 63, the new maps create a district with a voting-age population of 17,973, of which 10,038 (55.9%) were Hispanic, and a voting-eligible population of 15,865, of which 8,032 (50.6%) were Hispanic.  The Supreme Court may not consider this slight majority "effective."
It remains uncertain whether the Supreme Court will consider the new maps from Judge Hall "partisan-neutral and fair to both sides."  The political performance for both of the new maps is 38 Democratic and 32 Republican districts.  These numbers happen to coincide with the political performance for the districts as they are currently drawn.  But the political performance model used by Judge Hall determined statewide voting over the last decade was 53% Democratic and 47% Republican.  If the Supreme Court decides that proportional representation is the best way to remove partisan bias, then they may prefer a State House map that contains 37 Democratic and 33 Republican districts.  But this scenario may only happen if the Supreme Court believes that increasing the number of Democratic districts from 36 in the executive map to 38 in the new Judge Hall maps meets their definition of a "severe and unjustified partisan performance swing."
February 21, 2012 at 03:51 PM in Democratic Party, Redistricting, Republican Party | Permalink | Comments (0)
Monday, February 20, 2012
City Redistricting is More Than Lines on a Map
Provided by Contributing writer Lora Lucero.
The Albuquerque City Council is poised to take final action on Wednesday, February 22, on its preferred plan for carving up the nine city council districts.
The Council does this every 10 years following the US Census to make sure that we adhere to the "one person, one vote" goal.   Clearly, most of the city's growth in the past decade has occurred on the West Side, thanks to our leaders' pro-sprawl policies. And so it's time for the people of the West Side to have a third council district.
There are many ways to skin this cat, but it appears the five Republican councilors have decided "Plan L" is the map du jour.  "Plan L" essentially eliminates District 3 by squishing Districts 2 & 3 together, creating a "small nation" says Councilor Debbie O'Malley who represents District 2.
The problem with Plan L District 2 is the impact it would have on representation for downtown Albuquerque.
The new, enlarged District 2 would have approximately 30% of the city's "poor" and "very poor" streets; along  with approximately 40% of the city's 5-year road rehab projects.
The new, enlarged District 2 would have 23 of the city's 27 redevelopment areas.  Nearly 25% of the GO Bond projects would fall into a single district.
The new, enlarged District 2 would have the vast majority of low income census tracts and all of the federally-designated "pockets of poverty."
That means one councilor would be advocating for the needs of 30-40% of the crumbling infrastructure; for 85% of the redevelopment projects; and for the majority of low-income residents of Albuquerque.
The goal ideally is to create 9 districts with equal population numbers --- approximately 60,675 people. But "Plan L" would shift more people into District 2 and, with 63,508 people, the new District 2 would have the greatest deviation from the ideal.  4.7%
Something to think about ..... not just for those of us who live downtown, but for the entire city.
In a nutshell, what the 5 Republican Councilors want is to protect their solid Republican-voting districts while diluting the representation of the minorities and poor people who live in District 3.  This results in a geographic bias in favor of the predominately white, middle-upper class neighborhoods in the NE Heights.
Shameful!
The entire city depends on a strong historic core with a vibrant downtown.
There are other ways to draw the lines on the map so that we don't slight the voters who live downtown, and don't weaken the representation and advocacy that a thriving city requires in its downtown core.
Contact your City Councilor and the Mayor ---- and let them know that "Plan L" stinks.  They can do much better.  COrtega@cabq.gov 
February 20, 2012 at 07:57 PM in City of Albuquerque, Lora Lucero, Contributing Writer, Redistricting | Permalink | Comments (3)
Councilor Cook Redistricting Fairness is like "Getting thrown to the Wolves"
Guest Blog by Pam Fraser Walters resident in City Council District 7.
Could we please have more redistricting honesty and less obfuscation and grandstanding from City Councilor and Congressional aspirant Dan Lewis?  Does Mister/Pastor Lewis really believe and expect others to believe that "redistricting is not about politics"? The purpose of redistricting political entities, those units of government such as cities, counties, legislatures and congress, is to provide equitable representation for citizens.  That's surely one element of politics.  Partisanship, unmentioned by Mr. Lewis, is often another.  How elected representatives and citizens behave is still one more. 
Councilor Lewis claims that "Throughout the [redistricting] process, my colleagues and I on the City Council have been open minded…." Yet an October 21, 2011 email from Councilor Cook to a constituent declares "Do not worry about our district getting thrown to the wolves, we councilors on east side and Lewis on west will not vote for that."
"Getting thrown to the wolves" is Councilor Cook's depiction of moving District 7 to the southwest as Plan V would do. Of course, it also undoes his incumbent seat.  Plan L, which Councilor Lewis (and east side councilors Winter, Cook, Jones and Harris) have spoken for, would move District 3, Councilor Benton's, to the southwest currently represented mostly by Councilor Sanchez and in a relatively few precincts by Councilor Benton.
And, while Councilor Lewis declares, "I will not support any map that does not give West Side residents three full council districts," he fails to mention that none of the eight maps recommended to the Council by its' appointed redistricting committee lacks three full council districts.  Nor does he mention that the "carefully" selected redistricting committee included not merely residents of each Council district, but active, elected politicians such as Linda Lopez, Sander Rue and Wayne Johnson (Alternate for Janice Arnold-Jones, first, then Kathie Leyendecker).  So much for redistricting being "political"  being "the furthest thing from the truth."
Although Mr. Lewis says he and other Councilors appreciated constituent comments and took them seriously, anyone reviewing citizen testimony will see that Nob Hill and International District residents greatly preferred Plan V to Plan L.
Interested observers also may note that the first six redistricting maps, A through F, did not mark the residence of incumbents, a factor crucial in election eligibility.  All subsequent maps do.  Is that not political? It is also fair to point out that current Districts 3, 7 and 8 are farthest below "ideal" numbers of residents per the 2010 census (and hence, overrepresented) while Districts 1 and 5 are severely underrepresented.
Map L, which creates a new District 3 outside the residency of Councilor Benton, also considerably alters the boundaries of Districts 2, 4 and 6 (those most recently subject to election) and puts Councilors O'Malley (District 2) and Benton in the same district.  It also modifies eastside Districts 7, 8 and 9 and west side districts 1 and 5.  Map V, by moving District 7, would put Councilor Cook in a redrawn District 6, currently represented by Councilor Garduno.
Because the City Council has only nine districts, the real issue has been how will existing districts be reconfigured and/or moved, which Councilor(s) will be unseated or forced to compete, and consequently, who will represent Albuquerque citizens in particular parts of the city.  That issue of representation is crucial.
Redistricting means not only that west siders will be more equitably represented (by having three rather than two districts), but also that thousands, perhaps tens of thousands of Albuquerque citizens will have new City Councilors and possibly not the one they recently elected.
Mr. Lewis closes his Op-Ed by saying that redistricting is "not about politics," but "what's best for the citizens of Albuquerque."  Because Plan L changes not only boundaries, but also ethnic distribution within districts, the question is: Which citizens and Councilors are treated equitably, advantageously or disadvantageously?  Who truly is served?
February 20, 2012 at 06:58 PM in City of Albuquerque, Guest Blogger, Redistricting | Permalink | Comments (2)
Democratic Women of Bernalillo County Holding an OSCAR PARTY
February 26, 2012 Sunday 5:00 PM -10:00 PM
at El Norteno 1431 Wyoming NE
(North of Constitution & Wyoming)
Admission: $10.00
Vote the attached Download Fandangooscarsballot-2012. Get prizes for the ballots with the most correct picks. Wear something that depicts your favorite nominated film or actor
RSVP: Barb Glazer 505 977 6401 gypsy_ms@comcast.net or Cornelia Lange 505 292 7365 or cwlange@aol.com
February 20, 2012 at 06:09 PM in Bernalillo County, Democratic Party, Events | Permalink | Comments (0)