« ACTION ALERT: Call Today! New Homebuyers Tax Credit in Committee | Main | Anti-Equality Action Alert: Rep. David Chavez's "super-DOMA" Bill to be Considered Thursday »
Wednesday, February 08, 2012
NM HB2; Budget Bill for Year 2012 Passes Unanimously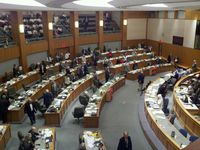 While so many people are out of work this 2012 House Appropriations Bill passed very easily. This must mean much of the details were worked out in committee meetings. Here is a link to the entire appropriations bill. Or since it passed so easily maybe there is nothing in it for the people. No help for the people in these hard times. No additional funding for programs, for projects, for us. Hate to be negative but if there were things for the people within this 2012 budget, the R's would have thrown a fit, and the D's would have had to fight for the items for the people. 
ps. Editors note: I have not read the bill yet. I am speculating due to the lack of debate on the house floor over our NM budget for the year 2012. Rep. Ezzel questioned a couple of items that were 100k and 500k in value, she asked if they were wasteful or not needed. My beef is why are there not more items in the $5 billion dollar bill that would raise the ire of the R's? We need money in the budget for jobs across the state.
Below is the press release from the House of Reps.
The House of Representatives has passed a budget for the next spending year that begins July 2012. HB2 would provide $5.642 billion in state spending, an increase of $215 million (nearly 4 percent) over this year's budget. The spending plan leaves $41.8 million to allow for flexibility in hammering out a final budget (such as tax reductions, pension solvency, infrastructure funding, or as a hedge against weak natural gas prices).

HB2 also puts a safe guard in place should revenue projections fall short. This provision allows the governor to make across-the-board spending cuts to adjust the budget. The automatic spending reductions would apply to most state agencies except Medicaid programs; the developmental disabilities support program; the law enforcement program of the department of public safety; the inmate management and control program of the Corrections Department and any agency that receives less than $5 million total in general fund appropriations under Section 4.
The bulk of the budget in HB2 would go toward public education and higher education, then health, hospitals, and human services.
· $2.45 billion for Public Education (increase of $89 million or 3.8 percent)
· $756.1 million for Higher Education (increase of $40 million or 5.5 percent)
· $905 million for Medicaid (increase of $38 million or 4.4 percent)
· $291 million for Dept. of Health (increase of $2.5 million)
· $207 million for Children, Youth and Families Dept. (increase of $12 million or 6.1 percent)
Chair of the House Appropriations and Finance Committee (HAFC), Rep. Henry "Kiki" Saavedra (D-Bernalillo, Valencia, Dist. 10) said, "We work real hard –Democrats and Republicans – to come up with a budget that's balanced. This was a joint effort to do what is best for all New Mexicans."
HB2 passed by a vote of 70 to 0. The budget plan now goes to the Senate.
And here is a link to an AP story by Barry Massey regarding the passage of the NM budget within the House of Representatives.
February 8, 2012 at 02:03 PM in Economy, Populism, Government, Jobs, NM Legislature 2012 | Permalink
Comments
Thank goodness someone has the guts to give us this perspective. Just because the Budget passed the House without public argument (yes, it was all agreed behind closed doors) doesn't mean this will help working /unemployed New Mexicans.
Funds are cut, cut, cut. Who do you think will suffer?
Posted by: petethebook | Feb 8, 2012 3:29:11 PM