« International Women's Day Celebration | Main | NM-1: Eric Griego Releases Women's Issues Platform, "Women Are the Majority" »
Tuesday, February 28, 2012
New Report Finds New Mexico Utility PNM Used Huge Rate Hikes on Residents to Fuel Soaring Profits During Recession
The Sierra Club, New Energy Economy, San Juan Citizens Alliance, Dine' CARE, and Southwest Organizing Project released a report today finding that New Mexico's largest utility, the Public Service Company of New Mexico (PNM), has aggressively pursued major increases in electricity rates, corporate profits, and executive pay during a period of economic hardship for many residents.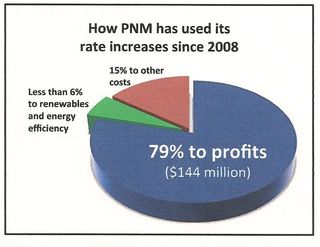 The analysis of financial documents and investor presentations of PNM and its parent company, PNM Resources (PNMR), reveals that since 2008 the utility has directed 79 percent of the $182 million it has raised from rate increases into corporate profits ¾ driving a 2500 percent profit increase.
"With three rate hikes in four years going mostly to corporate profits while New Mexicans are struggling, PNM is behaving like a big Wall St. bank," said New Energy Economy Executive Director Mariel Nanasi. "The utility's claims to care about residents and rate impacts ring hollow."
The report finds that in 2010, the year unemployment in New Mexico hit 8.4 percent, PNMR raised pay for its top five corporate executives by 68 percent, including doubling CEO Pat Vincent-Collawn's pay to nearly $2.5 million a year.
PNM's 2008, 2009, and 2011 rate hikes have amounted to an additional $250 a year for the average New Mexico residential ratepayer, a 41 percent increase, according to the analysis. Less than 6 percent of the money from PNM's rate hikes was spent toward energy efficiency programs that benefit ratepayers or clean energy projects that create jobs and reduce reliance on costly and polluting coal plants, such as PNM's San Juan Generating Station near Farmington.
"PNM has been enriching its investors while stalling on renewable energy investments and efficiency programs that create jobs, cut pollution, and save New Mexicans money," said Shrayas Jatkar, Sierra Club organizing representative in Albuquerque. "This is a wake-up call that ratepayers and regulators must closely question any PNM rate increases going forward."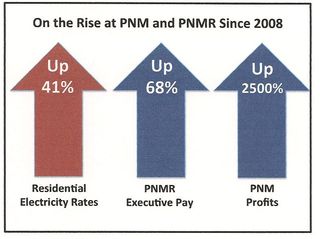 While the state's other investor-owned utilities, El Paso Electric and Southwestern Public Service, are complying with state law by providing 10 percent of their electricity from renewable energy sources, PNM is failing to meet the standard. On energy efficiency programs that save New Mexicans money, PNM lags far behind the 5 percent savings required by 2014, the report finds.
"New Mexicans want more energy coming from clean sources without the air pollution, toxic ash waste, and intensive water use of burning coal," said Mike Eisenfeld with the San Juan Citizens Alliance in Farmington, where residents are exposed to air pollutants from the nearby San Juan Generating Station and Four Corners Power Plant. "On that priority, PNM is holding our state back."
The Perspective on PNM report notes that 80 percent of PNMR stock is held by financial institutions, largely outside of the state. After the November 2011 sale of its Texas energy business First Choice for $270 million, PNMR used the money to repurchase $230 million in PNMR shares, meaning "most of the money left New Mexico instead of being invested in-state," according to the report.
"PNM has been resisting the air pollution controls needed at its San Juan coal plant at the exact same time they've been putting so much money to profits," said Lori Goodman with Dine' Citizens Against Ruining Our Environment (Dine' CARE). "That's an added insult to all who live near that plant's pollution, and it says a lot about PNM's priorities."
The report is being shared with members of New Mexico's congressional delegation and Public Regulatory Commission (PRC).
Please click here for a PDF version of the report, "Perspective on PNM: Rates, Profits & Priorities During the Recession (2008-2012)."
February 28, 2012 at 04:41 PM in Business, Corporatism, Energy, Environment, Regulation | Permalink
Comments
I work for PNM and wanted to make sure you knew the information in this report is incorrect. Please see this link to get the facts.
http://www.pnm.com/news/2012/0228-response.htm
Earnings are all part of publicly available information, but it's summarized here.
Posted by: Valerie Smith | Feb 28, 2012 5:48:26 PM
If it's incorrect, why does the statement not refute anything the report says? And why does PNM's statement talk about 2007 numbers to dispute a report about your 2008-2011 numbers?
You're right, it's all publicly available information. I went to the documents the report refers to in the footnotes and saw that the numbers are right.
Posted by: Rena | Feb 28, 2012 8:11:52 PM
Still not making the math work. Makes a good story though! We have thankfully improved our financial health but not to the extremes portrayed. Financial health = better ability to expand renewable energy and reliability.
Posted by: Valerie | Feb 28, 2012 8:24:09 PM
PNM's response just looks like a bunch of distracting facts that make them look good. It doesn't appear to actually contradict anything in the Diné-San Juan-NEE-Sierra Club report. It's not like the report is a big surprise. PNM likes profits, doesn't like to spend money on stuff that helps people.
Posted by: Marie | Feb 28, 2012 8:30:41 PM
We think solar power and environmental investments help people. We have spent millions on both. We're doing some breakthrough work on solar storage, too, which could change the whole game. Lots of other countries and states are watching our project. Here's a video if you want to learn more.
http://www.youtube.com/watch?v=mtkyetyCfSg

Posted by: Valerie Smith | Feb 28, 2012 9:21:34 PM