« New Homebuyers Energy Savings Tax Credit Bill Passes House 44-20, Introduced in Senate | Main | ACTION ALERT: US Senate Is Considering Legislation That Would Resurrect The Keystone XL Tar Sands Pipeline »
Monday, February 13, 2012
History Being Made In NM; Citizens United US Constitutional Amendment Approved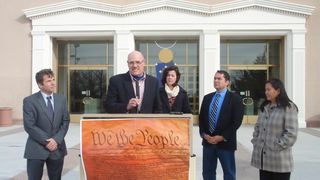 Sen. Fischmann addressing press, w/Sen. Griego at right
After a rather short 45 minute debate on the Senate Floor SM3 passed the Senate. The press room was empty but for a few bloggers. DFNM was there and feels we witnessed a great peice of history being made.
The first steps in the long process ahead of overturning the Supreme Court Decision now called "Citizens United". Like other poorly (or cleverly) named efforts that are the exact opposite of what they say; like "Clean Skys" only to be polluters, the Citizens United should really be called; "Corporations United" or "Foriegn Corporations United", or how bout "Filthy Rich PAC's United", or the real name should be "Anyone but Citizens United".
Of course the Republicans held forth in the debate on the floor: the supreme court ruling is fair and right, Corporations are made up of people, what about the unions and their money and influence on campaigns, and how about Obama and that he is going to be the ultimate user of the Citizens United ruling, with the money that is being projected for his Presidential reelection campaign. Even with the Obama card drawn by themselves all R's present chose to not support this Memorial. Why cause they know it is their ace.
Below is a press conference video conducted shortly after the historic vote on Saturday.
Below is from ProgressNow New Mexico.
On Saturday, New Mexico Senate Memorial 3, co-sponsored by State Senators Steve Fischmann of Las Cruces and Eric Griego of Albuquerque , was approved by a vote of 20-9 in the New Mexico State Senate. Along with its companion bill, Rep. Mimi Stewart's House Memorial 3 (approved 38-29 on January 31, 2012), the bill's passage makes New Mexico the second state in the nation to call for the U.S. Congress to pass a constitutional amendment to reverse the U.S. Supreme Court's controversial decision in Citizens United vs. Federal Election Commission!
This big step is just the first of many towards overturning Citizens United.  
Stay alert to the latest in this important effort on this new webgroup.
Your voice was heard through the petition you signed!
See what just a few of your state senators wrote in response:
Your signing this petition sends a very clear signal to us here in the legislature: corporations aren't people and treating them as if they were is just another way of reducing real people's influence in elections and in the governmental process.  Now we have to send that same message to the Congress. Overturn the unimaginably bad Supreme Court decision in "Citizens United"!  Jerry Ortiz y Pino, NM State Senate District 12

I introduced the overturn Citizen's United memorial in the State Senate.  It has cleared committees and awaits a vote on the Senate floor.  .  Overturning Citizens United is central to preserving the integrity of our elections, our democracy, and your political speech.
Thanks for your support of this measure, Senator Steve Fischmann 
We've set up a special new webgroup for SM3's Citizen Sponsors to follow the latest on work to overturn Citizens United and maintain the integrity of our democratic process.
Join this webgroup by clicking here. 
We won't rest until Citizens United is overturned and the people take back our elections!
Congratulations on achieving this big milestone for New Mexico and our country!
February 13, 2012 at 09:43 AM in Citizens United, Corporatism, Eric Griego, NM Legislature 2012, U.S. Constitution | Permalink
Comments
Bravo! Thanks for being there and witnessing this historic event for all of us.
Posted by: Lora Lucero | Feb 13, 2012 10:44:31 AM