« Environmental Improvement Board Gives Industry Everything, But It's The Public Who Pays | Main | US Senator Fred Harris Write's Letter to NM Reps re: Driver's License Law »
Tuesday, February 07, 2012
Great News for Love Today, CA Appeals Court Finds Prop 8 Unconstitutional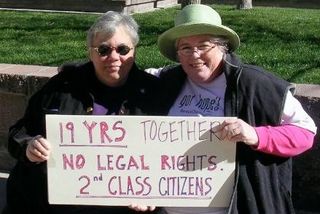 The picture above was taken in early 2009
at an Abq. protest of Prop 8.
I only wish Barb was here to revel in this victory for love with me. We must keep on pushing for civil rights for all. Let's not have other couples loose each other in death prior to celebrating their lives together in love and commitment.  
I am going to link to a few articles that explain the history and the ruling today in detail.
The NOH8 campaign is a website specifically designed to follow California Prop 8, you can find the coverage here.
American Foundation for Equal Rights (AFER)is leading the fight for the freedom to marry and equality under the law, AFER is the sole organizational sponsor of the groundbreaking federal court case to overturn California's Proposition 8.
And the Courage Campaign. Adding to the information today that the opponents were trying to get Judge Walker thrown of the case cause he is gay, but no on that measure as well. From the Prop 8 Trial tracker:
Prop8TrialTracker.com has received the 9th Circuit's opinion in Perry v. Brown that Proposition 8, the 2008 voter-enacted ban on marriage equality in California, is unconstitutional. In addition, the appeals panel ruled that the proponents of Prop 8 did have standing to pursue their appeal of Judge Walker's decision striking down the marriage ban, and upheld District Court Judge Ware's decision denying a stay to throw out Walker's ruling because he is gay. The ruling on constitutionality was divided on an 2-1 vote, with Judges Stephen Reinhardt and Michael Hawkins voting to strike Prop 8 down, and Judge N. Randy Smith voting to uphold the ban. The ruling regarding standing and the motion to throw out Judge Walker's decision was a unanimous 3-0 vote
The Decision can be read following this here.Read up NM State Rep.Chavez, who is currently embarking on his own Prop 8 look alike for the State of NM. Chavez has proposed legislation regarding outlawing marriage of loving couples. He too wants to put love out to a vote to New Mexicans to change the Constitution saying marriage is illegal for same sex couples, and Chavez goes further to say that anyone in another state who is married is not welcome here with their marriage. Is this what New Mexico is about? This diverse state? This matter is being challenged through the courts, and the answer is coming out the same, lesbians and gay men have a right to marry. Marriage is a piece of paper which joins two in love and commitment in the eyes of society.
Also, here is a message to the Legacy Church Pastor Mr. Smothermon: The LGBT community also has a right to work, anywhere we want to work. Take note protoge Dan Lewis running for Congressional District 1.
Next will be the United States Supreme Court, I am sure the haters will not quit on this one.
This used to be a good ole chant: We're here, we're queer, get used to it!
DFNM has done several other posts while following this campaign of hate. See one here.
February 7, 2012 at 12:35 PM in Civil Liberties, GLBT Rights, Justice, Legal Issues | Permalink
Comments
Good news! Forward to the SC!
Posted by: Ellen Wedum | Feb 7, 2012 2:14:50 PM
Awesome!
Posted by: Paul Sanchez | Feb 7, 2012 6:51:47 PM