« NM State House of Representatives Calls for Amendment to U.S. Constitution to Reverse Supreme Court's Citizens United Decision | Main | 02/02: "Protecting New Mexico: Elevating Community Rights Above Corporate Rights »
Wednesday, February 01, 2012
Experts: Chavez Green Jobs Program Exactly What New Mexico Needs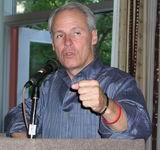 From the Marty Chavez for Congress Campaign.
On Monday, former Albuquerque Mayor Marty Chavez held a press conference at Jefferson Green, New Mexico's first USGBC LEED Gold Certified building, to discuss his plan to stimulate job growth in New Mexico's clean energy economy.
The plan, titled "A Vision for A World Class Economy in New Mexico," is a framework for creating jobs and strengthening the foundation of New Mexico's clean energy future based on encouraging innovation in new technologies and investing in public education and job training.
"New Mexico's future lies in leading the nation towards a 21st century clean energy economy. To reach these goals, we must focus on large-scale ingenuity and innovation," said Chavez. "As your Representative, I will forge a strong bond between our Congressional delegation, state and local leaders, the national labs, educational systems, as well as business and labor interests to craft legislation that utilizes our natural and high-tech resources to promote sustainable, long term job creation in New Mexico's clean energy economy."
Marty's plan covers a wide array of initiatives that take advantage of central New Mexico's incredible resources that will serve as a launch pad for our new economy including technology transfer from the national labs for commercialization, integrating intellectual infrastructure into public schools, regulatory reform, streamlining of funding processes, engaging private investment, updating best practices of government and other public entities, expanding PACE programs, modernizing electrical production and distribution, green grid development, support for bio-fuel research, recognizing the importance of natural gas as a bridge fuel and perhaps most importantly, protecting and respecting the natural environment.
Marty was joined by a number of local innovators and job creators including Karen Cook, President of EECOM; Jack McGowan, owner of Energy Control; Former New Mexico Secretary of Economic Development Fred Mondragon; Mike Mattioli, co-founder of Consolidated Solar Technologies; and Jason Lott, Director of Leasing for Mesa del Sol.
"It's exciting to see a candidate that has this vision for the future and recognizes how we can bring to bear all the resources that are available to pursue not just smart grid but also smart energy on a larger scale," said Jack McGowan. "We've got some award winning projects here in New Mexico that have been done at the University and elsewhere, along with all the work underway out at Mesa del Sol that presents an even greater opportunity to take a smart grid and turn it into a job engine for our communities and for our state."
Karen Cook, speaking about Marty's ability to get thing done said, "Words are easy to print, but it's very difficult to be effective in actually implementing strategies - and [Marty's] done that. When [Marty's proposals] come into effect, they will bring us a far better community in the future."
Fred Mondragon talked about his time in the Chavez Mayoral administration, noting, "[Marty] understood what the issues were in terms not only of global warming, not only about jobs but also the importance of energy efficiency, in terms of national security, in terms of exports versus imports, in terms of job creation, and that's where we were able to work together. Marty worked with Science and Tech Park at Sandia to create many, many jobs by bringing in, keeping and maintaining the first alternative energy companies in the country. And we were able to keep companies that transferred technology from Sandia National Laboratories, [such as] Emcore, and others. He really was part of the group that initially built the Science and Technology Park. And Emcore was one of the results of that with breakthrough technology that's creating wonderful opportunities for jobs in New Mexico."
"I truly believe that one of the unique things [about Marty as Mayor] was that [he] always had a fast forward future vision," added Mattioli. "Whether it was looking at information technologies, as when we did the fiber optic all throughout Downtown Albuquerque, or now when we started to do solar projects, it's that vision that we need inside of our communities, inside of our cities and inside of our state to continue to drive these things forward so that we have strength and continue to see a change from looking at fossil fuels."
Lott, on behalf of Mesa del Sol, also spoke to Marty's time as Mayor. "I want to first talk about the vision under Mayor Marty Chavez. And his vision is actually taking place right now. [Mesa del Sol] is probably the only developer in the country who's moving forward with the housing program with the size that we're building at in Mesa del Sol. These will really be eco-friendly houses, with solar and water catching and all these things that the Mayor had the vision so many years ago to implement. But it's also all about jobs. That's where we come in. We're actively out there, getting companies to move to New Mexico and take advantage of this great infrastructure we have. Sure the sunshine is great but without the proper legislation, the proper universities, the proper economic tools, it's really just lines on paper. We have the infrastructure in place and it's being utilized. At Mesa del Sol alone we have over 2,000 people working out there today. Right now. These are real jobs and real salaries paid to New Mexicans. So we really feel that this next step that [Marty wants to] implement is the next step to create more jobs and we're in support."
In closing, Chavez added, "Throughout my career, when I set out to accomplish something on behalf of New Mexican families, I got the results they needed. I am the the only candidate in this race who has actually helped to create meaningful green jobs in this district. I worked tirelessly to bring innovative solar companies like Schott Solar to Albuquerque, expand Emcore and K-Tech's local operations and attract the film industry with Albuquerque Studios and am proud to have helped create the Sandia Science and Technology Park. Plainly, I am the best prepared candidate to lead in our clean energy economy."
The full plan, "A Vision for A World Class Economy In New Mexico," is available at www.martychavez.com/greenjobs.
February 1, 2012 at 05:09 AM in Building Code Energy Efficiency, Candidates & Races, Energy, Environment, Green Economy, Martin Chavez, NM-01 Congressional Race 2012 | Permalink
Comments