« Senator Tim Z. Jennings Rises on Senate Floor to Support PRC Appointee | Main | Environmental Improvement Board Gives Industry Everything, But It's The Public Who Pays »
Tuesday, February 07, 2012
Driver's License Campaign Update from Somos Un Pueblo Unido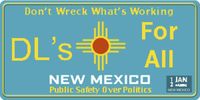 From Somos Un Pueblo Unido: It was a busy and somewhat crazy week last week for immigrant drivers' licenses in the legislature.
Senate Bill 235, sponsored by Senate President Pro-tem Tim Jennings (D-Roswell), passed handily in the Senate Public Affairs Committee last Thursday. This bill would continue to allow immigrants to apply for a driver's license while subjecting them to additional residency requirements, more frequent renewals, and harsher penalties for fraud.
The real drama, however, occurred in the House Judiciary Committee. After a five-hour hearing and a two-day failed effort to hammer out a "compromise," the Republicans and their two Democratic allies (Representatives Al Park and Joseph Cervantes) voted on Friday to pass Rep. Nuñez's DL repeal bill and send it the House floor for a vote this week.
The good news is that these two conflicting committee votes signal an impasse between the House and the Senate on the issue. Any discussion of further negotiations for compromise legislation was derailed by the Governor who said on Friday in an Abq. journal article not to bother because she wouldn't sign any bill that allows undocumented immigrants to drive legally and that all she really wants is to use this against candidates in the upcoming election.
Close to 50 organizations and thousands of members have been working with us for over a year to fight this repeal effort. We cannot let up now!
If you haven't emailed your legislators, this is the time to do it. Click here to send a message to your House and Senate member.
If you haven't called your legislators, today's the day to do it. To get their office number click here. The message is simple: Real leaders stand up to the politics of fear. Reject repeal and keep immigrant drivers licensed.
Join us for a Timely Community Dialogue
Resisting the Politics of Fear: The Connection between Anti-
immigrant Legislation and the Struggle for Civil Rights 
Alabama 2011 March Against HB 56
     Convocation with Sen. Steve Gallardo &
Scott Douglas  Friday, Feb. 10th
10:00 to 11:00 AM
Capitol Rotunda, Santa Fe
For event flier click here Feb10th+flyer  
February 7, 2012 at 10:22 AM in Border Issues, Hispanic Issues, Immigration, NM Legislature 2012, Regulation, Susana Martinez | Permalink
Comments