« Communications Workers of America (CWA) Launches Website to Urge Gov. Martinez to Sign SB9 | Main | Rodefer Announces Candidacy for State Senate District 9 »
Wednesday, February 29, 2012
3/6: District Court Judge Alisa Hadfield Kicking Off Election Campaign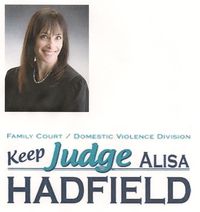 District Court Judge (Family Court) Alisa Hadfield is kicking off her election campaign with a reception at Scalo Northern Italian Grill in Nob Hill on March 6, 2012 from 5:30 to 7:00. Please join Michael and Traci Cadigan, Judge Susan M. Conway, (Retired), Madeline Dunn, Jack Carmody, Michael Hart, Peter Johnstone, Esteli Juarez-Boyd, Robert McNeill, Steve Paternoster and Gregg Velasquez in supporting this great Democratic judge.
Judge Hadfield, a lifelong Democrat, joined the Family Court bench in 2010 after being selected by the Judicial Nominating Committee and appointed by Governor Richardson. She has previously served as a district attorney, public defender and a family lawyer in private practice. She is also an avid rock climber and outdoorsperson. Judge Hadfield's experience, compassion and common sense help families struggling with marital and domestic violence issues.
Please join us at Scalo to support Judge Hadfield on March 6 from 5:30 to 7:00. Make checks payable to the Committee to Retain Judge Alisa Hadfield. Please visit www.judgehadfield.com for more details.
February 29, 2012 at 11:32 AM in 2012 Judicial Races, Candidates & Races, Children and Families, Domestic Violence | Permalink
Comments