« NM-1: Eric Griego Releases Women's Issues Platform, "Women Are the Majority" | Main | 3/6: District Court Judge Alisa Hadfield Kicking Off Election Campaign »
Wednesday, February 29, 2012
Communications Workers of America (CWA) Launches Website to Urge Gov. Martinez to Sign SB9
Citizens of New Mexico can visit new website and urge Governor Martinez to sign legislation ensuring that out of state corporations pay their fair share in taxes.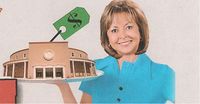 Today, the Communications Workers of America (CWA) launch www.OhSusana.org, a website where New Mexico's citizens can urge Governor Susana Martinez to act in the interests of New Mexico small business owners and workers by signing SB9 – the Corporate Fair Tax Bill. The popular bipartisan bill will boost revenue by changing the state's tax code to ensure multi-state corporations doing business in New Mexico pay their fair share of corporate income taxes. This legislation has also been endorsed by the Albuquerque Journal.
"Our state misses out on tens of millions of dollars in revenue every year—revenue that every other western state currently collects—because big out of state corporate interests maintain a lockjaw grip on the capitol.  Susana Martinez has an easy opportunity today to change that balance of power and give New Mexico small business an opportunity to succeed.  She should level the playing field so that every business, not just businesses incorporated only in New Mexico, pays state income tax to benefit our municipalities, schools and roads," said Michael O'Reilly Proprietor of Pranzo Italian Grill in Santa Fe.
"Small Business owners in NM are paying income tax on their profits, while out of state based corporations who compete with them day in and day out are allowed to avoid taxes on their profits," said Herb Cohen, former small business owner of Steaksmith in Santa Fe. "This is unfair to all who support our state's needs and it makes local small business less competitive in the process."
New Mexico is the only western state to operate under an imbalanced tax structure which allows corporations to use a tax loophole to avoid paying taxes.  This loophole also puts small businesses in an untenable position of having to compete with big box stores while being forced to pay taxes that the big box stores- like Wal-Mart- are not.  The SB9 bill would level the playing field for small businesses.
"Governor Susana Martinez has the opportunity to stand with hundreds of thousands of New Mexico small business owners and workers," said Miles Conway, CWA NM. "We hope that she puts the interests of New Mexico above those of corporate lobbyists."
Governor Martinez has until March 7 to sign or veto SB9.
Visit www.OhSusana.org to learn more about why Gov. Martinez should sign SB9.
February 29, 2012 at 11:18 AM in Corporatism, NM Legislature 2012, Susana Martinez, Taxes | Permalink
Comments
I have called her office, and I hope others will do the same. It is incredible that these big box stores get away with this in NM. I don't have much hope for SM to do the right thing, but we have to try.
Posted by: bg | Feb 29, 2012 3:46:18 PM
Just read that Martinez has vetoed SB 9. She likes seeing money going out of New Mexico. All we can do is boycot the big box stores?
Posted by: Ellen Wedum | Mar 1, 2012 1:16:37 AM