« Love, Hard Work, Honesty, Barb Wold's Life | Main | ProgressNow Communications Resource Center Makes Covering Legislature Easier »
Monday, January 16, 2012
Exact Same Words Could Be Said Today by Martin Luther King Jr.
In observance of Martin Luther King Jr's birthday I found a segment of a speech called "Time to Break the Silence."  MLK states in this speech " Year after year to spend more money on military defense then on programs of social uplift is approaching spiritual death." And yet it goes on year after year after year.
Just to be very clear on how much of our hard earned tax dollars go to military spending I attach a pie chart from 2010.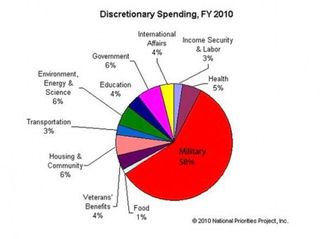 This is the paradigm shift we have got to keep working on. It may be too late, but we are still alive and we can serve. We too can be a servant.
January 16, 2012 at 06:31 PM in History, Holidays | Permalink
Comments