« NM-1: Progressive Democrats of America Endorses Eric Griego for Congress (NM-1) | Main | CITIZEN'S UNITED: Republicans Secretly Flip-Flop Votes »
Tuesday, January 31, 2012
Rep. Martin Heinrich Campaign for NM Senate Seat Releases Polling Results
The following was provided by the Martin Heinrich for Senate Campaign.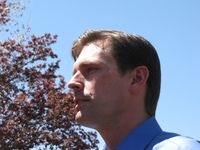 A new poll of Democratic primary voters in New Mexico shows Martin Heinrich with a commanding lead over Hector Balderas, 52 – 22 percent. Heinrich's standing is very strong and his lead is built on more than name identification – he leads by a huge margin among voters who can identify both candidates, 51 – 28 percent.
The following are key findings from a survey of 600 likely Democratic primary voters in New Mexico conducted January 8th – 11th, 2012. The survey was conducted by live interviewers, reaching voters on land lines and cell phones. The results are subject to a 4.0 percentage point margin of error at the 95 percent confidence level.
• Democratic primary voters view Heinrich incredibly favorable. 58 percent of voters give Heinrich a favorable rating, while just 12 percent view him unfavorably. Moreover, 66 percent of voters approve of the job Heinrich is doing as Congressman. Heinrich's standing is equally good among Hispanics and Anglos. Balderas has good standing (37 – 12 percent favorable-unfavorable, 46 percent job approval), but nowhere near as good as Heinrich's.
• Heinrich overpowers Balderas in a vote matchup. With a 52 – 22 percent lead, Heinrich dominates Balderas among every segment of the electorate. He leads 57 – 15 percent among Anglos and 46 – 30 percent among Hispanics. Heinrich also holds a strong lead in each of the state's three congressional districts.
• Heinrich's lead is very robust. Heinrich's lead is not driven by name identification; he leads 51 – 28 percent among voters who can identify both candidates.
Vote among all likely voters:
Martin Heinrich 52% 
Hector Balderas 22%
Undecided 26%
Vote among voters who can identify both candidates:
Martin Heinrich 51%
Hector Balderas 28%
Undecided 21%
January 31, 2012 at 01:27 PM in 2012 NM Senate Race, Candidates & Races, Polling, Rep. Martin Heinrich (NM-01) | Permalink
Comments
I am voting for Martin partly because I like his voting record while serving as a representative. However, I feel stongly that he is the only "truly" qualified democratic canidate in this race. Hector has not accomplished much in politics. He has never won a competitive race. He was handpicked by Richardson to replace Jeff Armijo as the democratic nominee for state auditor. That is how he got this position after serving only one term as a state representative.
Hector has not demonstrated that he could win a competitive election--because he has never been in one. Furthermore, the auditor and treasurer position are usually partline votes and almost always go to democrats. As auditor he has not accomplished much either. He is not an actual auditor, so he deserves no credit for the audit findings.
Furthermore, he has used the audit process for political gain. Audits should be independent and objective. Hector has used them to try and gain notoriety. It is unbecoming of a senate canidate to call for an elected official to resign, as he recently did. Especially over the use of a government vehichle. All department heads are allowed to use government vehichles.
The lack of Hector's qualifications and the fact that Martin has been a model U.S. representative is why my vote is going to Heinrich.
Posted by: Gilberto Segura | Feb 1, 2012 7:48:26 AM
@Gilberto Segura: Your contention that Auditor Balderas was "handpicked by Richardson" to replace Jeff Armijo is an outrageous lie!! The rest of your diatribe is merely farcical.
Auditor Balderas was elected by an overwhelming majority of the Democratic Party State Central Committee to replace Mr. Armijo when he withdrew his candidacy. Governor Richardson played no part in the SCC process, and he made no endorsement.
I should know, because I was there. I voted for Hector because he was far and away the best candidate. In fact, he was the only candidate ready to run for the position at the time, and he has done a fantastic job as State Auditor.
I am supporting Martin Heinrich for US Senate because I prefer his legislative experience. However, I like and respect Hector Balderas, and I will brook no smears against him. False accusations against Democratic candidates only help the Republicans. But that was your intention, wasn't it?
-- Donald F. Schiff
DPBC Ward 18B Chair
DPNM SCC member
Posted by: Proud Democrat | Feb 4, 2012 11:31:44 PM