« Mr. Balderas and Mr. Heinrich, We Expect More of You | Main | County Clerk Candidate Maggie Toulouse Kicks off Campaign and Highlights Campaign Issues »
Thursday, January 12, 2012
Please Join Us This Evening for the Celebration of Barb Wold's Life
I am glad it is a somewhat slow news day for political blogging. I have final organizing for the memorial this evening. We have some great people attending and going to share their thoughts. One of Barb's favs Hakim Bellamy is going to be one of the guests providing a small tribute, just to mention one of our diverse community to speak. My niece Sarah, from Boston came in to town for Barb's memorial. It will be wonderful to have Sarah witness the love and support Barb and I have in our life.
I have had selfless help setting up this event from our good friend Peter Moulson, and from County Chairwoman Ana Canales, and the generous use of space from our local unions.
So today is the day. Some closure. I cry alot and I miss her greatly. But my life is continuing on. Please remember to support the blog here in Barb's memory. Donate here in lieu of flowers. Please.
 Please Join us for
A Celebration of Barbara Rose Wold's Life
May 5, 1948 to December 18, 2011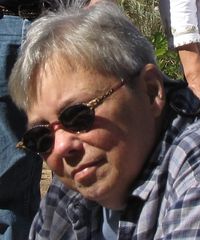 to be held on Thursday, January 12, 2012
at the United Association of Plumbers and Steamfitters Union Hall,
510 San Pedro SE, (SE corner of Zuni and San Pedro)
from 5:00pm to 9:00pm.
 In lieu of flowers, please contribute to her blog:  DemocracyforNewMexico.com
make checks out to: Democracy for New Mexico
Mail to 8522 Flower Pl. NE Abq NM 87112 or donate through PayPal on the blog
Help us keep Barb's passion for justice and
her legacy alive.
Due to the outpouring of love and support for Barb and Mary Ellen, we decided to change the location to a slightly larger space. So that everyone can be comfortable, we will have plenty of seating and tables, plenty of standing and chatting room, and plenty of space to Celebrate Barb's life.
Food and beverages will be provided. And some words of remembrance will be started at around 6:00. Look forward to celebrating Barbara's life with you all. With love and peace - Thank you all.
January 12, 2012 at 07:25 AM in Barbara Rose Wold, DFNM - Albq, Events | Permalink
Comments
Thinking of Barb, and you, from beautiful downtown Florida, and the fantastic fun and fury of the Deaniac era. Rock on!
Meredith
Posted by: Foodie | Jan 12, 2012 12:16:50 PM
I will be thinking of you from the edge of the West here in the Puget Sound region. You may see some hits show up in the stats from this area. I have been recommending this site as a model.
Barb was effective because she was able to apply a professional publications background to blog engineering. She will be missed, but she also left some pioneering work behind.
Posted by: Stuart Heady | Jan 12, 2012 1:30:24 PM
here in southern california, i burn sage now, as you meet, in honor of her memory and her work. the smoke swirls around me, as does her love for all her dear ones. blessings to all of us who fell in love with her words, and to those who had the honor of being in her company.
Posted by: linda | Jan 12, 2012 5:43:21 PM
Good thoughts and gratitude always to our dear blog master. I wish I could have been there in person, but I will always be there in heart.
Posted by: qofdisks | Jan 13, 2012 6:09:04 PM
May she rest in peace. She provided a much needed service to New Mexicans.
Posted by: New Mexican | Jan 15, 2012 2:08:52 PM