« December 2011 | Main | February 2012 »
Sunday, January 29, 2012
ABQ Sprout First Inaugural Dinner a Big Success
ABQ Sprout held their First ABQ Micro Grants Award Celebration, Saturday night at the South Valley Multi-Purpose Senior Center. With well over 150 people in attendance, the evening went off without a hitch. Each of the 10 presenters were allowed a half of a table to display their projects prior to the dinner and presentation. Then after going through a cafeteria type dinner line the presenters did their thing while the community gathered ate. Each presenter had 5 minutes to describe their project. Each one was special and unique, all selfless projects benefitting our local community.
ABQ Sprout is a recurring public dinner funding micro-grants for local creative projects that contribute to the Albuquerque community. Staying true to their mission, with a desire to award Micro-Grants to persons or groups striving to make a positive impact in and around the City of Albuquerque, the winners were: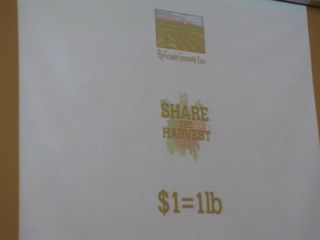 First Place: Share the Harvest, by Kemper Barkhurst and Travis McKenzie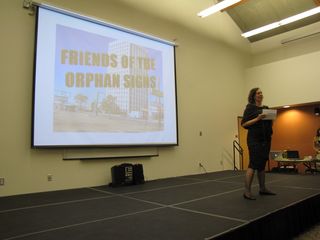 Second Place: Friends of the Orphan Signs, by Lindsey Ellen Fromm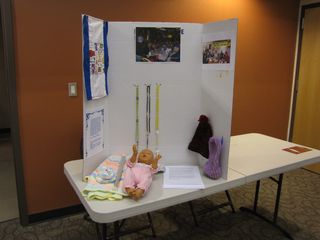 Third Place: Knitting hats and scarves for the homeless, by the South Valley Multi-Purpose Senior Center.
With the help and cooperation of some generous businesses the event was perfect. Dinner was delicious and healthy, and was sponsored by Cafe-Lush. Please see other sponsors on the ABQ Sprout website.
All pitched in together after the presentations to clean the dishes and silverware. We all lined up with our dirty dishes to have a communal dish wash, a fun and cooperative ending to a new and charitable event.
The 10 randomly selected projects out of 25 that were submitted were all well presented, entertaining, heart touching, clever, humorous, and as diversified as the City of Albuquerque itself. 
Sprout was able to gift 3 awards, from the door fees collected, at this Sold Out Event.
The other 7 presenters were:
Public Academy for Performing Arts (PAPA) Film Department
Web of Life Foundation-Stories of Wolves-The Lobo Returns
Bring Carnaval to Abq
Democracy for New Mexico
ABQ Zine Fest
Small Engine
Bridging Our Past, Present, and Future: Rural migration to ABQ post WWII
Let us all get ready and start preparing now for the Next ABQ Sprout Awards Dinner scheduled in May 2012, when the 3 receipients' will prepare a brief acknowledgement of what they did with their Grant. And a new batch of 10 projects will be selected to present, and a community of like minded people will sit down and share a meal, and then do the dishes.  
Let's continue to participate and support this fine developing organization. Fun, creativity, networking, learning, everyone wins!
January 29, 2012 at 09:26 PM in ABQ Sprout, Events | Permalink | Comments (0)
The Pressure Cooker, Grace Under Pressure, and Why I am Running for State Representative District 19 - Guest Blog
Cara Valente-Compton provided the following guest blog regarding why she is running for State House seat 19.
In today's partisan climate there are tremendous forces of pressure being applied to all of our political leaders.  In New Mexico, we need leadership that demonstrates grace under fire. Important progressive issues of Education, Labor, Women's Health, Immigration and Marriage Equality cannot be solved with vitriolic speech but with decorum and determination.
Grace Under Pressure
On March 17, 2010 I learned what it took to have grace under pressure.  I was being interviewed for the Harry S. Truman Scholarship, an award for college juniors with strong academic standing who wish to pursue a career in public service and have proven leadership abilities.  As a finalist, I was subjected to a grueling panel interview with some of our nation's top public servants.  The questions they asked were hard and poignant and very stressful.  One question in particular has stood out in my memory above the rest especially in light of my recent decision to run for NM State House District 19.  One of the panelists asked me a question about the contentious primary between President Obama and Secretary of State Clinton in 2008, and to justify the endorsement of one of the candidates over the other.  I replied, "Leadership isn't about titles.  It is about making difficult choices and standing by them, regardless of the consequences.  Primaries are hard.  I hate being put in a position where I have friends running in opposition, but being a leader is making that tough choice.  You may lose friends, but not your real friends." 
Friends, I am stepping up.  I am delivering a primary challenge to House Majority Whip Sheryl Williams-Stapleton.  I am here to tell you why, and to ask for your support.
Why I am Running for State Representative District 19
For many months community leaders have been asking me if I would consider running against Representative Williams-Stapleton.  I am a very concerned citizen. I am concerned over my children's future and my neighbor's future, and my community's future.  I have heard the current Representative is not being as responsive as a newly elected democrat would be.
Over the holidays, I had a lot of time to think about things.  I kept coming back to the notion that being a leader isn't about a title.  It IS about standing up, saying that a change is needed, and putting  yourself out there to the voters.  It is about saying, "We deserve better and we will do better."
Who I am and What's Important to me
I was born believing in the nobility of public service.  My father was a first generation American and veteran of the Army, my mother a Midwest farmer's daughter and Army brat. 
My family has had ties to the district since the mid 1950's, when my grandparents built the house at 717 Alvarado SE.  I personally moved to New Mexico at 19 and had my political start in 1988 walking door to door registering voters in the international district.  When my husband and I moved back to Albuquerque in 2007 we deliberately chose our Parkland Hills home for the neighborhood.  We just love it here.
I support public schools 100%, and some of my very dearest friends are educators.  My children attend public schools, and I am very pleased with the education they are receiving at these schools.  I believe no amount of gimmicks and grade schemes will ever truly represent the value of these schools to our community or show how much teachers make it their life's work to educate all our children.  The people who spend the majority of the day teaching, caring for, and protecting my children will always have my fullest support and admiration.
I live in a labor household; my husband of 15+ years is a union member.  He and I fully support organized labor and its continuing efforts to protect and fight for American workers.  I cannot stand by and watch as more "Wisconsin-style" policy decisions are being made by this governor and her administration that effect the rights of our public employees and their labor representation.  As a representative I will vigorously protect and defend workers rights.
I am unabashedly and unapologetically PRO CHOICE.  At 22, I was faced with the difficult situation of an unplanned pregnancy.  I was single, had no income, and was terrified that I would ruin my son's life.  I am so glad I had choices available to me.  I chose to give another couple the opportunity to have a child they so desperately wanted.  This was the most difficult decision I have ever made, bar none, and one that continues to hurt every day, despite having reconnected with this marvelous young man.  I want my daughters, all our daughters, to have a wide range of choices available to them, without fear or stigma. 
I believe that we must solve our immigration problem in a humane and family-affirming way.  We must remember that many in our community have strong ties on both sides of the border.  Too many young people will realize that after high school they can never work legally in this country and feel forced to turn to illegal sources of income just to survive.  Many parents live in the shadows while their children enjoy the benefits of citizenship.  Ours is a nation of immigrants, and we need to find a remedy that does not punish people for making rational choices.
Finally, as an elected representative of the people, I will never rest until all of the people are recognized as being equal.  Dr. Martin Luther King said "Injustice anywhere is a threat to justice everywhere."  Depriving  a minority group of basic human rights has never felt right to most Americans, particularly those of us of a more liberal bent.  The Supreme Court decided in Loving v. Virginia that marriage is a fundamental human right.   Period.  To me this is settled law, but I will not rest until my friends have full marriage equality.  Not civil unions.
I'm so grateful to Democracy for New Mexico for this opportunity to announce my candidacy and discuss my beliefs and my motivations.  There are many issues facing our district, our state and our nation, too many to enumerate here but I will always be upfront and asking or answering the hard questions to and from everyone regardless of political opinion.  I appreciate anyone contacting me to question me on anything, anytime by email cara@valentecompton.com or on my website at www.electvalentecompton.com .  I will always look for anyway I can be a better candidate, a better Democrat and with your help, a better representative to District 19.
January 29, 2012 at 07:26 PM in 2012 Legislature Races, Candidates & Races | Permalink | Comments (4)
SJR 9: Early Childhood Education and the Permanent Fund, Passes Rules Committee
On Friday, January 27, the Rules Committee had a hearing on Senate Joint Resolution 9 (SJR 9), introduced by Senator Michael Sanchez.
SJR9 is proposing an amendment to the NM constitution. It would temporarily increase the distribution from the Land Grant permanent funds, and require a portion of the increased distribution to be used for early childhood education programs. Triggers are built in so if the value of the perm fund drops to less than 8 billion dollars the program would be suspended. 
Some of the Legislatures stated that their constituents have asked where the funds would go? They were stressing "We do not want any unneeded travel expenditures to be used with these funds." The following video explains how these funds would be used. 
People at Ole NM, the creators of the video above, stated: "After watching, you'll see why we all need to fight for this legislation.  Email us at parents@olenm.org to let us know if you can join us Thursday (2/02) for our Early Education Lobby Day in Santa Fe.  Buses and carpools will be leaving from all over the state Thursday morning.  Hop on board.  It's time to win this."
SJR 9 passed the Rules committee with a 4 to 3 vote along party lines.  On to the next committee, stay tuned!
The official name of the bill is PERMANENT FUNDS FOR EDUCATION, CA (CA means it is asking for a state Constitutional amendment.) The next committee is Senate Judiciary, chaired by Richard Martinez, then Senate Finance-src.
This committee is scheduled to meet Monday, Wednesday & Friday at 2:30 p.m. (in Room 321). This bill is not on the agenda for Monday, Jan. 30. Follow it at the State legislature's website link here.
January 29, 2012 at 03:07 PM in Action Alerts, Children and Families, Education, NM Legislature 2012 | Permalink | Comments (0)
Commissioner Michelle Lujan Grisham- Paseo Del Norte I-25 Interchange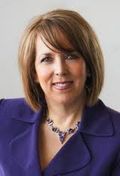 By Michelle Lujan Grisham, Bernalillo County Commissioner
Last year alone there were over 400 accidents in the Paseo del Norte interchange area.  Since 1995, it has been a priority in this community to rebuild this interchange and bring the needed upgrades to promote public safety and reduce congestion,  accidents,  air pollution and, last, but not least, driver frustration.
Thanks to cooperation from city, county and state governments, this important project may become reality at last.
In these times of tight budgets and political bickering at every level of government, people become justifiably skeptical of their public officials' ability to get anything done.  However, I believe that our progress on the Paseo project demonstrates that those of us in public service can accomplish great things when we set aside our differences and work together on what matters to the community.
The rebuilding of Paseo has long presented financial challenges as the cost of Phase I of rebuilding the Paseo Interchange is estimated at $93 million.  However, just this week, we have seen the County, the City and State each find a way to help solve this problem and pledge significant funds to this effort.
Since the County Commission supported my call to pledge bond money to fund this project on Tuesday, January 24, we have seen enormous support and positive reaction to our efforts.  Now, with $50 million from the City and $30 million from the State added to the $5 million committed by my colleagues and me on the County Commission, we are on the way to accomplishing our common goal and making our community safer. I hope the Federal Government will also share this responsibility, as I-25 is part of the national interstate system.
Improving the Paseo del Norte interchange is a win-win situation for Bernalillo County, the City of Albuquerque, and the State of New Mexico. Not only will this address long overdue traffic and safety issues, the re-design and construction of this interchange will have a broad positive impact on our community. It will create many needed jobs during the design and construction phases.
Furthermore, after the necessary improvements, fewer accidents will lead to fewer injuries and fewer insurance claims. Law enforcement officers from the County and the City of Albuquerque will have more time and energy to attend to other duties.
We are so close.  I salute my partners in this effort, Republicans and Democrats, at the state and local level.  Without their commitment of funds, success would not be in our sights. Let's all work together to get this across the finish line and make this happen.
January 29, 2012 at 01:06 PM in Bernalillo County, Michelle Lujan Grisham, Transportation | Permalink | Comments (4)
Saturday, January 28, 2012
Eric Griego to Sponsor Comprehensive Package of Campaign Finance and Ethics Reform Bills in the Current Legislative Session
DFNM is inserting an update here regarding the passage of the SJM 24 ("Oppose Citizens United Ruling") passed the Senate Rules Committee unanimously on Friday morning. It is being scheduled to be heard on Monday by the Judiciary Committee.  Since it requires both chambers to pass jointly, it's a heavier lift than unicameral memorials, but it's the version with the strongest language adopted from Bernie Sanders' bill.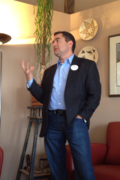 On January 19th, the Griego for Congress Campaign released the following statement.
Eric Griego for Congress (NM-1) announced that State Senator Eric Griego will sponsor a comprehensive package of campaign finance and ethics reform bills in the current New Mexico legislative session.
The Griego Reform Package includes:
Public financing for all state public offices
An independent ethics commission to oversee state elected officials
A ban on state contractors contributing to campaigns
A bi-cameral Joint Memorial supporting a U.S. Senator Bernie Sanders (VT)'s proposed federal constitutional amendment to overturn Citizens United (SJM 24)
"I'm proud of continuing to lead the fight in New Mexico to make the government become more responsive to the people, not just big corporate interests and the wealthiest 1%," Griego said.  "If we truly want a government of the people, by the people, and for the people, then we need to put a stop to the unlimited corporate money influencing our democracy and hold our elected officials more accountable to the people we are elected to represent."
Griego has been New Mexico's leading champion for campaign finance and ethics reforms.  He passed voluntary public financing of elections as an Albuquerque City Councilor, making the city one of the few in the nation to do so.  As a State Senator, he has sponsored bills to limit individual contributions for legislative elections to $250 and to create a strong independent Ethics Commission in the State Legislature.
On Tuesday, January 17th, Griego also became the first candidate in the nation running for a federal office to sign the Occupy/99% Movement's "99 Pledge", committing to fight for legislation in Congress to limit corporate influence in our democracy and overturn Citizens United.
Griego is also the first, and still the only, candidate running for Congress in New Mexico's First District to release a comprehensive campaign platform on campaign finance and ethics reforms, with a proven record to back them up.
Griego's campaign finance and ethics reform platform released on December 15th states his support for:
A constitutional amendment to reverse Citizens Untied and regulate campaign finance
Stopping the "revolving door" between Washington politicians and their staff and K Street lobbying firms representing powerful corporate interests
Public financing of elections to promote the competitiveness of grassroots-powered candidates.
January 28, 2012 at 01:00 PM in Citizens United, Eric Griego, Ethics & Campaign Reform, NM Legislature 2012, NM-01 Congressional Race 2012 | Permalink | Comments (1)
Marty Chavez Releases "Vision for A World Class Economy In New Mexico"
On Friday former Albuquerque Mayor Marty Chavez released his plan to stimulate job growth in New Mexico's clean energy economy.
The plan, titled "A Vision for A World Class Economy in New Mexico," is a framework for creating jobs and strengthening the foundation of New Mexico's clean energy future based on encouraging innovation in new technologies and investing in public education and job training.
"New Mexico's future lies in leading the nation towards a 21st century clean energy economy. To reach these goals, we must focus on large-scale ingenuity and innovation," said Chavez. "As your Representative, I will forge a strong bond between our Congressional delegation, state and local leaders, the national labs, educational systems, as well as business and labor interests to craft legislation that utilizes our natural and high-tech resources to promote sustainable, long term job creation in New Mexico's clean energy economy."
Marty's plan covers a wide array of initiatives that take advantage of central New Mexico's incredible resources that will serve as a launch pad for our new economy including technology transfer from the national labs for commercialization, integrating intellectual infrastructure into public schools, regulatory reform, streamlining of funding processes, engaging private investment, updating best practices of government and other public entities, expanding PACE programs, modernizing electrical production and distribution, green grid development, support for bio-fuel research, recognizing the importance of natural gas as a bridge fuel and perhaps most importantly, protecting and respecting the natural environment.
Former Secretary of Economic Development for the State of New Mexico Fred Mondragon praised the plan, noting, "This is exactly the type of comprehensive energy plan New Mexico needs to take advantage of our unique natural and scientific resources. These policies can have a fast and meaningful impact on job creation, energy conservation and renewable energy production in our state."
Chavez added, "Throughout my career, when I set out to accomplish something on behalf of New Mexican families, I got the results they needed. I am the the only candidate in this race who has actually helped to create meaningful green jobs in this district. I worked tirelessly to bring innovative solar companies like Schott Solar to Albuquerque, expand Emcore and K-Tech's local operations and attract the film industry with Albuquerque Studios and am proud to have helped create the Sandia Science and Technology Park. Plainly, I am the best prepared candidate to lead in our clean energy economy."
The full plan, "A Vision for A World Class Economy In New Mexico," is attached and also available at  www.martychavez.com/greenjobs.
January 28, 2012 at 11:00 AM in Energy, Jobs, Martin Chavez, NM-01 Congressional Race 2012 | Permalink | Comments (1)
Friday, January 27, 2012
FREE Speech for The People
ClearlySK has this to say about Citizens United and FREE Speech for The People:
January 27, 2012 at 12:22 PM in Citizens United, NM Legislature 2012, U.S. Constitution, video | Permalink | Comments (1)
Citizens for Global Solutions PAC Endorses Eric Griego for Congress in NM-1
On January 25, NM-1 Democratic congressional candidate Eric Griego announced his endorsement by Citizens for Global Solutions PAC (www.globalsolutions.org).
Citizens for Global Solutions is a national non-profit organization with membership in New Mexico that educates the public and advocates for effective democratic global institutions to solve the world's pressing challenges.  Its PAC works to build political will in the U.S. by helping to elect members of Congress who share the organization's vision.
"Citizens for Global Solutions PAC is proud to endorse Eric Griego for Congress because of his commitment to promoting international peace and protecting human rights and freedoms around the globe," said Earl James, a New Mexico member and former national chairman of Citizens for Global Solutions.  "We need more leaders like Eric Griego in Washington to support institutions that work to solve critical issues facing our globe."
"Solving global climate change, curbing nuclear proliferation, reducing military conflicts, and protecting human rights in the increasingly interconnected 21st century requires strong U.S. leadership more than ever," said Eric Griego.  "Solving these challenges affecting our security and prosperity will often require effective utilization of 'soft power' more than 'hard power'.  That's why I am committed to supporting effective institutions working to influence positive outcomes for peace and justice around the globe."
January 27, 2012 at 10:43 AM in Candidates & Races, Eric Griego, NM-01 Congressional Race 2012 | Permalink | Comments (0)
Albuquerque Police Officers Association Endorses Marty Chavez for Congress
On January 25, the Albuquerque Police Officers Association (APOA) endorsed former Albuquerque Mayor Marty Chavez in his bid to represent New Mexico's First Congressional District in the U.S. House of Representatives.
"Marty brings strong, results-based leadership to the race and a common sense approach toward making decisions that will be fair, competent and based on the principles of what is right," said Felipe Garcia, Vice President of the APOA and APOA PAC Chairman. "His ability to understand the needs of public safety at the local level makes us believe that Marty is the best candidate to expand support for law enforcement at the national level."
"As Mayor, I made supporting our public employees and public safety officers a particular priority. From the three percent pay raise that was on the table when I left office to putting more officers on the street, and from increased funding and training for officers to programs dedicated to helping at-risk youth, I have always worked side-by-side with Albuquerque's public service employees. It's an honor to have earned this endorsement," said Chavez.
Garcia added, "Our endorsement is based on Marty's continued support for law enforcement and public safety as a whole. New Mexico and the APOA need leadership and guidance that we can be proud of. For that reason we feel Marty represents what is best for our country, community and the members we proudly serve. We believe he will continue to be a friend to law enforcement in our effort to make our community a safe and enjoyable place in which to live."
The APOA represents nearly 1,000 Albuquerque Police Officers from the Albuquerque Police Department and Aviation Police in collective bargaining and grievance procedures. The APOA is the largest police association in the State of New Mexico.
January 27, 2012 at 08:30 AM in Candidates & Races, Martin Chavez, NM-01 Congressional Race 2012 | Permalink | Comments (1)
Statement From Senator Lovejoy Regarding Republican Hurtful Words Said at Water Rights Hearing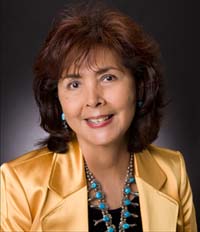 Senator Lynda M. Lovejoy (D) (Navajo) from Crownpoint, New Mexico released the following statement.
I am saddened by the comments attributed to State Representative Candy Ezzell (R-Roswell) and Representative Don Bratton (R-Hobbs) regarding Native Americans in this state. Our people have suffered centuries of displacement, isolation, cultural denial and disenfranchisement remedied only through treaty and contract that some seem to deny now.

It disappoints me that in this day and age in a state like New Mexico where we have such diverse groups that some are still uneducated about each other's cultures. We marked Anti-Racism Day in New Mexico only yesterday, yet comments like those by Representatives Ezzell and Bratton show we still have a long way to go in understanding and respecting each other.

Native American elders paid a heavy price for the consideration and benefits provided by the Federal Government. These are treaty and contract agreements that have been re-affirmed repeatedly by Congress and the courts. Claiming that Native Peoples have no claim to water infrastructure on their own mother lands is a denial of the rights and obligations we have earned and fought for.

Arrangements for supplying water are a small consideration, not an addiction, guaranteed by the Federal Government to Native Americans for our historic displacement and treatment. We need to put a stop to words that keep dividing us.
January 27, 2012 at 06:17 AM in Native Americans, NM Legislature 2012, Water Issues | Permalink | Comments (6)
Driver's License Law Needs to Be Strengthened
Rep. Miguel Garcia (D-Bernalillo, District 14), chair of the House Labor and Human Resources Committee, releases the following statement on HB 103 the drivers licenses for foreign nationals law.

"This issue has drawn national attention and it has made one thing very clear: the current law must be strengthened to include provisions that clearly address the flaws. Repealing the law and forcing a fraction of the driving population to go without proper licensing, registration or insurance puts New Mexican families at risk. That is why today we amended the bill to directly address the challenges that we face."   The amended bill will:
Strengthen residency requirements
 Require license renewal every two years
Require all foreign nationals to reapply within two years under these stricter requirements or face mandatory and immediate cancellation of licenses
Raise the penalties significantly for anyone involved in fraud
There are more than 90,000 foreign nationals with licenses.  Simply repealing the law would not advance public safety and would not eliminate instances of fraud.  We need to prevent those who are actually committing fraud while making sure that everyone driving is licensed, registered and insured."
January 27, 2012 at 05:46 AM in Immigration, NM Legislature 2012 | Permalink | Comments (0)
Thursday, January 26, 2012
CITIZENS UNITED: New Mexico Lashes Back
A Memorial HM4 requesting Congress to make an amendment to the United States Constitution came before the New Mexico House Consumer and Public Affairs Committee this afternoon. Such requests for amendments to the Constitution have been made in this manner before. Remember giving women the right to vote?
72% of the U.S. population is resolute in their desire to overturn the infamous Citizen's United Ruling. This has led legislatures throughout the country to request the Federal government to endorse a Constitutional Amendment to halt unlimited corporate funds in elections and declare that corporations are not individuals. So what's the big problem with passing this Memorial in the New Mexico House?Sadly in our state , listening to the people is not a matter of principle for our legislature. This issue is likely to be resolved along party lines alone, or so Rep. Mimi Stewart (D-Bernalillo) told us today.
The video below Rep. Stewart explains the massive amount of monies now buying our elections:
A variety of local and national advocates were at today's House committee hearing. Viki Harrison, Executive Director of Common Cause New Mexico was forthright about what a continuation of the Citizens United ruling will do to the citizens of New Mexico.
Viki Harrison of Common Cause above explains how Citizens United affects New Mexicans.
Getting to the point, how does this Memorial affect New Mexicans? As a swing-state and with an open U.S. Senate seat, New Mexico is a target ripe for SuperPACs. In other words, "we ain't seen nothin' yet" with regard to attack ads and shady campaigns like Swiftboat Veterans.
And the result of the committee vote was: IT PASSED. Of course there are other committee hurdles to jump, and further arguments on the floor of the House.
The video above is Rep. Stewart asking for help from us the citizens to fight Citizens United.
In a conversation with Senator Fischman before the committee convened, he indicated that there will be a new, revised Senate Memorial on the Citizen's United issue in front of Friday's Senate Rules committee. Stay tuned.
January 26, 2012 at 08:48 PM in Citizens United, NM Legislature 2012 | Permalink | Comments (1)