« NM Speaker of the House Ben Lujan: We should Never Give Up | Main | NM-1: Eric Griego Endorsed by Rep. Keith Ellison, Co-chair of the Progressive Caucus and Griego Signs the 99 Pledge at Roundhouse »
Thursday, January 19, 2012
Press Don't, Won't, Can't, Cover the 99% Occupy the Roundhouse Rally
A must read from contributing writer Lora Lucero.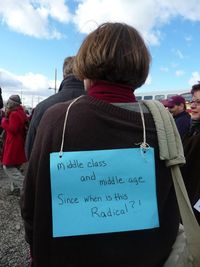 "Middle age, middle class. What's so radical about that?"   The lady marching in front of me to Occupy the Roundhouse on Tuesday was my kindred spirit, even though I could only see the sign on her back. 
I joined an exuberant, high energy crowd of about 300-400 people (my guesstimate) to send a strong message to anyone who would listen ----- "We are the 99% and this is OUR house."
Occupy groups from Los Lunas, Albuquerque, Silver City, Farmington, Santa Fe, Las Vegas and Taos were present, along with groups focused on healthcare reform, voter's rights, eliminating corporate personhood, opposing GMO chile, closing the tax loophole for multistate corporations, supporting clean energy, ending fracking and so much more.
What did all of these people (across the age, income, and ethnic spectrum) share in common?  They spoke for the 99% against the special interests and 1%.  Believe me - coming together is very powerful and empowering.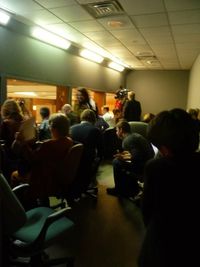 What did the mainstream media choose to share with you?  There were certainly a plethora of media personnel sitting and standing in the "box" above the House floor in the Capitol building.
I don't watch much television but I heard that New Mexico stations covered the handful of demonstrators who disrupted Governor Martinez's speech.  And I saw a Channel 13 crew on the west side of the Roundhouse filming a predictable tit-for-tat between a couple of Tea Party folks and a few representing the 99%.   (The Tea Partiers are going to realize someday that they ARE part of the 99% too.)
Mainstream media always likes a conflict or controversy.  But did you hear any of the messages from the 99%?   Did you hear the reactions of any Legislators about the 99% at their doorstep?  Did you hear about the middle age, middle class woman who was told to leave the public gallery by a security guard because "stickers are not allowed"?   She had a small (2 inches x 4 inches) sticker on the back of her coat that read "We Are the 99%".  She left without causing a ruckus. 
We may rail against the Koch brothers, corporate America, and the 1%, but I think the media is complicit in undermining our democracy.  It feeds us the soundbites that keep us titillated and dumb, and ignores real issues that an informed citizenry need to know.
Some of us may not be comfortable disrupting the Governor's speech, but thank goodness someone has the courage to stand up and make noise.  I suspect that we are going to need more provocative actions of peaceful civil disobedience in order to dislodge the stranglehold that the special interests and 1% have on our politicians, our government, and our media. 
And we need to support the public radio and television stations that break with the status quo to provide us with meaningful news reporting. 
I'm still seething from being escorted out of the gallery on Tuesday because of the message ("We Are the 99%") on my back.  Capitol security and staff need some First Amendment training, and I need to make noise.  Being one of the 99% carries awesome responsibility.
Come join us this Friday, January 20, to Occupy the Courts.  https://www.facebook.com/events/270552246315008/   There are actions happening at courthouses across the country.  I'm headed to the Federal District Court in downtown Albuquerque from noon to 3 pm.
January 19, 2012 at 12:06 PM in Lora Lucero, Contributing Writer, Media, NM Legislature 2012, Occupy Wall Street | Permalink
Comments
The media aren't sympathetic to corporate America. The media aren't friendly to corporate America. The media ARE corporate America. Outlets owned by Viacom and Newscorp will never tell the truth. Even NPR (number one sponsor: Chevron) tells us that all the oil in the gulf was cleaned up by miracle microbes, an unabashed display of corporate propaganda. That's why we build our own media, like this site. Thanks for the report!
Posted by: Han Detenido | Jan 19, 2012 9:58:44 PM
I am the 99% also. Our voices have to be strong and united. We must support Democracy for NM blog. If Rosa Parks, one voice had not made noise, the civil rights movement would not ever have happened. Civil disobedience must have its place and especially now. keep up the right fight. justice for all of us 99% ters.
Posted by: Stephanie DuBois | Jan 20, 2012 8:52:29 AM
Its called Coporate McPravda for a reason. Guerrilla,Grapevine multi-media is a good response. Example, for those with a recording device, next time you see Corp Media at an event approach them for a response. Put response on You Tube.
Posted by: LarryNM | Jan 20, 2012 12:38:13 PM
Go Lora! Here's another thing that shows how little coverage there has been of people-powered events in New Mexico: Many people were saying that they thought Tuesday's event at the State Capitol was the largest gathering outside there ever. I have been in many that were larger, including the Jobs Day that the Building Trades Unions do every year. But they haven't been reported where many people could see them!
Posted by: Michelle Meaders | Jan 20, 2012 2:09:35 PM
I still say someone should come up with the dimensions of the sidewalk around the Roundhouse and divide by 2 feet. For a count.
It's really bad that people who want media attention have to risk arrest(look disruptive)to get it!
Posted by: Penelope Foran | Jan 21, 2012 8:35:38 AM
I, too, was outraged by the lack of coverage and/or very selective coverage of the incredibly energetic and enthusiastic Occupy the Roundhouse Rally. I wrote to all 3 TV stations and expressed that outrage, and stated that they had done a grave disservice to the people of New Mexico by failing to report honestly about the Rally, which was, by far, the really big story of the day.
Posted by: Ronnie | Jan 22, 2012 5:06:46 PM