« Press Don't, Won't, Can't, Cover the 99% Occupy the Roundhouse Rally | Main | Over 30 Years Since the Beginning of the HIV/AIDS Epidemic »
Thursday, January 19, 2012
NM-1: Eric Griego Endorsed by Rep. Keith Ellison, Co-chair of the Progressive Caucus and Griego Signs the 99 Pledge at Roundhouse
From the Eric Griego for Congress Campaign. With video of Roundhouse event at the end.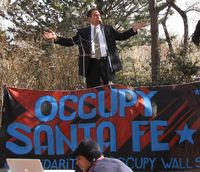 On Januray 12, 2012, Eric Griego for Congress (NM-1) announced the endorsement by Congressman Keith Ellison (MN-5), Co-chair of the Congressional Progressive Caucus.
With Ellison's endorsement today and Congressman Raúl Grijalva's previously announced endorsement, Griego now has the support of both co-chairs of the caucus.  This latest endorsement indicates Griego's continuing momentum to consolidate support from the progressive Democratic base nationally and locally.
"I deeply respect the great work Rep. Ellison and other progressive Democrats in Congress do every day to improve the lives of all Americans throughout our nation," Griego said.  "That is why I am honored by his support for my candidacy, and if elected, I am committed to joining the Congressional Progressive Caucus to fight together for America's working families."
Statement by Rep. Ellison:
"Whether it's fighting to privatize Social Security, opposing tax cuts for the middle class, or believing that corporations are people, Republicans in Washington clearly care about one thing above all else: their powerful corporate patrons and the wealthiest 1%.
"Progressives in Congress are fighting hard every day to hold the line against radical Republican policies, but we need more help.  To put America back to work and to fix what's broken in Washington, we need more bold progressive Democrats such as Eric Griego fighting by our side in Congress.
"Eric joins me in supporting my Get Corporate Money Out of Politics Constitutional amendment. This amendment reverses Citizens United by declaring that corporations are not people and limits corporate influence in our democracy.
"For Eric, this isn't just an election year promise. He fought to get corporate money out of politics as an Albuquerque City Councilor, where he passed public financing of elections -- the first in New Mexico and one of the few cities to do so in the nation. As State Senator, he has sponsored numerous bills to limit political activity by corporations and to hold elected officials accountable to stronger ethical standards.
"We can count on Eric's consistent record of standing up to powerful corporate interests and fighting for the middle class. Like my Progressive Caucus Co-chair, Congressman Raúl Grijalva, I'm excited about Eric's commitment to join the caucus and advance a progressive agenda.
"With Eric by our side, Raúl and I will have another committed voice to keep the American Dream alive for all Americans, not just the richest 1%."
99 Pledge
"On Tuesday 1/17, at the Occupy the Roundhouse event, I signed the 99 Pledge because we need a democracy that works for children, for seniors, for people trying to keep their houses, for those who advocate for others.
We need a democracy that works for us, not the wealthiest 1%."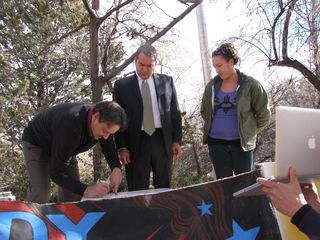 Above State Senator Eric Griego signs the 99 Pledge with two witnesses to hold him accountable signing as well.
To hear and watch Eric Griego accept and sign the 99 pledge click here.
January 19, 2012 at 03:47 PM in Candidates & Races, Economy, Populism, Eric Griego, NM Legislature 2012, Occupy Wall Street, Santa Fe | Permalink
Comments
The 99 Pledge is Working
Occupy Santa Fe approved a national campaign to bring together all movements to "get the money out of electoral politics". They created a video telling all Occupy movements around the country how to use the 99 Pledge package to encourage our representatives to finally end the legal bribing of our elected officials by corporations and the top 1%.
The New Mexico Legislature passed HM4 and will hear HS3 on the floor tomorrow. If both houses pass these bills New Mexico will become the first state to call for a Constitutional Amendment to get the money out of politics. Check out The99Pledge.com
Posted by: Alan | Feb 8, 2012 5:24:12 PM