« Over 30 Years Since the Beginning of the HIV/AIDS Epidemic | Main | Bipartisan "Mayors for the Freedom to Marry" Launches »
Friday, January 20, 2012
New Mexico Is at a Crossroads
At a critical point in our state's history, New Mexicans deserve to be informed about issues and solutions that matter to their everyday lives.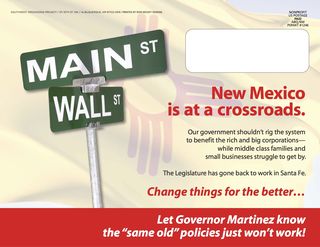 "This educational material focuses on engaging everyday New Mexicans in policies that impact core issues like jobs (not profits), fairness, transparency, and accountability in our state government," says Javier Benavidez, Communications Director of the Center for Civic Policy.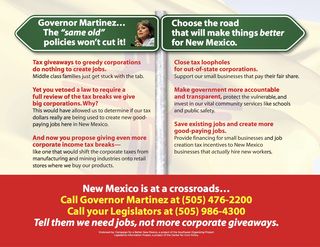 Educational pieces are being distributed to the public, including constituents of legislators in key committees that are hearing legislation focused on tax and budget / jobs proposals. In addition, as a result of redistricting, many constituents will soon find out that they are represented by new legislators and should have the opportunity to engage with their respective elected officials.
This particular educational piece focuses on policies and tax giveaways proposed that hinder New Mexico's ability to invest in priorities like education and public safety. Tax giveaways should be transparent about whether jobs are actually created and receive independent scrutiny about who pays and who benefits.
Instead, the Governor vetoed a bill that would have required a full review of the tax breaks given to big corporations. As a result, out of state corporations evade paying their fair share and everyday New Mexicans are on the hook for tax loopholes. This piece seeks to give voice to the frustration that countless New Mexicans feel with a lack of transparency and accountability when these kinds of giveaways are granted.
There is a bill introduced this legislative session which is suspect for more give away to the corporations; Senate Bill SB42 MANUFACTURING INVESTMENT WEIGHTED SALE FACTOR that DFNM is very interested in watching. It is carried by Senator John Sapien (D) the language is very hard to understand. We tried to find him in the Roundhouse yesterday but he was busy on the senate floor and in committee meetings. We wanted to ask him about what the result would be for the average New Mexicans if this bill was passed. Stay tuned we will get some information feedback regarding this bill.
January 20, 2012 at 09:52 AM in Action Alerts, Economy, Populism, Local Politics, NM Legislature 2012 | Permalink
Comments