« Fact Checking Governor Susana Martinez State of the State Speech | Main | Representative Egolf Introduces New Homebuyers Energy Savings Tax Credit Bill »
Tuesday, January 24, 2012
Medicaid Action Day at Our Roundhouse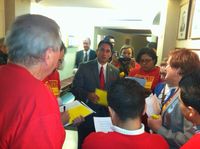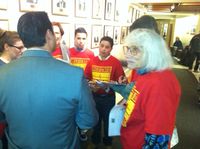 Above are photos of medicaid recipients speaking with Sen. Morales
"More than 70 Medicaid advocates today visited the Legislature and Governor's office, asking policymakers to protect this vital health-care program that serves more than 550,000 New Mexicans, many of whom are children.
Many of the advocates at today's Medicaid Lobby Day at the Roundhouse are recipients of the health program designed to cover the poor.
Advocates and recipients are concerned about Governor Martinez's plan to redesign Medicaid, fearing the governor will push to implement co-pays, which will hurt working families.
The photo below is a meeting held at the Governors office to discuss their concerns.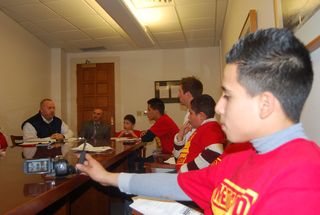 "Too many New Mexico families are in the impossible position of choosing between food and rent or food and electricity," said Roqui Jones, a Medicaid supporter. "To add Medicaid co-pays onto this burden would be disastrous as people work to lift their families out of poverty and create better lives for their kids."
Medicaid Lobby Day was sponsored by several New Mexico organizations representing thousands of New Mexico Medicaid recipients. These include: OLE New Mexico, New Mexico Alliance for Retired Americans, New Mexico Center on Law and Poverty, Know Your Care New Mexico, LULAC, NM CIR/SEIU, Albuquerque Health Care for the Homeless and Mi Via Moving Forward."
January 24, 2012 at 02:37 PM in Children and Families, Healthcare, Medicaid, NM Legislature 2012 | Permalink
Comments