« Marty Chavez Statement on the Anniversary of Roe v. Wade | Main | Fact Checking Governor Susana Martinez State of the State Speech »
Sunday, January 22, 2012
Hispanic Leaders Call for Wilderness Protection for Organ Mountains
Democracy for NewMexico Southern Bureau contributing writer Stephen Jones attended an event regarding the protection BLM's Tortugas Peak recreation area last week.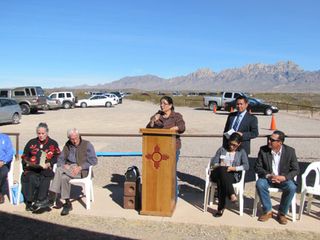 With the iconic Organ Mountains as a backdrop, Hispanic leaders came together in Las Cruces at the BLM's Tortugas Peak recreation area Wednesday to call on President Obama and Congress to permanently protect the Organs and surrounding desert treasures in southern New Mexico. The Organ Mountains-Desert Peaks Wilderness Act has been stalled in Congress since 2009.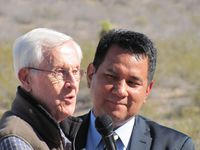 Speaking on behalf of an Hispanic coalition that has come together as Nuestra Tierra: Our Land, Our Future,  John Muñoz of the Hispano Chamber of Congress called for permanent protected status for the fragile natural areas located primarily in Dona Ana County. "Today we call on President Obama and Congress to support the Organ Mountains-Desert Peaks Wilderness Act. This land connects all of us here in southern New Mexico; all of us of different backgrounds and different cultures. This land brings us together"  Muñoz said.
Mayor Nora Barraza of Mesilla also urged protection of the Organ Mountains and other desert landscapes for historic and cultural reasons, as well as their environmental value. She also noted the importance of the surrounding areas to the area economy, particularly that of the historic community she leads. "As a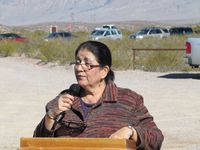 person who was born and raised in the wonderful town of Mesilla, and a lifelong New Mexican, I can attest to the importance of historical preservation" Barraza said. "If we lose these wonderful landscapes, we can never replace or recover these beautiful natural resources that we have. Is this not why we are are known as the land of enchantment?" she said.  "We know that growth is inevitable, but we need to take action now to protect our open lands and mountains. As a Hispanic I know the deep importance of these places. They have served as a part of our historic cultural and religious traditions; traditions that we hope to pass on to our children and grandchildren. Once they are gone they can never be replaced" Mayor Barraza said.
Former State Representative J. Paul Taylor, a long lime legislative leader who represented the Mesilla valley in the New Mexico House of Representatives, and a native of nearby Chamberino, also stressed the critical historic importance of the landscapes surrounding the valley, often on a personal basis, as well as its its fragile environmental value.  Taylor's family ancestors include Pedro Robledo, a member of the 1598 Oñate expedition for whom the Robledo Mountains near Radium Springs, one of the desert peaks included in the Wilderness Act, is named. "Naturally I have a great affection for those mountains" Taylor said, "I also have a great affection for those mountains you see behind me now [the Organs]. Juan de Oñate called these mountains ' Sierra del Olvido,'" Taylor said, "the forgotten mountains. Who could ever forget these beautiful mountains.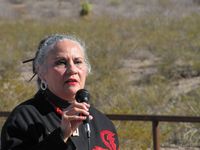 Reading a poem she wrote for the occasion, Mesilla poet and playwright Dolores Chávez spoke of the critical importance of saving the rich historic landscape that marked the northbound passage of the El Camino Real, and that once was home, among others, to the great Chiricahua Apache, Geronimo, and to the face of the mountains where generations of Hispanic worshipers in the area have come to venerate Nuestra Señora de Guadalupe. Chávez, whose poem spoke to the rich heritage of the area she said "grounds" the regions's culture, also has an personal ancestral context to the land. She is the great-grand niece of the first Hispanic U. S. Senator, Dennis Chávez.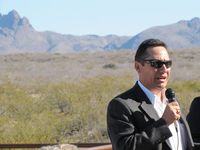 Speaking for the New Mexico Wildlife Federation, Ray Trejo stressed the environmental, sporting, hunting and educational value of the land. "As a young Latino growing up in Deming, our Disneyland were these outdoors, and the vast richness of these natural areas" he said. "I'd also like to say, as an educator, not to take anything away from books, but all learning can't be gained in the classroom" Trejo said.
Speaking from an economic perspective, John Muñoz of the Hispano Chamber of Commerce said that communities that protect their natural areas are better for business. "Our Chamber has a long history of supporting protections for these lands" Muñoz said. "We feel, particularly in the current economic situation, that businesses in these areas adjacent to lands that are protected do better. Absolutely that has to do with a better quality of life." Muñoz noted that happier employees and a thriving commercial environment that comes from that quality of life both boosts economic activity and encourages new businesses to put down roots in places like Doña Ana County.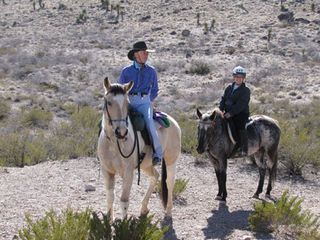 The Organ Mountains-Desert Peaks Wilderness Act, first introduced in 2009, is sponsored by New Mexico Senators Jeff Bingaman and Tom Udall. The bill has been endorsed by both Democratic candidates seeking retiring Senator Bingaman's seat, State Auditor Hector Balderas and Congressman Martin Heinrich.
January 22, 2012 at 07:18 PM in By Stephen Jones, Contributing Writer, Environment, Land Issues, Las Cruces | Permalink
Comments