« Marty Chavez Releases "Vision for A World Class Economy In New Mexico" | Main | Commissioner Michelle Lujan Grisham- Paseo Del Norte I-25 Interchange »
Saturday, January 28, 2012
Eric Griego to Sponsor Comprehensive Package of Campaign Finance and Ethics Reform Bills in the Current Legislative Session
DFNM is inserting an update here regarding the passage of the SJM 24 ("Oppose Citizens United Ruling") passed the Senate Rules Committee unanimously on Friday morning. It is being scheduled to be heard on Monday by the Judiciary Committee.  Since it requires both chambers to pass jointly, it's a heavier lift than unicameral memorials, but it's the version with the strongest language adopted from Bernie Sanders' bill.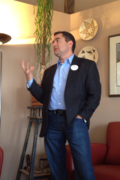 On January 19th, the Griego for Congress Campaign released the following statement.
Eric Griego for Congress (NM-1) announced that State Senator Eric Griego will sponsor a comprehensive package of campaign finance and ethics reform bills in the current New Mexico legislative session.
The Griego Reform Package includes:
Public financing for all state public offices
An independent ethics commission to oversee state elected officials
A ban on state contractors contributing to campaigns
A bi-cameral Joint Memorial supporting a U.S. Senator Bernie Sanders (VT)'s proposed federal constitutional amendment to overturn Citizens United (SJM 24)
"I'm proud of continuing to lead the fight in New Mexico to make the government become more responsive to the people, not just big corporate interests and the wealthiest 1%," Griego said.  "If we truly want a government of the people, by the people, and for the people, then we need to put a stop to the unlimited corporate money influencing our democracy and hold our elected officials more accountable to the people we are elected to represent."
Griego has been New Mexico's leading champion for campaign finance and ethics reforms.  He passed voluntary public financing of elections as an Albuquerque City Councilor, making the city one of the few in the nation to do so.  As a State Senator, he has sponsored bills to limit individual contributions for legislative elections to $250 and to create a strong independent Ethics Commission in the State Legislature.
On Tuesday, January 17th, Griego also became the first candidate in the nation running for a federal office to sign the Occupy/99% Movement's "99 Pledge", committing to fight for legislation in Congress to limit corporate influence in our democracy and overturn Citizens United.
Griego is also the first, and still the only, candidate running for Congress in New Mexico's First District to release a comprehensive campaign platform on campaign finance and ethics reforms, with a proven record to back them up.
Griego's campaign finance and ethics reform platform released on December 15th states his support for:
A constitutional amendment to reverse Citizens Untied and regulate campaign finance
Stopping the "revolving door" between Washington politicians and their staff and K Street lobbying firms representing powerful corporate interests
Public financing of elections to promote the competitiveness of grassroots-powered candidates.
January 28, 2012 at 01:00 PM in Citizens United, Eric Griego, Ethics & Campaign Reform, NM Legislature 2012, NM-01 Congressional Race 2012 | Permalink
Comments
This is exactly what I want from my legislators! Let's kick Eric upstairs to Congress.
Posted by: Proud Democrat | Jan 29, 2012 12:14:41 AM