« Eric Griego to Sponsor Comprehensive Package of Campaign Finance and Ethics Reform Bills in the Current Legislative Session | Main | SJR 9: Early Childhood Education and the Permanent Fund, Passes Rules Committee »
Sunday, January 29, 2012
Commissioner Michelle Lujan Grisham- Paseo Del Norte I-25 Interchange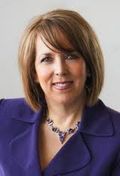 By Michelle Lujan Grisham, Bernalillo County Commissioner
Last year alone there were over 400 accidents in the Paseo del Norte interchange area.  Since 1995, it has been a priority in this community to rebuild this interchange and bring the needed upgrades to promote public safety and reduce congestion,  accidents,  air pollution and, last, but not least, driver frustration.
Thanks to cooperation from city, county and state governments, this important project may become reality at last.
In these times of tight budgets and political bickering at every level of government, people become justifiably skeptical of their public officials' ability to get anything done.  However, I believe that our progress on the Paseo project demonstrates that those of us in public service can accomplish great things when we set aside our differences and work together on what matters to the community.
The rebuilding of Paseo has long presented financial challenges as the cost of Phase I of rebuilding the Paseo Interchange is estimated at $93 million.  However, just this week, we have seen the County, the City and State each find a way to help solve this problem and pledge significant funds to this effort.
Since the County Commission supported my call to pledge bond money to fund this project on Tuesday, January 24, we have seen enormous support and positive reaction to our efforts.  Now, with $50 million from the City and $30 million from the State added to the $5 million committed by my colleagues and me on the County Commission, we are on the way to accomplishing our common goal and making our community safer. I hope the Federal Government will also share this responsibility, as I-25 is part of the national interstate system.
Improving the Paseo del Norte interchange is a win-win situation for Bernalillo County, the City of Albuquerque, and the State of New Mexico. Not only will this address long overdue traffic and safety issues, the re-design and construction of this interchange will have a broad positive impact on our community. It will create many needed jobs during the design and construction phases.
Furthermore, after the necessary improvements, fewer accidents will lead to fewer injuries and fewer insurance claims. Law enforcement officers from the County and the City of Albuquerque will have more time and energy to attend to other duties.
We are so close.  I salute my partners in this effort, Republicans and Democrats, at the state and local level.  Without their commitment of funds, success would not be in our sights. Let's all work together to get this across the finish line and make this happen.
January 29, 2012 at 01:06 PM in Bernalillo County, Michelle Lujan Grisham, Transportation | Permalink
Comments
Shameless. Attempt to become relevant in a 2 way congressional race! Lame.
Posted by: Memba | Jan 29, 2012 1:16:02 PM
I don't think its a wise use of limited resources -- disappointed that my County Commissioner supports this.
Posted by: Lora Lucero | Jan 30, 2012 12:01:49 PM
Politics is full of shame, you don't know? Also, it is possible this lady is just doing her job. I drive on this road everyday and it has been needed for a long time. I always worry when loved ones are driving on it. In fact, it is impressive she can run and focus on important issues. It is much easier to be critical though, you have realized.
Posted by: meeemba | Jan 30, 2012 2:09:37 PM
Sounds like a great idea to me.
Transportation is an absolutely crucial part of infrastructure - it's the necessary foundation on which economic growth is built. If you look at any of the big trasportation projects, from the Erie canal to the barges and locks on the big rivers, to the trains, to the highway system, they've all more than paid for themselves in increased prosperity.
That intersection is holding up progress, and making us all poorer. If people didn't spend so much time trying to get through it we'd all be just a bit richer.
It's well worth spending money for improved roads, because they make us all better off.

Posted by: Michael H Schneider | Jan 30, 2012 5:59:41 PM