Thursday, June 30, 2011
PPP Poll: Heinrich, Wilson Lead in Senate Primaries, Bachmann in GOP Prez Primary
According to results of more early Public Policy Polling (PPP) surveys released today, Congressman Martin Heinrich leads State Auditor Hector Balderas by a whopping 47-24 in the Dem primary for the Senate seat open due to the retirement of Senator Jeff Bingaman (D-NM). PPP opines that Heinrich is "bolstered by greater name recognition" and notes:
Although Heinrich is weaker among Hispanics, who make up 46% of the Democratic primary electorate, he still leads Balderas 39-36. However, since a majority of Democratic voters are still unwilling to give an opinion of Balderas, Balderas has more room to grow.
A total of 29% of those surveyed have a favorable opinion of Hector Balderas, with 19% unfavorable and a large number -- 51% -- not sure. In contrast, 50% of those polled see Martin Heinrich in a favorable light, with 20% unfavorable and 27% unsure.
In the GOP primary for U.S. Senate, Heather Wilson holds the lead against all the other possibles mentioned, 43% to Gary Johnson's 22%, John Sanchez's 18%, Greg Sowards' 4%, and Bill English's 3%. Without Johnson, Wilson's reaches majority support with margins of 52% to 24% for Sanchez, 8% for Sowards, and 4% for English. PPP comments that:
Wilson leads by strong margins across the Republican ideological spectrum. She leads Sanchez 48-19 among Moderates and 48-31 among very conservatives.
As for the GOP presidential primary:
Michele Bachmann has surged to become Mitt Romney's chief competitor in each state PPP has polled since the last Republican presidential debate, and New Mexico is no different. With Sarah Palin and Gary Johnson in the race, Bachmann leads the pack with 21% to Romney's 18%, Johnson's 13%, Palin's 11%, Herman Cain's 10%, Tim Pawlenty's 7%, Newt Gingrich's 6%, and Ron Paul's 5%. It's hard to see how Johnson can win the nomination if he's stuck in third place in his home state.

Without Johnson, the race is tied with Bachmann and Romney each getting 22% of the vote. They are followed by Palin with 14%, Cain with 10%, Pawlenty and Paul with 7%, Gingrich with 4%, and Jon Huntsman with 3%. Without Palin or Johnson, Bachmann has the lead. She takes 27% to Romney's 23%, Cain's 12%, Paul's 8%, Pawlenty's 7%, Gingrich's 6%, and Huntsman's 4%. Bachmann's advantage stems from her strength with very conservative voters where she leads Romney more than 2-1.
An article on PPP's blog expands on what the numbers mean in the GOP presidential primary, pointing out that:
Bachmann's lead in New Mexico is built on strong support from the far right. 28% of 'very conservative' voters say she's their top choice to 16% for Palin and 12% for Romney. Johnson has the upper hand with moderate voters- 21% to Romney's 18% and Bachmann's 14%. And Romney has the advantage with voters just to the right of center- 27% to Bachmann's 14% and Johnson's 13% with 'somewhat conservative' folks. But that 'very conservative' voter bloc is the largest part of the Republican electorate in New Mexico at 43% and that lead with them gives Bachmann the overall advantage.
Rather surprisingly:
Johnson has the weakest favorability numbers with his home state Republican primary voters at 47/40. Some of his unorthodox positions aren't playing well with the base, even if they do give him an unusual level of popularity across party lines with Democrats and independents.
Full results and crosstabs are here. PPP surveyed 400 usual New Mexico Republican primary voters and 400 usual Democratic primary voters, with a +/-4.9 margin of error, from June 23th to 26th.
See other recent posts on political polling in our archive.
June 30, 2011 at 03:21 PM in 2012 NM Senate Race, 2012 Presidential Race, Gary Johnson, Heather Wilson, Hector Balderas, Polling, Rep. Martin Heinrich (NM-01) | Permalink | Comments (5)
Wednesday, June 29, 2011
PPP Poll: Obama's NM Approval at 50%, "Dark Horse" Gary Johnson Fares Best Among GOP Possibles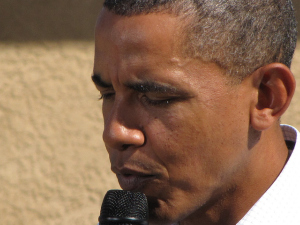 Obama in Albuquerque last fall
Survey results released today by Public Policy Polling show that President Barack Obama still leads the pack of "serious" 2012 GOP contenders in New Mexico (full results here):
Like the Senate race, the presidential contest in New Mexico has gotten closer since PPP last polled this nominal swing state in February, but only two of the potential Republican nominees make it a single-digit race—the frontrunner and a favorite son dark horse.
As for Obama's approval ratings here
50% of voters in the state approve of the job Obama's doing to 44% who disapprove. When PPP polled New Mexico in February Obama was at a 55/40 spread. Since then he's seen a significant decline in his standing with independents, from 60% giving him good marks to just 49%. And he's also seen a more modest drop with Democrats, from 77% pleased with his performance to 72%.
Regarding the President's "serious" GOP rivals:
Obama's still a strong favorite against any of the serious Republican candidates for President though. Only Mitt Romney fares significantly better than John McCain did in 2008 when he lost the state by 15 points. He trails the President by 7 points at 49-42. Obama blows away the rest of the field- he leads Michele Bachmann and Tim Pawlenty by 15 points each at 52-37 and 51-36 respectively, has a 16 point advantage over Herman Cain at 52-36, and trounces Sarah Palin by 20 points at 56-36.
New Mexico's former governor Gary Johnson actually does better against Obama than Romney, but he's not considered a "serious" contender by PPP:
... one GOP candidate who is an asterisk in national polling actually comes closer to Obama than he [Romney] does- the state's former Governor Gary Johnson who trails by only 3 points at 46-43. Although Obama leads the rest of the Republican candidates by 16-26 points with independents, Johnson actually tops the President with that voter group at 46-37. He also picks up more than 20% of the Democratic vote. 

... Johnson's unusually popular for a Republican...with voters who aren't Republicans...his problem is the primary voters who hold the key to the nomination. Numbers we'll release tomorrow show he's not doing terribly well on that front even in his home state.
PPP notes that:
While independents gave the President leads of 25-51 points in the previous survey, and voted for him by 15 over McCain (according to exit polls), he now leads by only 16-26 against the more prominent candidates and trails Johnson by nine with unaffiliated voters. The president has also slipped a little with his own party, which makes up more than half of voters. While he was pulling 73-86% of Democrats in February and losing only 12-19% of them to the Republicans, he now locks up only 70-80% of his partisans and erodes 13-21%.

But there is more crossover support on both sides; both Obama and McCain won 91% of their respective parties, and the president has bumped up from a 10% to a 16% approval rating with Republicans since February, and jumped from 7-12% of their vote to 10-18%.
PPP's bottom line:
Out of the Bush 2004/Obama 2008 states New Mexico seems the least likely to flip back to the Republicans in 2012.
PPP used automated phone calls to survey 732 New Mexico voters from June 23th to 26th. The margin of error for the survey is +/-3.6%.
Photo by M.E. Broderick.
June 29, 2011 at 04:30 PM in 2012 Presidential Race, Gary Johnson, Obama NM Campaign, Polling | Permalink | Comments (3)
Tuesday, May 17, 2011
Ron Paul, Bigoted Ideologue
This is a post by contributing writer, Stephen Jones, of Las Cruces.

On Friday, Republican presidential candidate Ron Paul told Chris Mathews in an MSNBC interview that he would not have voted in favor of the Civil Rights Act of 1964, if he were a member of Congress at the time of its passage. Paul told Matthews that while he thought Jim Crow laws were illegal, he would have opposed the Civil Rights Act "because of property rights."
Paul's anti-civil rights foray on Friday is sadly not his first. On June 4, 2004, on the 40th Anniversary of passage of the landmark Civil Rights Act, Paul issued an angry denunciation on the floor of the House. "The Civil Rights Act of 1964 gave the federal government unprecedented power over the hiring, employee relations, and customer service practices of every business in the country. The result was a massive violation of the rights of private property and contract, which are the bedrocks of free society," Paul said. Paul's was the only dissenting vote against the House resolution commemorating passage of the Civil Rights Act.
It would be comforting to disregard Ron Paul's frequent forays into denouncing civil rights legislation as just so much fuzzy-thinking of a libertarian ideologue, but nothing could be farther from the truth. Lurking not too far below the surface is Ron Paul's heritage of bigoted speech.
Ron Paul's history of racism dates back decades, and bigoted language has been a frequent topic of his Congressional newsletter. "Opinion polls consistently show that only about 5 percent of blacks have sensible political opinions, i.e. support the free market, individual liberty and the end of welfare and affirmative action," he wrote in one newsletter. "We are constantly told that it is evil to be afraid of black men, it is hardly irrational. Black men commit murders, rapes, robberies, muggings and burglaries all out of proportion to their numbers." Ron Paul issued this opinion in another, "Boy, it sure burns me to have a national holiday for that pro-communist philanderer, Martin Luther King. I voted against this outrage time and time again as a Congressmen [sic]. What an infamy that Ronald Reagan approved it! We can thank him for our annual Hate Whitey Day." Ron Paul's racist diatribes date back decades.
In 1996 the Houston Chronicle revealed this pattern of hate-speech in Paul's writing. In one newsletter article, the Chronicle noted, Ron Paul claimed that 85 percent of all black men in the District of Columbia were criminals. Paul wrote, "Given the inefficiencies of what D.C. laughingly calls the 'criminal justice system,' I think we can safely assume that 95 percent of the black males in that city are semi-criminal or entirely criminal," Paul said.
When Ron Paul's racist newsletters came to light nationally four years ago, the Texas Congressman claimed the articles were "ghostwritten" by some unnamed author and did not reflect his "true opinions." The identity of any "ghostwriter" was never revealed. On Friday, Ron Paul's pattern of racism emerged once again in the false guise of some sort of "deeply-held" libertarian ideology.
As an announced candidate for the Republican nomination, it's time to question Ron Paul's motives, and belief-system, once again.
To see more posts by Stephen, visit our archive.
May 17, 2011 at 11:14 AM in 2012 Presidential Race, By Stephen Jones, Contributing Writer, Civil Liberties, Minority Issues, Racial Minorities | Permalink | Comments (6)