Wednesday, February 29, 2012
3/6: District Court Judge Alisa Hadfield Kicking Off Election Campaign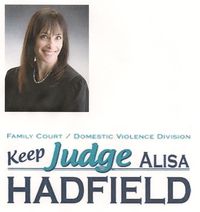 District Court Judge (Family Court) Alisa Hadfield is kicking off her election campaign with a reception at Scalo Northern Italian Grill in Nob Hill on March 6, 2012 from 5:30 to 7:00. Please join Michael and Traci Cadigan, Judge Susan M. Conway, (Retired), Madeline Dunn, Jack Carmody, Michael Hart, Peter Johnstone, Esteli Juarez-Boyd, Robert McNeill, Steve Paternoster and Gregg Velasquez in supporting this great Democratic judge.
Judge Hadfield, a lifelong Democrat, joined the Family Court bench in 2010 after being selected by the Judicial Nominating Committee and appointed by Governor Richardson. She has previously served as a district attorney, public defender and a family lawyer in private practice. She is also an avid rock climber and outdoorsperson. Judge Hadfield's experience, compassion and common sense help families struggling with marital and domestic violence issues.
Please join us at Scalo to support Judge Hadfield on March 6 from 5:30 to 7:00. Make checks payable to the Committee to Retain Judge Alisa Hadfield. Please visit www.judgehadfield.com for more details.
February 29, 2012 at 11:32 AM in 2012 Judicial Races, Candidates & Races, Children and Families, Domestic Violence | Permalink | Comments (0)
Wednesday, December 07, 2011
Please join Judge Monica Zamora in ABQ on 12/7 or in Santa Fe on 12/8 when I Launch My Campaign!
From the Judge Monica Zamora's campaign for Court of Appeals:
Supporters: Please join me, family and friends when I officially launch my campaign. If you are near Albuquerque or Santa Fe, please come! (You can download our flyer here ) -Judge Zamora
Join Friends and Family for Judge M. Monica Zamora's
Dual-City Campaign Launches!
ALBUQUERQUE Wednesday, December 7 5:30 - 7:30pm Kelly's Restaurant in Nob Hill 3222 Central Ave SE
SANTA FE Thursday, December 8, 2011 6:00 - 8:00pm The Elks Lodge 1615 Old Pecos Trail
December 7, 2011 at 12:30 PM in 2012 Judicial Races, Candidates & Races | Permalink | Comments (0)
Tuesday, October 18, 2011
10/25: Young Professionals Reception for Judge Victor S. Lopez
From Lopez for Court of Appeals:
Victor F. Lopez, Jacob Candelaria, Katie Richardson,
Robert Lara, elisita guadalupe pintor,
Christopher Ramirez, and Antoinette Sedillo
Invite you to a

Young Professionals Reception
with
Special Guest, Judge Victor S. Lopez,
and Democratic Candidates
Date: Tuesday, October 25th, 2011
Time: 6-8 PM
Wine, Beer, and Appetizers Hosted
Click for Invitation

Location: Victor F.'s House
2108 Silver Ave SE
(two blocks South of UNM off Yale and Silver)

Come have a Spring Roll and a drink and meet new friends!  
More information on Victor S. Lopez, who is running for New Mexico Court of Appeals:
LEGAL EXPERIENCE
2007-present    Judge, Workers' Compensation Administration
1992-2007        Victor S. Lopez Law Office, Sole Proprietor (intermittent)
1995-1997        City of Albuquerque, Legal Department
1991-1992        Benavidez Law Firm, Associate
1988-1991        Kanter & Everage Law Firm, Associate
1984-1987        N.M. Attorney General's Office
1983-1984        Court of Appeals, Law Clerk for Judges A. Joseph Alarid & Ramon Lopez

BIOGRAPHY
Judge Lopez graduated from U.C. Berkeley in 1980.  He also attended UCLA School of Law until 1983, where he met his wife, Antoinette, who teaches at the UNM School of Law. The couple recently celebrated their 29th anniversary. They have three children, Victor F., Graciela and Evalina.

Judge Lopez was admitted to practice law by the New Mexico Supreme Court in 1984. He was later admitted to the U.S. District Court for New Mexico and the U.S. Court of Appeals for the 10th Circuit.

Early in his career, Judge Lopez clerked for two Court of Appeals judges. This experience inspired him to pursue the work of the appellate court in later years. Judge Lopez has also served as a N.M. Assistant Attorney General and as an Assistant City Attorney for the City of Albuquerque where he was engaged in government service.

When Judge Lopez was in private practice he represented people and businesses in a wide variety of areas. He has handled thousands of cases. From representing people seeking divorces, to drafting contracts, to defending the City of Albuquerque, he learned about the strengths and weaknesses of our legal system from many perspectives. He believes that the greatest weakness of the system is delay.

In 2007, he was appointed to the Workers' Compensation Administration as a WCA judge. Since then, Judge Lopez has reviewed and decided a wide array of disputes involving workers' compensation disability, medical care, health care choice, lump sum settlement, and other issues. He has worked to make the system more efficient and to diligently and timely apply the law to resolve disputes. He listens to both sides and reads the parties submissions carefully to arrive at fair decisions. He is a strong writer.

Judge Lopez earned his degrees from UC Berkeley and UCLA School of Law; he is currently enrolled in a joint degree program with National Judicial College and University of Nevada, Reno, where he is about halfway toward completing an advanced degree in Judicial Studies. When he completes it, he will be one of perhaps a handful of judges in New Mexico who have obtained this high level of degree level training in Judicial Studies.

Judge Lopez's life experience, his studies and his career have prepared him to make a significant contribution to the New Mexico Court of Appeals.

PHILOSOPHICAL STATEMENT
Judges are charged with administering justice. This means more than merely understanding the law and facts of a case, although this too is important. We need to reach into our store of knowledge and experience to contemplate decisions, and then act on more than a mere hunch. We need to struggle with the case and render a decision consistent with the law and the heart of the case. But it is equally important that judges render timely decisions.

Delay in deciding a case inflicts its own injustice.  Undue delay can unjustly close a business or keep a child from the support she needs to thrive; combating neighbors may continue to fight over a fence dispute while the judge contemplates. Delay is human time. Peoples' rights remain suspended and not enforced while the judge ponders. A guilty man may continue to walk the streets while an innocent one remains jailed. Suspended justice not only reduces public confidence in our judicial system, it diminishes the rights of each of us—a result that judges must work tirelessly to avoid.

Contact Information:
Committee to Elect Victor S. Lopez
Leigh Anne Chavez, Treasurer
P.O. Box 8698
Albuquerque, NM 87198
Phone:  505 925-1810
October 18, 2011 at 01:08 PM in 2012 Judicial Races, Events | Permalink | Comments (0)