« N.M. Senators React to Report on Use of Chimpanzees in Research | Main | Bill That Funds N.M. Public Lands and Other Initiatives Sent to President »
Saturday, December 17, 2011
Study Confirms What New Mexicans Have Known for Years - Most Medical Research on Chimpanzees is Unnecessary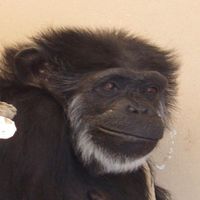 Meet Flo
Flo is 54 years old and is one of 170 chimps still at the Alamogordo Primate Facility. Her medical history dates back to 1972, see this link for an Overview of Flo's Medical Records. She was anesthetized for blood draws countless times, she had four babies all taken from her right away so they could be used for other often needless research, and she had several escape attempts during one of which she was shot.
On December 15, 2011 the Institute of Medicine (IOM) issued a report: Chimpanzees in Biomedical and Behavioral Research: Assessing the Necessity. to read the IOM summary and report follow this link. Our NM Senators who were leading the charge for the chimps retirement and the people speaking out against more research for chimps like Flo, followed up with a letter to the NIH requesting the report be adhered to, DFNM has a separate post of the Senator's statements regarding the report.
Guest Blog from Laura Bonar:
Following is a guest blog from Laura Bonar, Program Director of Animal Protection of New Mexico(APNM). APNM and Laura were instrumental in getting the Alamagordo chimps a repreive from more hedious testing. APNM sees more lies and falsehoods within the NIH document released in response to the report from IOM,  Download Chimp Study Reveals NIH Deception.
For nearly two decades, Animal Protection of New Mexico has been working to protect New Mexico's chimpanzees, our closest genetic relatives, from abuse in government-funded research. Last year's announcement that the federal government wanted to force 200 sick, ailing chimps into more testing and put an end to jobs in our state prompted a massive public outcry. The Institute of Medicine's chimp study results, actions from our elected leaders, and agency response show that when people commit to work together, we can accomplish meaningful change!
Finally, an independent study confirms what New Mexicans have known for years: most medical research on chimpanzees is unnecessary, and there is little to no relevance for chimps in research in this day and age. The National Institutes of Health has suspended funding for all future chimp research projects and will reevaluate all current funding.
We cannot rest until 54-year-old Flo and her colleagues are permanently retired and wasteful spending on cruel, ineffective research is ended. Thank you especially to Senator Tom Udall for leading the request for an independent study on the need for chimp research and for this week signing on to cosponsor the Great Ape Protection and Cost Savings Act! Senator Jeff Bingaman supported these efforts and joined with Senator Udall to urge the NIH to adopt report recommendations and protect New Mexico's chimps from further harm. Congressman Martin Heinrich sponsored the bill even before tremendous public outcry and was a consistent and outspoken champion, and Congressman Ben Ray Luján spoke out in 2010 and cosponsored legislation in 2011. Without the diplomacy and commitment of Governor Bill Richardson to stand up to the National Institutes of Health in 2010, this historic moment would not have been possible.
But this stepping stone for chimps and effective medical research is truly a people's victory. Public support should bring political support, God bless the optimists among us who won't give up even in bleak times!
Other Good Coverage
Here is a good article and video summarizing the years long effort of saving the chimps by our local KRQE.
And on a national level an article in Discover Magazine. A wonderful realization is stated in the Discover Mag article: "The recommendation is a reflection of our growing realization that chimps may be capable of self-awareness, empathy, grief, and happiness, and may possess basic morality as well as a culture; Brandon Keim, who has covered chimp research extensively for Wired, notes that some scientists have begun to think they should qualify as nonhuman people. Subjecting them to disease, pain, and psychological trauma in the service of research thus has grown to seem ethically dubious, especially after it was revealed that the NIH planned to send 209 chimps who had been allowed to retire from medical research back into the lab and that an NIH division had illegally bred captive chimpanzees." DFNM suggests following many of these links they are very interesting and informative.
December 17, 2011 at 09:36 AM in Animal Protection, Guest Blogger, Healthcare, Regulation | Permalink
Comments
This Marylander salutes the activists, media, legislators, and former governor of New Mexico! We simply would not have achieved this much without you.
I admit, I don't trust NIH, and I won't believe their promises of reform until I see them stop research projects and start moving chimps to sanctuaries. But we would literally still be in the dark ages of useless research if it weren't for Laura Bonar and APNM, and their efforts to educate policy makers and the media.
THANK YOU!!
I look forward to continuing the fight, with the Land of Enchantment showing the other 49 how its done.
Posted by: Dawn Forsythe | Dec 17, 2011 12:48:56 PM
Thanks so much for pulling this great information together and showing how New Mexico, particularly Laura Bonar of Animal Protection of New Mexico, has led the charge, to make unprecedented strides to end cruel and wasteful research on chimpanzees in federal labs all across the U.S.
Posted by: Anita Walsh | Dec 17, 2011 12:53:23 PM
The progress made in freeing chimpanzees and other primates (when I was at the Holloman primate lab 1969 - 1972 there were dozens of baboons and rhesus monkeys as well) from medical experiments is indeed gratifying. I was the Deputy Director of the Comparative Psychology Division of the Air Force's lab for those 3 years and I can tell you that I did not see one study that has had any lasting impact on the field--not the opioid studies, not the highly invasive studies of electrode implantation into the brain, and not even my own minimally invasive studies on operant baselines. I am not qualified to say whether the "sacrificing" of the many baboons during the development of air bags was necessary.
Thank you for your good work!
Posted by: Louis Wynne | Jan 13, 2012 5:47:07 AM