« ACLU-NM: Border Patrol Fails to Return Personal Belongings | Main | Group Says: Fracking is not Healthy for Humans and Other Living Things »
Friday, December 09, 2011
NM-1: Democrat Eric Griego to Deliver Petition to Republican Front-runner Dan Lewis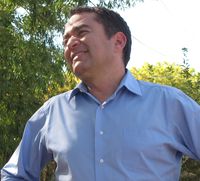 From the Eric Griego for Congress campaign:
Griego calls on Lewis to choose between eliminating tax cuts for millionaires or cutting Social Security and Medicare.
Democrat Eric Griego is heating up the race for New Mexico's First Congressional District with a direct challenge to Republican front-runner Dan Lewis.
On Thursday, Griego said that he has already collected more than 3,000 petition signatures demanding the Republican candidates in the race, including Lewis, get on the record and choose between eliminating tax cuts for millionaires or cutting Social Security and Medicare.
Griego will personally deliver the petition to every Republican in the race, starting with Lewis.  The date and time for the deliveries will be announced in the near future.
"Working families and seniors deserve to know if conservative Tea Party candidate Dan Lewis and other Republicans in the race support Washington Republicans' outrageous insistence on cutting Social Security and Medicare to pay for tax cuts for millionaires," Griego said.  "I stand with the 99% of us who count on these programs' earned benefits and instead would eliminate the Bush tax cuts for the rich."
Lewis has endorsed the radical plan by Republican Congressman Paul Ryan to privatize Social Security and end Medicare as we know it.
In October, Griego also started a petition that was joined by several Democratic congressional candidates in other key races to deliver more than 35,000 petitions to Speaker John Boehner, demanding that he and the Republican Congress "stand with the 99%" and pass the President's jobs bill to get the economy going.
"Dan Lewis and his radical right-wing supporters know that if I'm elected, I won't be some squishy Democrat that the Tea Party can push around," Griego continued.  "I will boldly stand up to their 1%-only agenda and fight to limit the influence of their Wall Street and Big Oil backers on our democracy."
Go to http://griegoforcongress.com/petitionchoose/ to view and sign Griego's petition.
December 9, 2011 at 04:02 PM in Eric Griego, NM-01 Congressional Race 2012, Social Security, Taxes | Permalink
Comments