« NM-1: American Federation of Teachers (AFT) Endorses Eric Griego for Congress | Main | Guest Blog by Jim Hightower: Hoping Won't Do It; Let's Make Next Year Better »
Wednesday, December 28, 2011
New Mexicans In Favor of Same-Sex Marriage and Support Occupy Wall Street
Yes you read that right! New Mexicans are in favor of same sex marriage!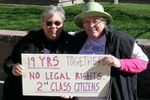 From the Public Policy Polling website the post "New Mexico for Gay Marriage" was put up on Dec. 20th. You can read the entire article here. And now I can remember Christopher Salas sending me a message saying Barb would be happy about this. And yes indeed Christopher she would. I am sorry I did not have the clearity of mind to go look this up last week because it is exciting news. I must say it is too bad my Barb passed away two days prior to this poll release. I miss her and I am going to miss her social security check, which every straight married couple gets to continue to receive.
PPP states the following shift: "PPP last polled the state in June, voters were against legalizing it by a 42-48 margin.  In the intervening half-year, opinion has moved eight points, with 45% now wanting gay couples to be able to legally marry in the state, and 43% still against it.  The reason for the shift is that Democrats (from 34% to 28%) and independents (44% to 37%) have lowered their opposition by six or seven points.  Further, two-thirds of New Mexicans also still favor these relationships being recognized with at least the legal equality of civil unions.  That includes 78% of Democrats, 71% of independents, and 41% of Republicans." For sure promising good news. Maybe people have more to worry about than Gay Marriage.
Polling is always a bit of a mystery because the next paragraph states the poll revealed that Gov. Martinez has only slipped marginally in her approval ratings. Hmmm. Seems like conflicting ideals but let us accept it as it is.
Dig this too: The PPP poll also revealed some interesting polling stats over the approval of Occupy Wall Street movement vs the Tea Party movement.
Q9 Do you support or oppose the goals of the Occupy Wall Street movement?
Support 42%, Oppose 37%, Not sure 21%.

Q10 Do you support or oppose the goals of the Tea Party movement?
Support 34%, Oppose 50%, Not sure 16%.

Q11 Do you have a higher opinion of the Occupy Wall Street movement or the Tea Party movement?
Occupy Wall Street 44%, Tea Party 38%, Not sure 18%.
What's Next
We have not heard or asked what the LGBT community is pushing for in the 2012 Legislature this year. Maybe one of our legislators could carry a marriage equality bill. The poll above says that 41 % of republicans polled support civil unions. Perhaps we can move the civil rights battle for LGBT americans further down the field, to be treated fairly as the tax paying citizens we are.
Earlier this year we got Senator Udall and Senator Bingaman to sign on to cosponsor the repeal of DOMA legislation on the federal level. More than 1,000 of you signed a petition asking that they support the bill. Many of those signing the petition included very moving and passionate statements of support for equality for same-sex couples and the entire LGBT community. You can read them here.
If you look at the petition signatures you will not find many of our State Legislators. Barb and I solicited their participation, with personal emails. But alas if you look at the signatures you will find but a handful of State Senators or Represenatives who signed this petition. Not acceptable. Whether it is lethargy or fear of stepping out and supporting full gay rights, the time is now. Carpe diem!
Lastly below is an audio of my partner Barbara Wold, being interviewed by Peter St. Cyr right after an exciting Democratic Party State Central Committee Meeting where the resolutions we were carrying for Gay Marriage passed unanimously. Go Barb! We are still in the fight honey!
http://www.facebook.com/l.php?u=http%3A%2F%2Fia600806.us.archive.org%2F7%2Fitems%2FBarbaraWoldDomesticPartnerships%2FBarbaraWoldOnMarriageEqualityResolution4252009.mp3&h=9AQHESHPOAQFjoVXKpzl_s_rBRRcBhR1zrx7TjQSRjdJK_w
December 28, 2011 at 10:08 PM in Civil Liberties, GLBT Rights, NM Legislature 2012, Polling | Permalink
Comments
What have been telling you guys. The people are ahead of the politicians.
There are plenty of Christians that want equal rights for Gays and many Gays are religious. Don't ever buy into the argument that being Gay is against God. That is a false idea. The politicians take cognitive short cuts when they use religion as a excuse to be inhumane.
Posted by: qofdisks | Dec 29, 2011 3:33:48 PM