« Anti-Gay Amendments Removed from National Defense Authorization Act | Main | NM-1: Nurses Union Endorses Eric Griego for Congress »
Tuesday, December 13, 2011
Heinrich Details Opposition To Indefinite Detention of Americans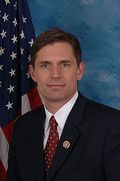 From U.S. Rep. Martin Heinrich:
U.S. Rep. Martin Heinrich (NM-1), U.S. Rep. Hank Johnson (GA-4), and 30 colleagues in the U.S. House of Representatives today sent an urgent letter to House and Senate Armed Services Committee leaders and conferees opposing provisions of the National Defense Authorization Act that would authorize indefinite detention of Americans and tie the hands of domestic law enforcement in terrorism cases. Read the letter (PDF) »
"I strongly oppose mandating military custody and allowing for indefinite detention without due process or trial," said Rep. Heinrich, who serves on the House Armed Services Committee. "These provisions are deeply concerning and would risk putting American citizens in military detention, indefinitely.  In short, this authority is at complete odds with the United States Constitution."
The letter details Rep. Heinrich's opposition to Sec. 1034 of the House-passed defense authorization, and Secs. 1031 and 1032 of the Senate-passed bill.
Sec. 1034 of the House bill would authorize the use of military force against broadly defined adversaries substantially exceeding the scope of such authorizations already in law.  The expanded authority would have no geographical limits and provide authority for open-ended armed conflict.  Sec. 1031 of the Senate bill would authorize indefinite military detention of suspected terrorists without protecting U.S. citizens' right to trial.  Sec. 1032 of the Senate bill would require that suspected foreign terrorists be taken into custody by the military instead of civilian law enforcement authorities, denying civilian law enforcement authorities the flexibility necessary to conduct effective counterterrorism operations.
"These provisions have no place in our law," said Rep. Johnson, who serves on the House Armed Services and Judiciary Committees.  "If we include this language, we're on a slippery slope."
House and Senate conferees are meeting today to finalize the Defense authorization bill. It is anticipated that the conference report will be voted on by the House this coming Thursday, December 15.
The signed letter will be available at Heinrich.house.gov.
December 13, 2011 at 09:08 AM in Civil Liberties, Military Affairs, Rep. Martin Heinrich (NM-01) | Permalink
Comments
Way to go, Martin! The loss of our Bill of Rights is a greater threat than ANYTHING the terrorists can dish out!
Posted by: David Lancaster | Dec 13, 2011 9:29:02 PM