« 12/3: Reception in Support of Eric Griego for Congress | Main | Senate Majority Leadership Fund Event »
Friday, December 02, 2011
Guest Blogger Lora Lucero: Recap of We the People are Here Town Hall
This is a guest blog by Lora Lucero, a long-time resident of Albuquerque, NM, an adjunct professor of law at UNM and the Natural Resources Director for the League of Women Voters of New Mexico.
Corporations, banks and taxes (thanks in great measure to the Occupiers' consciousness-raising actions of the past few months) are the most despised words in the English lexicon today.  Americans won't be fooled.  The 99% understand exactly who controls the traditional levers of power --- and we're not going to take it any longer. 
Watch 2012!   Change is a-comin'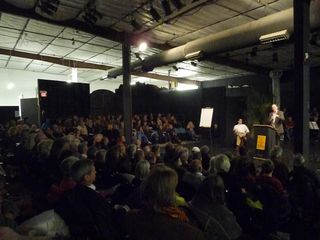 At the We the People are Here town hall on Tuesday, Nov. 29, Senator Peter Wirth and Representative Brian Egolf, both from Santa Fe, discussed two proposals they will bring back to the New Mexico Legislature in January.  They stood before an enthusiastic audience of 200-250 people at El Museo Cultura.    
Senator Wirth's Combined Reporting bill has never made it out of the Senate Corporations Committee in the past eight years that he has carried it.  "It goes there to die," Wirth admitted.  2012 could be different.
There's no sexy sound bite to describe the Combined Reporting bill, unfortunately, which might make it a hard sell for the general public, but Senator Wirth had no trouble explaining it Tuesday and gaining the support of those present.  The following night, a local chapter of the Progressive Democrats of New Mexico in Corrales also endorsed the proposal.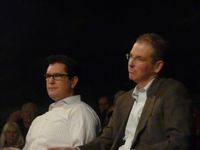 You can't stop a good idea whose time has come!
Combined Reporting, in a nutshell, will require out-of-state corporations (Walmart and the like) to pay corporate income tax in New Mexico, just like your mom-and-pop businesses must pay today.
"These behemoths don't already pay corporate income tax in New Mexico?" you ask.  No. Astonishingly, New Mexico is one of the last (if not THE last) Rocky Mountain states that provides a loophole for multi-state corporations to elect to report and file their corporate tax returns in another state where they do business.  New Mexico gets nada.
Of course, opponents to Combined Reporting will argue that these out-of-state businesses pay other types of taxes and provide other types of benefits to our economy, so we'd better treat them with kid gloves.  We certainly don't want them to pack up and move out. 
RIDICULOUS!  Does anyone really expect Walmart to close its doors in New Mexico? Or fear that any other multi-state corporations will leave?  Where will they go since most states don't provide this same corporate tax loophole? That argument is a red-herring that most reasonable people have already dismissed. 
The real issue is fairness.  Should multi-state corporations slide through without paying corporate income taxes in New Mexico while the home-grown mom-and-pop business shoulders the burden?  Aren't we putting our own New Mexico businesses at a disadvantage in this competitive environment?  Why would we do that?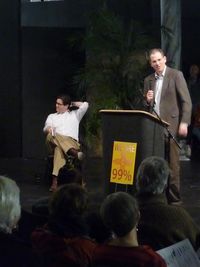 Senator Wirth is hoping to deflect some of the "anti-new-tax" rhetoric by adding a sweetner to his Combined Reporting bill this year.  Because there will be more corporations paying income tax in New Mexico, if his bill passes, we can actually reduce the corporate tax rate from 7.6% to 7% and still come out ahead. 
So Wirth's legislation might be a new tax for those out-of-state corporations, but it will be a reduced tax for in-state corporations.  I can see it now.  The dark suits in the halls of the Roundhouse will be in a tizzy.  If they represent in-state clients, will they continue opposing Wirth's Combined Reporting bill?  Not if they want their lobbying contracts renewed in 2013.
I also expect there will be many new faces watching the committee hearings in 2012. The issue of fairness and making large corporations pay their fair share in New Mexico should resonate with the 99%. 
If you want to level the playing field, please sign this petition in support of Combined Reporting.  http://www.signon.org/sign/level-the-playing-field-2.fb1?source=s.fb&r_by=1212092 
Representative Brian Egolf proposes to reintroduce a bill (or was it a memorial or resolution? --- I'm not sure) to require state agencies to study and prepare a plan for the creation of a state bank.  Only North Dakota has a state bank which has proven to be a boom for that state's economy.  Yes! Magazine had a good spread about the benefits of a state bank in its September issue.  http://www.yesmagazine.org/issues/new-livelihoods/how-state-banks-bring-the-money-home  My New Economy book club has read about state banks (David Korten's "Agenda for a New Economy" for example) and we think it's a great idea.  The We the People are Here in Santa Fe appears to favor it too.
December 2, 2011 at 05:06 PM in Guest Blogger, NM Legislature 2011, Taxes | Permalink
Comments