« NM-1: Communications Workers of America (CWA) Endorses Eric Griego for Congress | Main | NM-01: Endorsing Eric Griego for the Daily Kos "Orange to Blue list" »
Friday, December 23, 2011
Democracy for America is Proud to Endorse Eric Griego for Congress NM-CD1
A few weeks back, DFA conducted a poll of who the DFA New Mexico membership supported for CD1. On Monday Dec. 20th the following announcement was made from Jim Dean Chair of Democracy for America (DFA) of the endorsement of Eric Griego as the favored candidate of Congressional District 1.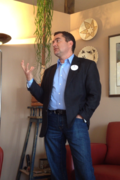 We've become accustomed to Republicans fighting for a 1%-only agenda. But don't you feel like there are too many Democrats in Washington who have forgotten the values that make us Democrats? And who are too eager to cut any deal with the Tea Party Republicans, even if it means hurting working families, seniors and children?
Our country can't afford any more timid solutions from so-called centrists cozying up to powerful corporate special interests lobbying for a 1%-only agenda. We can't fix what's broken in Washington unless we send more bold progressive Democrats to shake things up.
That's why Democracy for America is proud to endorse Eric Griego for Congress in New Mexico's First District.
Eric's people-powered campaign needs our help immediately to have the resources to win against his corporate-powered centrist opponents.
Contribute $25 now to send a Democrat with backbone and principles to Washington.
Eric Griego is known as many things – authentic, principled, progressive, a reformer, a fighter. But being a typical business-as-usual politician isn't one of them.
When Speaker John Boehner refused to even allow the House to vote on President Obama's job bill, Eric stood up to Boehner and demanded that he "stand with the 99%" and pass the bill. Eric started and led a petition delivery to Boehner that was joined by other real progressives and was featured on CNN.
Eric is also committed to limiting corporate influence in our democracy and has made campaign finance and ethics reform a centerpiece of his agenda.  He joins Senator Bernie Sanders in supporting a constitutiional amendment to overturn Citizens United.  He has also been an advocate for public financing of elections and led its passage in Albuquerque.
December 23, 2011 at 08:07 AM in Candidates & Races, DFA, Eric Griego, NM-01 Congressional Race 2012, Progressivism | Permalink
Comments