« Feds Support More Cruel Tests on the Alamogordo Chimpanzees | Main | Occupy Santa Fe People's Mic In Opposition to PNM & Gov. Martinez at EIB Hearing on 12/5/11 »
Tuesday, December 06, 2011
12/7: Fighting for Our Future: Youth Defend the Cap on Carbon Emissions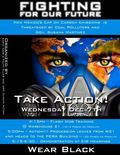 HUNDREDS OF YOUTH POISED FOR ACTION AT NM ENVIRONMENTAL IMPROVEMENT BOARD HEARINGS NEXT WED, DEC 7, 2011:
Local youth from Earth Care's Youth Allies and international students from the United World College (UWC) in Montezuma, are partnering to lead a youth action at the Environmental Improvement Board's (EIB) Public Hearing next Wednesday, December 7, 2011. Organizers from the two groups are calling on young people from throughout the state to stand with them in defense of the NM Cap on Carbon Emissions. The Cap was passed December 6, 2010 but now is under attack by Susana Martinez and the largest polluter in NM - PNM.
The Carbon Cap was written to reduce greenhouse gas emissions pollution in the State of NM by 3 percent per year from 2010 levels, with a goal to reduce emissions 25% below 1990 levels by 2020. Members of Youth Allies testified at the hearing in support of the cap in March and August of last year along with dozens of residents and expert witnesses and were proud to be a part of the historical decision.
"It gave us hope for our future. It made us proud to be New Mexicans because it set New Mexico as a leader for the rest of the United States and the world" says Marco Campos, Youth Allies Organizer. Now youth from the group have to once again prepare testimonies. "It's frustrating when you take part in the political process for the first time and put your faith in decision-makers to respond and do the right thing only to have big industrial polluters undermine the process." says Avree Koffman another leader from the group.
Local youth are not the only ones following the hearing and frustrated with the process. Students at the United World College, an international high school in Montezuma, NM, are upset as well. "This isn't just an issue that effects NM," says Kripa Dongol from Nepal, "the failure of political leaders to act on Climate Change is an attack on young people all over the world."
"Susana Martinez is fighting for the right of PNM to maintain their profits no matter what the cost. I want to tell Governor Martinez that she is also working to flood my country, ruin our farmland, and leave my family homeless." Says Ikhzaan Saleem from the Maldives. "What is happening in New Mexico is connected to a global struggle to shift away from dirty fossil fuels, and build a green economy that can provide young people with a hopeful future," says Emily Swartz from Colorado.
The two groups are collaborating to organize a dramatic action at next Wednesday's Public Hearing. Members of the two groups will also testify at the hearings and present petitions with hundreds of signatures from their peers who also support the cap on carbon emissions.
WHAT: Fighting for Our Future: Youth Defend the NM Cap on Carbon Emissions
WHO: The action is being organized by Earth Care's Youth Allies and UWC Climate Action. Participants will include hundreds of NM residents, young and old.
WHERE: Meet at Warehouse 21. Procession departs from Warehouse 21 at 5pm, proceeds east on Paseo de Peralta to the old PERA building (1120 Paseo de Peralta) where action will be staged from 5:15-6:30PM. Hearings begin at 6:30PM.
WHEN: Wednesday, December 7, Sign-making @ 3:30, Action Training @ 4:15.  Procession departs @ 5:00, ACTION @ 5:15-6:30, Public Hearing @ 6:30.
Youth Allies Action Network: is a program of Earth Care, a Santa Fe non-profit dedicated to educating and empowering young people to create healthy, just, and sustainable communities. Youth Allies is a network of hundreds of youth from public high schools throughout Santa Fe who receive training in leadership, cultural competency, sustainability, and social activism and lead community-improvement efforts through the program. Youth Allies Organizers have led climate action efforts in Santa Fe along with partners for the last 3 years including 350.org and iMatter events.
UWC Climate Action: Is a student-led initiative that aims to build youth power for a sustainable future. It is made up of students age 16-19 from over 80 nations. 
December 6, 2011 at 12:26 PM in Action Alerts, Environment, Regulation, Youth | Permalink
Comments