« South Valley Dia de los Muertos Celebration & Marigold Parade | Main | Eric Griego and Special Guest -- "Breaking Bad" actor Steven Michael Quezada »
Wednesday, November 09, 2011
Stephen Jones: Progressives Win Big in Las Cruces
This is a post by contributing writer, Stephen Jones, of Las Cruces, New Mexico.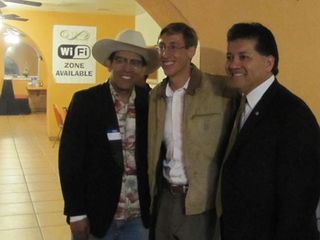 Silva, Small, Miyagishima 
Mayor Ken Miyagishima handily defeated both of his challengers, and two incumbent City Council progressives, Councillors Miguel Silva and Nathan Small, were easily re-elected in the Las Cruces municipal election on Tuesday, crushing their Tea Party-backed rivals by lopsided margins. Joining Tuesday's rout over conservatives, Gregory Z. Smith, another progressive candidate, appeared to have narrowly won his contest as well.

Leading the sweep, Mayor Miyagishima won a second term as Las Cruces Mayor, garnering a landslide 60% of the vote against Councillor Dolores Conner, his closest rival, who took only 29% of the vote despite far outspending Miyagishima, and Michael Ray Huerta who captured 11% of the vote.





In Las Cruces City Council District 1, Councillor Miguel Silva hammered  Natalie Chadborn, a leader of the Tea Party in Las Cruces. Silva beat Chadborn by a lopsided 69%-31% margin. In Las Cruces City Council District 4, Nathan Small was re-elected by an even wider margin against his Tea Party-backed rival Aaron Diaz, 71% to 29%.

In the District 2 City Council contest to replace Dolores Conner, who vacated the seat to run for Mayor, Gregory Z. Smith, a local architect and one of two progressive candidates in the district, had just over 40% of the vote, enough to avoid a runoff against the second place candidate, Scholz, who also has a progressive base. The third candidate, conservative Fred Espinoza trailed the top two candidates badly.

Councillors Gil Sorg (Las Cruces-5) and Mayor Pro Tem Sharon Thomas (Las Cruces-6) who hold staggered terms were not up for re-election. Sorg and Thomas are also part of the progressive caucus in the Las Cruces City Council. With the sweep on Tuesday night, progressives now hold all seven of the elective municipal offices in the city of Las Cruces. Tuesday's big wins were among the widest winning pluralities in Las Cruces history.
To see more posts by Stephen, visit our archive 
November 9, 2011 at 11:13 PM in By Stephen Jones, Contributing Writer, Las Cruces City Elections | Permalink
Comments
How about a teach-in in ABQ on the progressive alliance that makes this happen?
The 99% is too big to fail! Go Las Cruces!
Posted by: bg | Nov 10, 2011 1:10:32 PM