« Lujan Grisham Announces Range of Endorsements from New Mexico's Leaders | Main | Barb's T-day Message »
Thursday, November 24, 2011
Our Gay Thanksgiving 2011
This thanksgiving day post is by Mary Ellen.
Imagine all the fixing going on in houses all over the country. Smells from the oven. A little bit of bickering. Kids all anxious. People driving. Phone calls to loved ones afar. All kinds of traditions being rehatched. Some new lovers just starting their traditions. Everyone being gay or not.
As for our gay house - It is Barb and I and I am thankful. And our wonderful gay birds. The other day I tried to write down where we were for each of our other 22 thanksgivings together. In 1989 we were in Provincetown, MA; in 1993 we were in Boulder CO; in 1996 we were in Albq., NM; in 2001 we were in Florida. In 1995 was the only thanksgiving I was in Massachusetts without Barb, and decided on that  day I would never be without Barb on a Thanksgiving. And I haven't.
Today, this thanksgiving, we woke up, watched the sky turn from red to orange, made coffee, brought in the newspaper, marveled at the waste of paper of all the ads, put them in the recycle pile without even looking at one of them. We have had pie for breakfast, each went online. I took pictures of our pretty birds. A variety of friends have offered to come by and drop off plates of their special dinners, to share their T-day traditions with Barb and I on this our thankful day together. And as Barb has done for other years on the blog here, I wrote a piece of Thanks for this our Gay Thanksgiving, today November 24th 2011.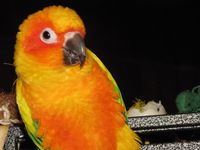 So here is Sunny today very gay and colorful and proud. Sunny is very happy he is not a turkey today.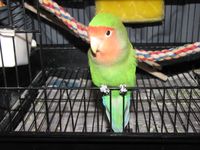 And here is Bosco the little Lovebird with the Big personality.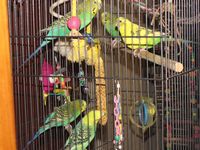 And we cannot forget the flock of Parakeets feasting on their T-day sugar seed stick.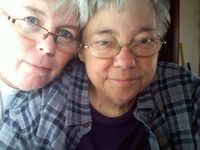 And last pic of the day Barb and I. Barb being none too pleased for me to be snapping a pic so early. Too bad honey. It is what it is. We are what and who we are. I am thankful for you in my life more than anything this thanksgiving day.
November 24, 2011 at 09:48 AM in Bird Blogging, Holidays | Permalink
Comments
Love to you both (and to Sunny,of course) this beautiful Thanksgiving Day. I hope the food is as good as the fellowship.
Posted by: John McAndrew | Nov 24, 2011 10:09:18 AM
Thank you, Barb and Mary Ellen for sharing your very special Thanksgiving thoughts. Our thoughts are with you and we, the political activists of Albuquerque and New Mexico, thank you for all of the wonderful things you have done with and for us and for helping us try to make a difference in our world.
Terry
Posted by: Terry Riley | Nov 24, 2011 4:03:18 PM
so Glad you had a a wondeful day together. It is my pleasure to know you both. Stephanie
Posted by: Stephanie DuBois | Nov 24, 2011 6:23:58 PM
I am thankful to see both of your great faces there at the end of the blog, thankful that Sunny is not a turkey, glad for all the bird songs in your house.
I hope you had a wonderful day, that it ended as wonderfully as it started.
I am sending love and wish I was close by to drop a plate over there too!
Posted by: bg | Nov 24, 2011 9:47:44 PM
Thanks for being a Beacon as well as for providing a place for people to share thoughts about how we can all appreciate our sameness and differences.
Posted by: Bruce. | Nov 25, 2011 10:33:31 AM