« Honoring National Breast Cancer Awareness Month: Metro Source Janitorial & Maid Service Gives Back to Women with Cancer | Main | Santa Fe Police Officers Association Endorses Hector Balderas for Senate »
Friday, October 21, 2011
State Sen. Tim Keller Endorses Eric Griego for Congress in NM-1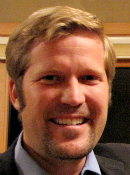 Popular progressive State Senator Tim Keller (D-17 Albuquerque) today announced in an email that he is endorsing fellow lawmaker Eric Griego for Congress in New Mexico's First Congressional District. The Griego campaign pointed out that the endorsement is especially meaningful not only because Sen. Keller has been a colleague of Griego in the New Mexico Senate, working with him on a number of important reform issues, but because Keller himself was mentioned as a strong candidate for the slot early on.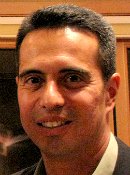 The campaign also noted that State Rep. Antonio "Moe" Maestas (D-16 Albuquerque) -- another Dem lawmaker known for his dynamic progressive leadership who was also mentioned prominently as a possible strong contender for the U.S. House seat -- endorsed Griego's campaign in the 3rd quarter. Click for a full list of endorsements for Eric Griego for Congress.
Here's the endorsement email by Sen. TIm Keller:
I want to give you an update in the important race for New Mexico's 1st Congressional District. After years of working side-by-side with Eric Griego in our State Senate, I'm honored to endorse his candidacy for U.S. Congress.
As you're probably aware, there are three Democratic candidates in the open seat to succeed Rep. Martin Heinrich. In this wide-open race, which candidate we support is an important decision to determine who will take the fight to the Tea Party Republicans in 2012 and who we can count on to fight for us in Washington.
Eric has long been the conscience of our progressive values in our community. He also knows a thing or two about creating jobs and protecting our environment. Eric passed landmark legislation for green job creation in our state legislature. He has a critical combination of passion, experience and a no-nonsense approach needed to beat back the Tea Party and straighten out Washington.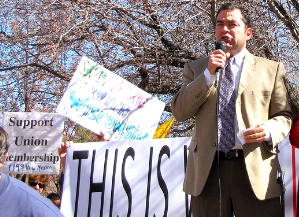 That's why I proudly endorse Eric Griego for Congress and ask you to chip in $3 to his campaign.
We need Congress to create jobs, not play political games. In the State Senate, Eric reached across the aisle to fight for bold investments to spur jobs in New Mexico and supported my bill to create more than 3,000 jobs in the state. He has also started a petition calling on Speaker John Boehner to pass the President's jobs bill before Thanksgiving, which can create thousands of additional new jobs in New Mexico.
Eric is a progressive reformer who will stand his ground against Tea Party extremists and lobbyists from Big Oil and Wall Street in Washington. But we can trust his record of getting things done for the people of New Mexico.
Chip in $3 to Eric's campaign to help him continue the momentum.
Eric is running a strong grassroots campaign and is going to take the fight to the Tea Party Republicans in 2012. He reported a strong fundraising quarter with more money in the bank than any of his competitors. Eric also counts on early support from more than 1,000 New Mexican grassroots donors -– nearly four times that of his closest competitor. Eric also has more political endorsements inside New Mexico than both of his competitors combined. Click here to take a look.
We can also be proud that Eric is the only candidate in the race to stand firmly and early with the growing movement calling on Washington and Wall Street to stand with the 99% of us, not just the richest 1%, Wall Street and Big Oil.
Let's send Eric Griego to Washington to fight for us.
Best,
Tim Keller
New Mexico State Senator
Photos by M.E. Broderick.
October 21, 2011 at 02:25 PM in Eric Griego, NM-01 Congressional Race 2012, Tim Keller | Permalink
Comments