« Environmental Groups Act to Protect the Air in New Mexico and the Four Corners Region | Main | IBEW Local 611 Endorses Marty Chavez for Congress in NM-1 »
Tuesday, October 18, 2011
Keller, Maestas Criticize Romney for Calling Middle Class Tax Breaks 'Band-Aids'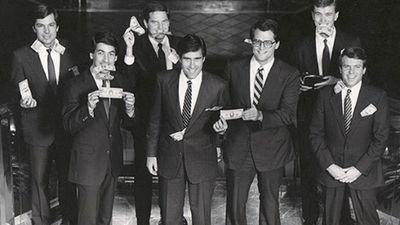 Famous photo of money-bags Romney when he and his cronies were buying up companies and laying off workers for profit
On Friday, New Mexico State Senator Tim Keller and State Rep. Antonio "Moe" Maestas held a press conference call to discuss Mitt Romney's comments at the GOP debate in New Hampshire that tax cuts for the middle class were nothing more than "little band-aids" that he doesn't support. Romney has long made noise about opposing tax cuts for the middle class, but his latest statement exposes just how out of touch Mitt really is with the lives of ordinary Americans.
Earth to Mitt: tax cuts in the thousand-dollar-plus range and beyond can make the difference in whether there's adequate food on the table or whether needed medical prescriptions are filled for working class families. A thousand dollars more or less probably doesn't mean much in the elite financial world of Romney and the other one per centers, where greens fees for golf outings can cost that much. But in the real world of working for a paycheck to make a living, it's not exacty chicken feed.
After the conference call, Sen. Keller and Rep. Maestas released the following statements pointing out the arrogance and ignorance demonstrated by Romney's statement.
"Romney and his Republican colleagues in Washington who voted against the American Jobs Act claim they are for tax breaks, but would let the payroll tax cut expire and take money out of the pockets of working Americans," said Sen. Tim Keller. "Mitt Romney doesn't get what economists and the American people are saying: Middle-class tax cuts make sense for the economy and for our families. Instead, Romney continues to push more tax breaks for the wealthiest Americans and corporations while doing nothing for the middle class."
Rep. Antonio "Moe" Maestas said, "Mitt Romney may claim he isn't 'running to support the rich,' but his economic proposals support more tax breaks for the wealthiest Americans and corporations while doing nothing for the middle class. When asked about extending a payroll tax credit that averages more than $1,360 for the typical American family, Romney said he doesn't support little 'band aids.' That's just wrong."
"For the wealthiest Americans and corporations that Mitt is running for, $1,360 is not much, but for middle class families trying to make ends meet here in New Mexico it would make all the difference in the world," Rep. Maestas continued. "It can be four months of groceries or months of rent –- not to mention that middle-class tax cuts make sense for the economy. It's clear that Mitt Romney has no plan to provide relief to the middle class and no plan to immediately create jobs."
Wealthy elitist Republicans are like that.
The DNC has pointed out that at the same time Romney is belittling middle class tax cuts as "little band-aids," he seems quite proud of the fact that he's leading the money race for campaign cash from Wall Street. Considering that Romney has promised Wall Street's big banks that if he's elected he'll allow them to write their own rules again -- just as they were doing when the economy nearly collapsed just three short years ago -- perhaps no one should be surprised that he's raking in big bucks from the banks for his campaign. Or that he seems to have the interests of the moneyed classes as his sole concern.
You can watch the Republican presidential candidates debate again tonight at 6:00 PM mountain time.
October 18, 2011 at 05:44 PM in 2012 Presidential Race, Corporatism, Economy, Populism, Mitt Romney, Right Wing, Taxes, Tim Keller | Permalink
Comments