« Women's Equality Activist Lilly Ledbetter Endorses Marty Chavez for Congress | Main | Sierra Club Endorses Eric Griego Campaign for New Mexico's 1st Congressional District »
Saturday, October 29, 2011
Eric Griego Delivers Petitions to John Boehner
From the Progressive Candidate for CD1 - Eric Griego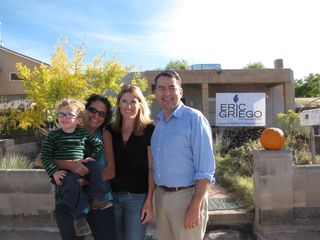 I went to Speaker John Boehner's office on Wednesday to help deliver more than 35,000 petitions calling on him to stand with the 99%. The petition also called on Boehner to stop playing political games and pass the President's jobs bill.

Even though his office had a sign saying "welcome, please come in", Boehner wouldn't see us. Instead, he sent a staffer out to take our petitions. But as promised, we had lots of media there with us to cover it, including CNN, CBS, NBC, and the Politico.

Click here to watch the video of the petition delivery to John Boehner and share it with your friends.

The Republican Congress is too busy coddling the richest 1% to pay attention to the 99% of us who want Congress to create jobs instead of playing political games.

Help send me to Washington to keep fighting for the 99%, and not just the richest 1% that Boehner and the Republican Congress continues to coddle, by chipping in $1.99.


October 29, 2011 at 02:27 PM in Eric Griego, NM-01 Congressional Race 2012, Occupy Wall Street | Permalink
Comments