« Photos/Videos: Occupy Albuquerque in Solidarity With Occupy Wall Street | Main | Guest Blog: 2012 Presents A Real Opportunity for Democrats To Propose Plausible, Progressive Economic Alternatives »
Sunday, October 02, 2011
Day 2 of Occupy Burque: Activities Continue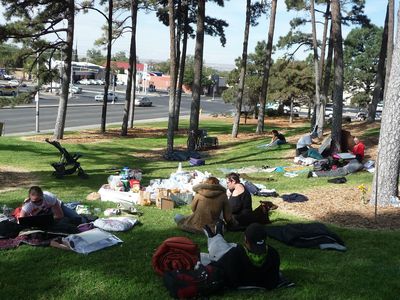 Camp out area at UNM, Occupy Burque
The occupations continue. According to comments and photos by Lora Lucero on Facebook, about a dozen young people spent the night of October 1 camped out near the corner of Central and University Avenue in Albuquerque after the day's demonstrations. Taking turns, they plan to occupy the space for the foreseeable future.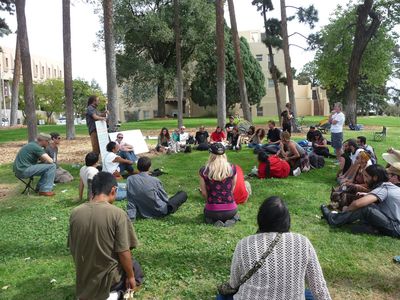 10.2.11 Assembly meeting at UNM
An assembly meeting was held today at 12:30 PM to discuss the goals of Occupy Burque, and another protest was held at the front of the Bank of the West today at 5:30 PM (Central and San Mateo). About 30 young people (and a few elders) attended the Assembly to discuss the goals and strategies of the Occupy Burque movement. Lora said she was very impressed with their focus on a democratic, consensus process.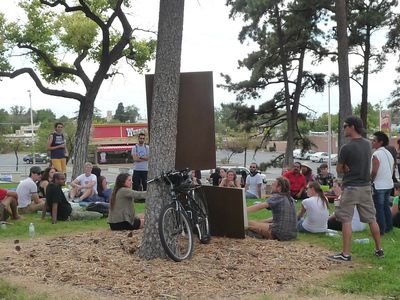 Occupy Boston: Why we're here
We are the 99 percent. We are getting kicked out of our homes. We are forced to choose between groceries and rent. We are denied quality medical care. We are suffering from environmental pollution. We are working long hours for little pay and no rights, if we're working at all. We are getting nothing while the other 1 percent is getting everything. We are the 99 percent.
Brought to you by the people who occupy Wall Street. We are the 99 percent. Why will YOU occupy? OccupyWallSt.org, Occupytogether.org, OccupyAlbuquerque.org, OccupyBurque Facebook
All Albuquerque photos by Lora Lucero.
October 2, 2011 at 08:47 PM in Corporatism, Economy, Populism, Finance, Investments, Jobs, Occupy Wall Street (Everywhere) | Permalink
Comments