« CHILE-PAC Makes First Ever Endorsement - of Hector Balderas for Senate | Main | Sen. Keller's Bi-Partisan Jobs Bill Back on Track Despite Veto by Gov. Martinez in Regular Session »
Thursday, September 22, 2011
No More Injustice: The Executions of Troy Davis and Willie McGee
This is a post by contributing writer, Stephen Jones, of Las Cruces, New Mexico.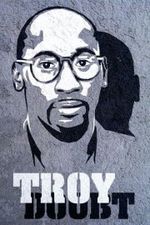 It's a tricky business, this politically charged issue of capital punishment. On the one hand are the victims of crime, who understandably seek emotional closure over the shattering of their lives, and the loss of their loved ones, usually under terrible circumstances. On the other side, as the execution last night of Troy Anthony Davis despite nagging questions as to his guilt reminds us, is the troubling reality that our legal system is never foolproof, disproportionally penalizes the poor and historically has targeted minority communities. Without minimizing the suffering of the victims, the historical parallels -- as in the case of Davis -- to a dark American past, ought be cause for all of us to consider the issues of his case, the application of the law and deeper questions of justice and injustice.
Just over sixty years ago, on May 8, 1951, Willie McGee, an African American laborer, was executed by the State of Mississippi despite a lack of evidence that he had committed any crime. Thanks to the efforts of one southern writer, William Faulkner, and others who soon joined his cause, McGee's case was one of the few capital punishment cases in the Jim Crow era that ever rose to international attention. The false charge against Willie McGee became one of the models for the fictionalized case against the character Tom Robinson in Harper Lee's novel, To Kill a Mockingbird. McGee's case was revisited by the award-winning New Mexico writer Alex Heard last year in his book, The Eyes of Willie McGee. The history of abuse of the law is as troubling today as it was then.
McGee's trial lasted less than three hours. The all-white jury deliberated only two-and-a-half minutes before sentencing McGee to death. In the appeals that followed, a crusading young lawyer from New York, and a future Congresswoman, Bella Abzug, fought for clemency for her client, Willie McGee.
In the last days of McGee's life, the Mississippi Supreme Court refused to hear Abzug's appeal, and the Governor refused to meet with her; the hotels in Jackson, Mississippi refused to house her. In the final days just before McGee's execution, Bella Abzug was forced to spend the night crouched down and hiding in a locked bathroom stall of the Jackson, Mississippi Greyhound bus station while a band of racist thugs searched for her. Bella Abzug's legal crusade never stood a chance. In Willie McGee's Mississippi there were two systems of justice.
Decades after the McGee case, studies have repeatedly shown that race, place and economic status are key factors on who lives and who dies in capital punishment cases. A 2003 University of Maryland study shows that race and geography continue to plague the justice system in death penalty cases. A similar study in North Carolina found similar statistics. Another report, commissioned by the New Jersey Supreme Court, also turned up a similar pattern of capital convictions and helped convince that state's legislature to abolish the death penalty in the Garden State in 2007.
Last night's execution of Troy Davis by the State of Georgia makes painfully clear, once again, that six decades on we still have two systems of justice in the United States. Davis was convicted of the murder of a white police officer in Savannah in 1991. The officer, Mark MacPhail, was gunned down while rushing to the rescue of a homeless man being pistol-whipped in the parking lot of Savannah's Greyhound bus station. The day after the murder, several witnesses told police that Troy Davis was the shooter.
Subsequently, seven of nine eyewitnesses, including the homeless man who was under attack at the bus station that night in 1991, recanted their statements, citing pressure from police in the case. Others implicated Sylvester "Redd" Coles, one of the original so-called "witnesses" to the crime. No physical evidence was ever presented that linked Davis to the crime, and the weopon was never recovered. Yet despite so many doubts in the Davis case, the courts refused to stop the execution that was carried out last night.
With so many questions about what really happened in 1991, Davis's life should have been spared.
"I hear Rosalee, see the eyes of Willie McGee," wrote the haunted African-American playwright, Lorraine Hansberry, in her poem Lynchsong, shortly after the execution that was carried out in Mississippi in 1951. The lines of her poem were a reference to the pleas of Rosalee McGee for the life of her husband. Like the southern writers, William Faulkner, and later Harper Lee, images of injustice were just outside the doorstep and never very far away from the thoughts of Lorraine Hansberry, as well, though she lived far from the Jim Crow south. Her family fought housing segregation in the courts in Chicago, and her circle of friends, including Richard Wright, Langston Hughes and Claude McCay, used their own pens over the whole span of their lifetimes to fight against a double-standard of justice far north of the Mason-Dixon line, where they lived and worked. New York's "Battling" Bella Abzug never stopped fighting for the equal treatment for all, in the courtroom or in Congress.
The rest of us need to pick up the torch and carry on their cause. No more injustice!
It is too late for us to save the life of Troy Davis, but it is never too late to carry on the work to end inequality, and demand equal application of justice for all. We need to abolish the death penalty, nationally, once and for all time, and end that state-sanctioned system of vengeance that disproportionately sentences the poor and the powerless -- while doing nothing to deter crime -- and we need to do it now. For proponents of fairness, last night's action by the State of Georgia against Troy Anthony Davis ought to prove one thing: silence is never an option.
To see more posts by Stephen, visit our archive.
September 22, 2011 at 07:37 AM in History, Justice, Legal Issues, Minority Issues | Permalink
Comments
Very well stated Stephen.
As long as the United States endorses and allows the death penalty to be caried out we all have innocents' spilt blood on our hands.
For some to deny that there are innocent people who have been executed by our legal system exposes their blindness ... and the irony that justice is 'not blind.'
It is the saddest of commentaries of a society that we have given up on the human race's capacity to become better, regardless of the infraction.
Posted by: Bruce | Sep 22, 2011 8:49:05 AM
The death penalty corrupts and distorts our culture regarding death. It is a bad idea to regard death as a penalty. We all will die and deserving has nothing to do with it.
Killing should not be a part of our justice system.
Posted by: qofdisks | Sep 22, 2011 1:02:36 PM
Sadly, once I realized that this was to take place in a confederate state, I knew Mr. Davis never stood a chance. I know northern states are also deeply flawed in their treatment of minorities in the criminal justice system, but we are moving to at least end capital punishment in many of them. Strong essay, as usual.
Posted by: thelonius | Sep 22, 2011 3:18:55 PM
There is a legal component to this and a cultural one. In the comments about the death penalty that Rick Perry makes and the cheers that result from Republican audiences, you see at work a deep philosophical strain within Christianity that is not about Jesus. This is really an old strain of European fatalism, sometimes associated with Calvinism.
The entire prison system is predicated on the idea that these people are basically wicked and therefor the only course possible for society is punishment, the harsher the better. Prisons become a school for festering hatreds and better skill sets for criminality instead of real rehabilitation.
This goes hand in hand with the reluctance in state legislatures to fund schools equitably. A lot of voters selfishly will state that they would rather keep money within their district for their children rather then send any of it to poorer areas - even it if means there will be a need to build more prisons.
There is a lot more here than merely whether a death row inmate is subject to life in prison or execution.
Posted by: Stuart Heady | Sep 23, 2011 11:26:32 AM
It is a kind of necromancy to believe that one atrocity can conjugate another.
Posted by: qofdisks | Sep 26, 2011 12:42:15 AM