« Local Flash Mob at State Fair Part of Global Effort to Solve Climate Change | Main | 9/28: Poet Margaret Randall to Read From 'To Change the World: My Years in Cuba' at UNM »
Tuesday, September 27, 2011
New National Report: How Gov. Susana Martinez's Big Business Agenda Endangers New Mexicans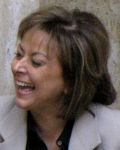 Just the facts! Food & Water Watch, joined by Conservation Voters New Mexico and the New Mexico Federation of Labor, today released a report (pdf) that outlines numerous examples of how Governor Susana Martinez has given special privilege to industries like oil and gas, industrialized dairy, homebuilders and mining -- at the expense of environmental protection and the local economy. The well-documented report also provide useful charts that demonstrate -- in no uncertain terms -- how and why the Martinez administration puts politics and campaign donor wishes ahead of the needs of New Mexicans and protecting our vital natural resources.
Immediately following a press conference that took place in front of the Capitol Roundhouse at 12:30 PM, the groups and other concerned New Mexicans hand-delivered the report to Governor Martinez's office and demanded that she give advocates for small business, working families and the environment a seat at the table that has otherwise been reserved solely for big industry.
"New Mexicans are fed up with Governor Martinez's secret task forces, industry appointments and decisions that do little to address the dire economic and environmental problems we face," said Food & Water Watch New Mexico organizer Eleanor Bravo. "We are here today to remind Governor Martinez that she works for us –- the residents of New Mexico -– and not the big industries that threaten our health, our environment, worker rights, and home-grown small businesses."
As the report says, "From the moment she became New Mexico's governor on January 1, 2011, Susana Martinez has worked overtime to dismantle key protections that the state put in place for the benefit of New Mexicans and the air, water and land they cherish ... Unfortunately, Governor Martinez, who swept into office with the help of campaign donations from oil and gas, mining, mega-dairy and other big industries, has demonstrated little restraint granting the wishes of those who want to see the state's environmental protections rolled back."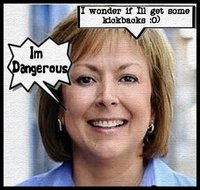 Big money talks -- and Susana Martinez listens. The report notes that oil and gas, industrialized dairy, mining and the construction industries all were big financial supporters of the Martinez gubernatorial campaign. Oil and gas gave more than $1 million to candidate Martinez, homebuilders and general contractors gave $621,000 and the livestock and dairy industry gave $267,900.
The must-read report, Private Profits, Public Threats: How Governor Martinez's Big Business Agenda Endangers New Mexicans (pdf), describes how in her first six months in office, Martinez has rapidly worked to roll back the rules and regulations that protect New Mexico's natural resources, public health and working families. It explains how her "Small Business-Friendly Task Force" does not truly represent small businesses, and how Martinez's big business agenda is particularly harmful to lower income, predominately Hispanic communities in New Mexico.
The report chronicles many examples of how Martinez has ignored the concerns of health and environmental advocates to favor the agendas of the big industries that gave hundreds of thousands of dollars to her gubernatorial campaign. Examples include:
Undermining pollution controls for factory farms
Attempting to abolish the Water Quality Control Commission
Paving over the Pit Rule that protects groundwater from oil and gas drilling waste
Pocket-vetoing local food procurement bill
Firing the State Labor Board
Vetoing unemployment benefits
"Governor Martinez has launched an aggressive attack on the safeguards on which New Mexicans depend to protect the water we drink and the air we breathe," said Sandy Buffett, Executive Director of Conservation Voters New Mexico. "In our view, her systematic dismantling of these safeguards threatens the security of our families and communities."
Bottom Line:
This chronicle of Governor Martinez's words and deeds during her first eight months in office makes her strategy quite clear -– she's taken campaign cash from big industry, she's appointed those industry players to key posts in state government and now she's cutting the protections that keep New Mexicans and their precious air, water, food and land safe from those industries.
The report and corresponding fact sheets in Spanish and English can be downloaded for free at the Food & Water Watch website.
Food & Water Watch works to ensure the food, water and fish we consume is safe, accessible and sustainable. So we can all enjoy and trust in what we eat and drink, we help people take charge of where their food comes from, keep clean, affordable, public tap water flowing freely to our homes, protect the environmental quality of oceans, force government to do its job protecting citizens, and educate about the importance of keeping shared resources under public control. See www.foodandwaterwatch.org.
September 27, 2011 at 11:44 PM in Energy, Environment, Food and Drink, Labor, NM Legislature 2011, Regulation, Susana Martinez, Water Issues | Permalink
Comments