« New National Report: How Gov. Susana Martinez's Big Business Agenda Endangers New Mexicans | Main | Steve Klinger Guest Blog: New Independent Newspaper 'The Light of New Mexico' Seeks to Illuminate Inconvenient Truths »
Wednesday, September 28, 2011
9/28: Poet Margaret Randall to Read From 'To Change the World: My Years in Cuba' at UNM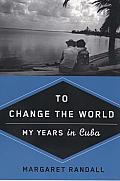 From Event Posting on Facebook:
The Latin American and Iberian Institute (LAII), Zimmerman Library, Women's Resource Center, Peace Studies and the Queer Straight Alliance of the University of New Mexico proudly present an evening with Margaret Randall, an internationally revered poet, author, activist and a local Albuquerque resident. The event will take place on Wednesday, September 28, from 6:00 to 8:00 PM at the Willard Reading Room at UNM's Zimmerman Library.
Randall will read from TO CHANGE THE WORLD: MY YEARS IN CUBA (Rutgers University Press, 2009), which is part memoir, and part political analysis of eleven years in Cuba (1969-1980).
Commenting on the book, the author had this to say: "The revolution was ten years old when my family and I arrived. It was going into its third decade when we left. In the interim, my four children went through daycare, grade school, high school, and two of them graduated from university. I worked as a writer, editor and cultural journalist. I produced several books, most of them on women in the revolution. I learned photography, participated in the unions and mass organizations, and joined the Cuban people in writing new law." TO CHANGE THE WORLD is an in-depth look at one of the most important and controversial social experiments in the second half of the 20th century, from one who experienced it from the inside.
Margaret Randall will be reading fragments from the book, entertaining questions and signing copies of TO CHANGE THE WORLD. This event is FREE and open to the public. Please spread the word.
September 28, 2011 at 09:26 AM in Books, Events, Poetry/Spoken Word | Permalink
Comments