« ABQ City Council Calls for DOJ Investigation of APD for Possible Civil Rights Violations | Main | Lora Lucero Guest Blog: Gaza is the Largest Open-Air Prison in the World »
Wednesday, August 03, 2011
Stephanie DuBois Guest Blog: Many Concerns About Today's Dem Party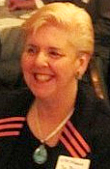 This is a guest blog by Stephanie L. DuBois of Tularosa, who is a life-long Democrat who recently ran for New Mexico Public Regulation Commissioner.
I am a 65-year-old Democrat and activist and have been for many years. I am presently the CD2 vice-chair for the State Democratic Party, my 5th term. I am a dog groomer and trainer. I am a certified mediator for Magistrate Court,volunteer. I have run for various offices unsuccessfully, but at least I made sure a Democrat was running. I am an American, a patriot and the daughter of a Pearl Harbor survivor.
I moved to Deming, New Mexico in 1978. I now live in Tularosa and have for 21 years. I had always been involved in politics in one way or another in my native state of New York -- not New York City but Long Island -- specifically, a town called Miller Place, three miles east of Port Jefferson where the ferry went to Bridgeport, Connecticut.
My parents and grandparents were Democrats and, at age 21, I registered as a Democrat as well. I have been a registered Democrat ever since. I have voted in any and all elections where I was eligible to vote -- school, county, city, etc. I have now lived in New Mexico for 33 years.
Ladies and gentlemen I don't know about you, but I am very concerned about our state and our state politics and the direction we are headed.
My county of Otero was pretty much Democratic when I moved here in 1990. Within what seemed to be overnight, we became and still are totally Republican and we now have the unsolicited voice of the bogus "tea party." To be fair, I do like the fact that they question their elected officials. They even go so far to give them ultimatums to make sure they carry out the tea party agenda. When the tea party demonstrates, they make sure to wear or carry a firearm to punctuate their position.
I have many concerns regarding voting, redistricting and the protection and security of our public records -- which should be just that, public. We, as Democrats (and I am talking about real Democrats -- not those who use the Democratic Party for their own personal gain but then embrace Republican philosophies and values), should be watching out for the good of our Party. I think our Party -- the Party of Roosevelt, Kennedy and Clinton -- has been infiltrated by moles, Republicans pretending to be Democrats who undermine our Party from within. Are there any real Democrats who will defend our values, civil rights, Social Security, Medicare, etc. out there now?
A couple of things are happening that really scare me -- and I don't scare easily.
Senator Rod Adair: Conflict of Interest
One is the acceptance by Democrats of a situation that allows a state senator to form a consulting company that bids on county contracts to draw their county lines as part of redistricting. He has received, just from two counties that I know of to date, $34,000. However, no one feels this is a conflict of interest.
Senator Rod Adair (R-Roswell), the senator in question, has also garnered contracts from at least two other counties that I know of. When questions about a possible conflict of interest were raised, the answer I saw was, it is a citizen legislature there are bound to be conflicts of interest because the legislators all have jobs outside of their elected positions. That quote was from Secretary of State Dianna Duran, who was a state senator working in the Otero County clerk's office for many years.
Dianna Duran: Answer These Questions
Now today, as Secretary of State, Duran has the power to turn 64,000 voter files over to the State Police to investigate possible voter fraud. She has by-passed the county clerks' offices as the most obvious place to check voter records and not cost tax payers any additional monies. The Democrats have not questioned the impact this will have on us the taxpayers and citizens of New Mexico.
Questions that should be asked include: Are these documents protected? Are they secure? Is your or my name among those documents under investigation? I think we, the people, have a right to know. The only information on a voter card that is not for public knowledge is the person's birth date and phone number. Everything else is public.
Dems Need to Speak Out Publicly
The office of Secretary of State is very powerful, as we found out in the selection of George W. Bush in the Bush/Gore election in Florida. Katherine Harris had a great deal of influence over that election and the eventual outcome with Bush being selected. We don't ever want this Secretary of State to have that kind of influential power.
In states across the country where governors are Republican and Republicans control the secretary of state offices, there is a movement to make sure that minorities and  Democrats generally have a much more difficult time voting. In these states they are instituting things like shortening the time you can register to vote and requiring picture ID. Some of these over-the-top requirements are akin to the old Jim Crow laws that were in effect requiring a poll tax for African Americans who wanted to vote.
We, as Democrats in New Mexico, need to stand together and speak out strongly to make sure that this Secretary of State is not going to run over our elections and make rules that will keep even one person from being able to vote. We can't do that by remaining silent.
I think we need press conferences letting the public know that the Democratic Party is not going to stand quietly by while Republicans and "tea baggers" take our rights away from us -- rights that our fathers and grandfathers thought they were fighting for. I think we should demonstrate in front of the Secretary of State's office and the Governor's office and let them know in no uncertain terms we are not going to stand for them messing with our voting rights.
We are Americans. We are patriots. We won't be silenced!
This is a guest blog by Stephanie L. DuBois. If you'd like to submit a piece for consideration as a guest blog, contact me by clicking on the Email Me link at the upper left-hand corner of the page.
August 3, 2011 at 11:20 AM in Democratic Party, Dianna Duran, Election Reform & Voting, Guest Blogger, NM Legislature 2011, NM Secretary of State, Otero County, Redistricting, Right Wing | Permalink
Comments
Check this out.
http://www.dailykos.com/story/2011/08/02/1002388/-Conservative-group-admits-to-sending-Wisconsin-voters-absentee-ballots-with-late-filing-dates?showAll=yes&via=blog_1
Yesterday it was revealed that conservative group Americans for Prosperity was sending Democratic voters in the Wisconsin recall elections absentee ballots with incorrect submission deadlines. While the recalls elections against Republican state senators are on Aug. 9, the mailings told Democratic voters in those six districts they could return their absentee ballots as late as Aug. 11.
and,
AFP-Wisconsin is directly addressing this mistake by sending out a call to each and every individual on the mailing list to clarify the date of the elections.
Phew. However, I hope they aren't referring to these calls that the Wisconsin Government Accountability Board is warning about:
Elections Division Administrator Nathaniel E. Robinson said the G.A.B has also received reports that some automated telephone calls and telephone polls in recent days have contained incorrect election dates.
Posted by: qofdisks | Aug 3, 2011 12:29:20 PM
Thank you Stephanie DuBois. We need more of this.
My involvement in politics in Texas taught me that the right wing is nothing to take for granted. Texas went from a solid Democratic state where no one thought Republicans would ever get very far, to a total reversal in only a few years. This happened around 1990.
One component was a completely complacent Democratic Party.
I don't blame the leaders, really. I have looked around at the precinct, county and state conventions I have attended over the years in several states and the same observations can be made across the board.
We have to ask, "how does any of us know what we know about policies and issues and candidates and how to make judgements?"
We have to ask how it is that through the years and decades, we consistently wind up with grey after mixing the colors of the rainbow together.
I think this debt ceiling debacle shows that there should not be any taboos on questioning the deeper dynamics of how we end up in a position to be concerned about the results time and time again.
A lot of people are now upset with the corporate media and with the power of big money. That is a good thing. But we should not forget that it is the voters in primaries and caucuses and in general elections that darken in the ovals.
Our much vaunted communications systems seem to actually prevent the dialogue we really need.
I think the first step in overcoming that is to avail ourselves of opportunities such as this blog.
So again, thanks Stephanie.

Posted by: Stuart Heady | Aug 3, 2011 12:45:54 PM
"...it is a citizen legislature there are bound to be conflicts of interest..."
Have we had enuf yet?
Posted by: Terry Schleder | Aug 3, 2011 2:54:40 PM