« Martin Chavez Facebook Status: I Quit My Job at ICLEI to Run for NM-01 Seat | Main | NM-01 Candidate Eric Griego: It's Time to Invoke the 14th Amendment »
Friday, July 29, 2011
Photo of the Day: Sen. Tom Udall Meets With Dalai Lama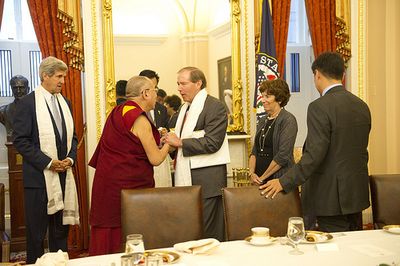 Click image for larger version
U.S. Senator Tom Udall (D-NM) a member of the Senate Committee on Foreign Relations, met with the Dalai Lama on his recent visit to Washington. While in DC, the Dalai Lama also met with President Obama at the White House and marked his 76th birthday with an 11-day Buddhist ritual, the 2011 Kalachakra for World Peace.
July 29, 2011 at 02:28 PM in Peace, Religion, Sen. Tom Udall | Permalink
Comments
Lovely! But as the Dalia Lama is no longer the political leader of his people, not exactly a bold move. Ever talked with Sen. Udall about his policy on Palestinians and the Gaza strip? He's so AIPAC it's embarrassing.
Posted by: Rosie | Jul 29, 2011 8:30:57 PM
And these two issues are related how? If you want bold, why don't you sign your real name and cite some documentation for what you say?
Posted by: M. Montoya | Jul 29, 2011 9:10:20 PM
The Dalia Lama can retire in Socorro. i would love to see him at the coffee shop in the old farts club.
I love him. He loves me. He is the emulation of Christ on earth and he will always be a leader.
I am amazed and grateful that he is still working. What a blessing for Udall and all of NM.
Posted by: qofdisks | Jul 30, 2011 3:31:51 PM