« 7/19: Medicare's Last Birthday Party March and Protest in Albuquerque | Main | Sterling Fluharty: Redistricting or Revolution in Albuquerque? »
Tuesday, July 19, 2011
Albuquerque Rebuild American Dream Gathering Ranked Top Priorities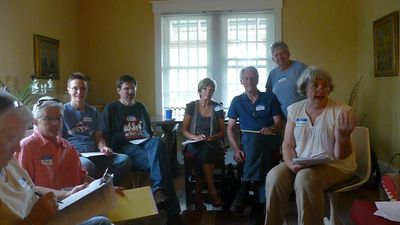 This is a report on one of many Albuquerque gatherings held in connection with the Rebuild the American Dream movement. It's written by Marianne Dickinson, one of the participants. About 1600 of these house parties were held nationwide over the weekend.
Last weekend Rebuild the American Dream house parties popped up all over Albuquerque which, judging from the participants at our event, were largely motivated by Van Jones' recent speeches (like this one). Jones inspired our home host Lora Lucero to take on the daunting meeting agenda because of his positive and ambitious message.
Our house party had twelve participants, most of us never having previously met each other, although our connections in the community are vast and diverse. Our group members are active in political, environmental, economic, voting integrity, human rights and church organizations. Networking to spread the Rebuild the Dream actions should be no problem for this group.
After introductions we launched right into sharing personal stories about the impact the current economy has had on us, or on someone we know. While some of our participants haven't been directly affected by the downturn, everyone could think of others who have been. Threatened or existing cuts to Social Security, Medicare and Medicaid affect how would-be retirees survive rising costs of living and healthcare and those in need who will fall into desperate straits without an adequate safety net. Some mentioned the benefits that veterans once had that helped them obtain higher education and realize the American Dream, education that is now slipping out of reach of veterans and other young people.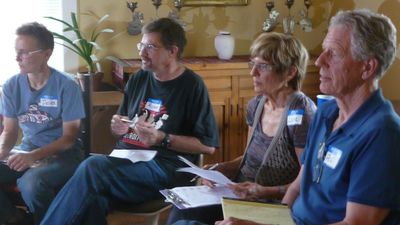 In our rating the 40 ideas in our agenda packets -- whittled down from the 23,000+ ideas submitted online -- our group had a clear consensus on our top priorities. We strongly supported the elimination of "corporate personhood," investing in public education, keeping Social Security solvent, moving to a green energy future and, leading the list, (combined) ending the wars, cutting the military budget and investing in peace-building. Paul Stokes, who spent much of his career in peace-building, also suggested we add arms reduction to the effort.
For all of us, the American Dream has to be recast and reaffirmed to move from an ultimately destructive and anti-social paradigm to a life-affirming one that provides opportunity for all without the destruction of our planet. Our group decided it would start with a coordinated letter-writing campaign and stay in touch to participate in future steps that are to be yet to be announced. Our elected officials and candidates are sure to hear from us.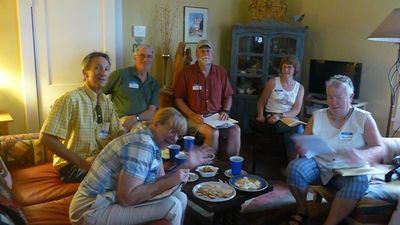 Photos by Laura Lucero.
Also see a recent post about a similar gathering in Southern New Mexico.
July 19, 2011 at 08:14 AM in Economy, Populism, Events, Guest Blogger, Rebuild the Dream | Permalink
Comments
Sounds a lot like our platform.
Posted by: Nancy Denker | Jul 19, 2011 9:02:43 AM
I hosted one of these meetings as well. Our group detoured from the building of a contract to a plan of action. We recognize that things are desperate at this time and we must act. We want to coordinate with the other 11 groups that met in Albuquerque and begin an action campaign. We plan to double our numbers just by inviting our friends, of the consolidated group, and hold meetings with our delegation during the August recess. We then plan on marching in the State Fair Parade, all in matching t-shirts. Half of us will carry signs with our issues called out and the other half will pass out invitations to everybody that we can reach along the parade route. From this point we need to show up at any public event that we can with as many of us as can attend and sign people up to join. We should be in great shape to hold a press conference / demonstration during the Legislature. All of this in support of the issues listed in the worksheets provided for last weekend's meetings. As Nancy said, this list of issues is consistently in line with the platform of the Democratic Party of New Mexico. We then need to go door to door presenting our platform, Rebuild the Dream, and mentioning any candidate who supports our issue.
This will bring this campaign to an issue based campaign rather than a personal attack campaign.
Terry Riley
Posted by: Terry Riley | Jul 19, 2011 3:29:04 PM