« Congressman Luján Highlights SBA Loan Program to Help Businesses Impacted By Natural Gas Outage | Main | Stephen Jones: Carry on the Fight for Voting Rights »
Wednesday, June 15, 2011
Taos Pueblo Endorses Martin Heinrich for Senate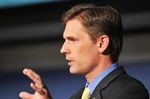 The Martin Heinrich for Senate campaign today announced the endorsement of the Taos Pueblo Tribal Council. Taos Pueblo is the first pueblo to endorse in the open seat race for New Mexico's next United States senator.
"It is an honor to have the backing of a pueblo so fundamental to New Mexico's past, present and future," Heinrich said. "Too many people in Washington don't understand the unique issues of New Mexico's pueblo communities and tribes. That's why I have made it a priority to foster sensible government-to-government relations so that federal policy meets the needs of communities in New Mexico. I'll continue that work in the United States Senate."
"Martin Heinrich has proven he is an effective advocate on tribal issues," said Taos Pueblo Governor Nelson J. Cordova. "The Tribal Council truly appreciates Martin's support for the Taos Pueblo water settlement, as well as his leadership introducing the HEARTH Act and passing the Indian Health Care Improvement Act. We know Martin understands the unique concerns of our pueblo and Indian people because he works side-by-side with our communities."
Representative Heinrich introduced the Helping Expedite and Advance Responsible Tribal Homeownership Act, or the HEARTH Act, in May 2009 to remove barriers between Native American families and homeownership. In September 2009, Heinrich helped lead the effort in the U.S. House to reauthorize the Indian Health Care Improvement Act (IHCIA), and was successful in securing key language in the House version of the health insurance reform bill to modernize Indian health care.
Heinrich's campaign for the United States Senate notes that he has received strong and early support from a variety of organizations such as labor unions, environmental organizations and advocates for senior citizens.
June 15, 2011 at 04:35 PM in 2012 NM Senate Race, Native Americans, Rep. Martin Heinrich (NM-01), Taos | Permalink
Comments
This is a big deal. Northern NM too.
Posted by: Walt | Jun 15, 2011 10:25:29 PM