« New Mexico Land Grant Consejo Members Endorse Hector Balderas for Senate | Main | Media Literacy Project Opposes AT&T and T-Mobile Merger »
Thursday, June 23, 2011
Progressive Change Endorsement of Eric Griego for Congress in NM-01 Generating Lots of Bucks, National Attention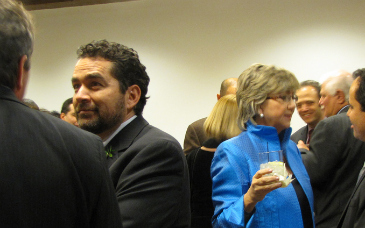 Potential primary rivals in CD1: Eric Griego and Diane Denish
On the heels of today's announcement by the Progressive Change Campaign Committee (PCCC) of its first endorsement of the 2012 election cycle -- for Eric Griego's campaign for Congress in New Mexico's First Congressional District -- the powerful national organization is reporting the effort raised more than $10,000 for Eric in fewer than six hours, with an average donation of $13. Not bad for starters. Have you made your $3 (or more) donation yet?
The Griego endorsement is also garnering a bunch of early national and regional media attention based on this morning's email to PCCC members:
All of this should help Griego's campaign immensely and, if we're lucky, discourage Blue Dog Dems like former Albuquerque Mayor Martin Chavez and former Lt. Gov. (and gubernatorial candidate) Diane Denish from entering the NM-01 primary race. As Griego says in his announcement video, "The last thing we need to send to Washington is a Democrat who is a kinder, gentler version of the Republicans." That's why PCCC is stepping into the fray early, to give Griego a solid head start in the fundraising department. It truly is up to us if we want a strong, progressive Dem candidate in NM-01.
The Power of PCCC
PCCC has been an increasingly active and influential player on the progressive scene nationally, having, for instance, been selected by The Nation's readers as purveyors of the Most Valuable Online Activism:
"We're trying to teach Democrats how to fight," says Adam Green, co-founder (with Stephanie Taylor) of the Progressive Change Campaign Committee, which a year after its founding has shaken the Democratic establishment with unblinking demands that President Obama and Congressional leaders stand on principle rather than compromise. That's earned PCCC and its allies condemnation from White House press secretary Robert Gibbs (who gripes about the "professional left") and an expletive-laden dismissal from former chief of staff Rahm Emanuel. But on issue after issue—healthcare, banking, the Obama/GOP tax-cut deal—the group has pushed Democrats to throw punches rather than throw in the towel.

Bridging the enthusiasm gap, PCCC signed up 650,000 "bold progressives" on its e-mail list and backed its campaigning with TV ads. As with Progressive Democrats of America, PCCC's independence is its strength. At a time when it's clear what Republicans stand for, PCCC holds that Democrats can excite their base and win only if they are equally clear—and uncompromising on core values.
Tuesday, an article on POLITICO exclaimed that PCCC is "loaded for battle" and noted the organization's growing influence and fundraising clout:
The maverick Progressive Change Campaign Committee spent $3 million in 2010 on campaigns – and plans to raise a hefty $3 million to $5 million from small donors to battle for liberal causes and candidates in 2012, according to officials with the group.

PCCC has shown an independent streak, fighting against some candidates, including former Sen. Blanche Lincoln (D-Ark.), backed by President Obama's political team. Recently the group has been pressing the White House to appoint Elizabeth Warren as permanent head of the federal Consumer Financial Protection Bureau – and it has a stated goal of "pushing President Obama and Democrats to fight harder against the Republicans."
Both PCCC and Eric Griego are cognizant of the power of progressives joining together in large numbers to contribute small donations -- which can equal or even surpass the sums generated by status-quo big donors:
The organization, which unsuccessfully pressured the White House to embrace the public option for health care, mimicked Obama's own 2008 strategy of focusing on small donors; the $3 million raised in the last cycle – along with an additional million raised so far for next year – came from 190,000 donors, each chipping in an average of $15. Most of the money was raised through ActBlue, an online fundraising conduit for Democratic groups.
Photo by M.E. Broderick.
June 23, 2011 at 03:28 PM in Eric Griego, NM-01 Congressional Race 2012, Progressivism | Permalink
Comments
Progressives and all Democrats who care about working class issues and want to fight against the grasp of corporations and their buying of government need to unite behind Eric Griego for Congress. Having the awful Marty Chavez as a candidate would be suicide and I don't see how he would get any support at all in the Party in a primary.
Diane Denish as a candidate would be even worse in some ways. Diane is a nice person who cares about people but she was dragged over the coals by the media and the GOP and sat there without responding forcefully. Her campaign was terrible and it shows that she has little political savvy in letting it go on and on in the same rut long after everyone else saw it as a failure.
Her siding with Martinez on the drilling issues was disappointing to say the least. Her weak public position on same-sex marriage was expedient. She had her chance and she blew it. Now its somebody else's turn-Griego's.
Posted by: Observer | Jun 24, 2011 10:25:22 AM
Didn't you endorse Marty Chavez in 2009?
"All of this should help Griego's campaign immensely and, if we're lucky, discourage Blue Dog Dems like former Albuquerque Mayor Martin Chavez and former Lt. Gov. (and gubernatorial candidate) Diane Denish from entering the NM-01 primary race."
Posted by: History | Jun 24, 2011 11:19:25 AM
History: Yes we did, because of the circumstances of the nonpartisan, 3-way race and to try and prevent a victory by the R candidate - who ultimately won. Every race is different.
Posted by: barb | Jun 24, 2011 12:15:02 PM
Marty Chavez moved away to DC after he lost his race. Diane Denish lost her race badly. She even lost in Bernalillo County, where Heinrich won. Both of them should face facts and stay in private life now.
Posted by: CD1 | Jun 24, 2011 12:31:46 PM
Congrats to State Sen Griego! Another strong, progressive voice for our district.
Posted by: RA | Jun 24, 2011 3:02:51 PM
I am IN for Griego.
Posted by: bg | Jun 25, 2011 9:40:47 PM