« PPP Poll: Obama's NM Approval at 50%, "Dark Horse" Gary Johnson Fares Best Among GOP Possibles | Main | How to Help ABQ Roadrunner Food Bank Respond to Fire with Santa Fe Food Depot »
Thursday, June 30, 2011
NM Senate Majority Whip Mary Jane Garcia to Receive National NEA Civil Rights Award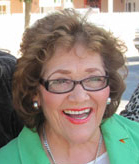 Mary Jane Garcia (D-Dona Ana), Senate Majority Whip of the New Mexico Senate, has been selected to receive the 2011 National Education Association (NEA) Reg Weaver Human and Civil Rights Award. Senator Garcia will receive the national award at the NEA annual meeting that is being held in Chicago on June 30—July 5. NEA will present the Reg Weaver Award to Senator Garcia at the Human and Civil Rights Award dinner on Friday, July 1, 2011 at 6:30 PM. Congratulations Senator Garcia!
Upon receiving notice that she had been selected, Senator Garcia said, "Of the many awards I have received in my tenure serving in the state Senate of New Mexico, this is probably the most prestigious and significant." Senator Garcia added, "I will continue to fight for the dignity and respect of the disadvantaged and I will always work to ensure that their civil and human rights are protected."
As most of us know, Senator Garcia's priorities during her elected service have always been related to poverty, children and human rights. Her legislative successes include creating the Act of Human Trafficking in 2008; Life Sentences for Deadly Child Abuse in 2005, which increased penalties for child abuse; the Hate Crimes Act of 2003; the Subdivision Reform Act of 1995, which instituted requirements for colonias in New Mexico; Megan's Law, which created a sex offender registry in 1995; and the Family Violence Act of 1993.
The Reg Weaver Human and Civil Rights Award is a prestigious national award, and nominees are evaluated on the merits of educating the public on issues related to the impact of poverty on children; working actively to promote economic opportunities for all people; inspiring public engagement in the elimination of poverty; promoting public policy that positively affects the economic health and welfare of families; and working in partnership with other agencies/groups to give a voice to those marginalized by poverty.
Photo by Stephen Jones.
June 30, 2011 at 11:00 AM in Children and Families, Civil Liberties, Education, NM Legislature 2011, Poverty | Permalink
Comments
Senator Garcia has always been a champion for children, battered women and abused animals. Most of her legislation is always about people. She understands human frailty and the need for someone like her to be a voice for those that are sometimes not heard. Senator Garcia is a very worthy recipient.
Mary Jane has been and is a very effective legislator and most of all someone that I consider my friend. Congratulations Senator you deserve it.
Posted by: Stephanie DuBois | Jun 30, 2011 9:35:20 PM