« Four More Labor Unions Endorse Martin Heinrich for U.S. Senate | Main | Progressive Change Campaign Endorses First 2012 Candidate: Eric Griego for Congress in NM-01 »
Wednesday, June 22, 2011
NM Congressional Delegation Responds to Obama's Speech on Afghanistan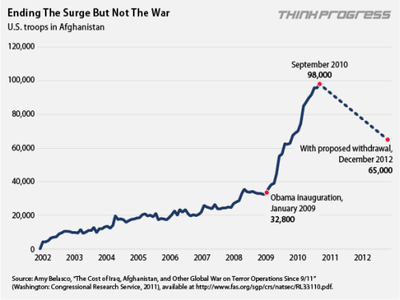 Click image for larger version
In a prime-time, 12-minute, televised speech (see transcript and video) to the nation tonight, President Obama outlined a plan for beginning troop withdrawals from Afghanistan. The President said he intends to withdraw 10,000 troops from Afghanistan by the end of this year, and that the remaining 20,000 troops from the 2009 "surge" would leave by next summer. This would amount to a reduction of about one-third of the 100,000 U.S. troops now in Afghanistan. Obama also said the troop reductions would continue "at a steady pace," bringing to an end America's longest war.
The conflict has so far resulted in the loss of 1,500 American lives, as well as countless others, and the cost to U.S. taxpayers has been astronomical.
Obama also said that, "Over the last decade, we have spent a trillion dollars on war at a time of rising debt and hard economic times. Now, we must invest in America's greatest resource: our people." It's about time he is at least saying these words.
Here's a sampling of opinions of politicos on the speech. So far, members of New Mexico's congressional delegation responded this way:
U.S. Senator Tom Udall (D-NM), a member of the Senate Foreign Relations Committee: "I commend President Obama for sticking to the July 2011 timeline he outlined in 2009 to begin transitioning security responsibility to the Afghans. Our military, intelligence and diplomatic corps have made tremendous strides in the effort to eradicate al Qaeda and prevent Taliban safe havens in Afghanistan, culminating with the killing of Osama bin Laden. 
 "In the face of urgent needs at home, American families continue to sacrifice precious lives and $10 billion a month in Afghanistan. Our nation's longest war has evolved into a prolonged counterinsurgency operation, combined with an attempt to install civic institutions and a central government into a tribal society that has never had any. While the president is making good on a promise to begin the transition of combat troops, I would urge him to institute a 12 to 18 month flexible timeline for the Afghans to take control of their own security.
It should be noted that Senators Tom Udall and Jeff Bingaman joined a group of 24 members of the Senate who sent a letter to Obama last week urging an end to US military involvement in Afghanistan, arguing that the primary objectives of "destroying al-Qaida's safe haven and removing the Taliban government" have been accomplished. "The costs of prolonging the war far outweigh the benefits. It is time for the United States to shift course in Afghanistan," the letter said.
Representative Martin Heinrich (NM-01): "I commend the President for honoring our men and women in uniform and acknowledging their bravery and sacrifice over the last decade. A nation at war comes at a great cost to its people. "While I'm encouraged that President Obama is keeping his word to bring our troops home, I believe the time is right for a more accelerated drawdown. We must have a fundamental change in mission in Afghanistan focused on counter terrorism just like what we saw work with the capture and killing of Osama bin Laden."
Rep. Heinrich sent a letter to President Obama this past April expressed his "strong support" for starting the drawdown of American military forces in July 2011 ... challenges remain that no amount of American blood or treasure will completely solve. Indeed, we must be realistic about what is achievable and what is not." Heinrich added, "I also request that the reduction of forces not be limited to support forces such as logistics specialists but also include combat troops."
Congressman Ben Ray Lujan (NM-03): "With the death of Osama bin Laden and the weakening of al Qaeda in Afghanistan, it is time to prepare to bring our young men and women home and bring an end to a war that is costing our country $10 billion a month. I believe that we need to take more significant steps than the President announced tonight in order to wind down this war and send a clear signal to the people of Afghanistan that the future of their country rests in their own hands. Those who bravely wear the uniform have served heroically in harm's way, making great strides under difficult conditions, and I look forward to welcoming our returning troops home in the coming months."
I will add more responses when I receive them.
Update: State Auditor Hector Balderas, a Democratic primary candidate for U.S. Senate has released this statement:
"I commend our Commander in Chief for his order to withdraw 10,000 U.S. troops this year and another 23,000 by the end of September 2012 from Afghanistan. I'm confident that President Obama and General Petraeus, along with the rest of the national security team, have determined that a reduction in American troops benefits the United States, Afghanistan and the entire region. The President's steadfast commitment to defeating al-Qaeda and ensuring that Afghanistan does not turn back into a safe-haven for terrorists has been critical to keeping our country safe.
While this reduction is a positive step, we must remember that close to 70,000 troops will remain in harm's way in Afghanistan and our commitment to supporting them and our mission must not waver. The sooner all of our troops are out of Afghanistan the better. But it cannot be done at the expense of our country's safety. As President Obama made clear tonight, we still have a tough road ahead. Tonight my thoughts are with our brave men and women in uniform, and their parents, spouses and children."
June 22, 2011 at 07:51 PM in Afghanistan, Military Affairs, Obama Administration, Rep. Ben Ray Lujan (NM-03), Rep. Martin Heinrich (NM-01), Sen. Tom Udall | Permalink
Comments
So, in effect he has declared we will have a timeline of "transition" similar to that of World War II in its entirety. But even then, we will still have troops in both Iraq and Afghanistan, not to mention our involvement in our more covert wars such as Pakistan, Yemen, etc, And most pointedly don't mention the quagmire of our "non war" civil war in Libya.
Translation: Get used to it folks, Obama is the President of never ending war.
Posted by: Art Jaquez | Jun 22, 2011 9:33:18 PM
America now feeds its war corporations with constant wars. We make weapons and planes and that's about it. We also make all the guns used in the Mexican drug trade. God bless America!
Remember when we used to make all kinds of things for ourselves and the world and how that meant jobs for almost everyone? The capitalists didn't like that so now we have slave labor making the worlds things and big shots getting pig salaries and profits at the top.
Posted by: salamander | Jun 23, 2011 8:54:20 AM
Still dragging his feet. This troop reduction is a token and nothing more. Troops out now!
Posted by: Out Now! | Jun 23, 2011 1:09:30 PM
Obama inherited a mess made by Reagan, George HW Bush, and W. And what a mess it is.
Everyone should read Stephen Coll's, "Ghost Wars" and Chalmers Johnson's "Blowback," among other works. It is well documented that the US thought it was quite all right to wind the muslim extremists up, fund them, equip them, give them military training and then set them loose on the Soviets. Then, just drop them. What other skills did these people have except for terrorism? Maybe armed robbery? It should have been foreseeable. Bin Laden, who was one of those people. He was only different in that he had independent means at his disposal.
We have been paying and paying for that mistake and are continuing to pay for it. Everyone should remind Republicans that they messed this up and will go down in history has done so royally.
The lesson should be to be very much more cautious on the way into a war. Entanglements created by situations like this can take decades to disentangle from.
Calling it "Intelligence" is really inappropriate. We need an entirely new 21st century approach to foreign policy. One that really is intelligent.
Posted by: Stuart Heady | Jun 23, 2011 1:30:55 PM
http://www.youtube.com/watch?v=mY5qJHZCz2I
Our taxes at work.
Posted by: qofdisks | Jun 25, 2011 6:54:26 PM