« Dõna Ana County Democrats Partner with Others to Support Las Cruces Sun-News effort to Promote Civic Engagement in Schools | Main | Funeral Arrangements Released for Dem Champion Minnie Gallegos »
Wednesday, June 01, 2011
Chris Cervini to Open Strategies 360 New Mexico Office Today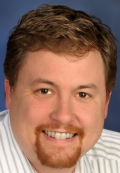 Strategies 360 is expanding its reach to New Mexico with the addition of Chris Cervini, former chief of staff for New Mexico's Lieutenant Governor Diane Denish, according to a press release. As Vice President of New Mexico operations, Chris will open and run the new Albuquerque office for the strategic communications firm headquartered in Seattle.
Chris brings more than 14 years of public relations, media, public policy and private-sector experience to Strategies 360. He has served as chief of staff and communications and policy director for New Mexico's Lieutenant Governor, and spokesman and external communications manager for Lovelace Health System, a division of Ardent Health Services.
"Expanding our presence and services across the Western U.S. will generate tremendous value for our clients. It enables us to create the environment for success across a larger geographic, business and political landscape. New Mexico is a smart move because of the business potential of the state, and the talent of Chris Cervini," said Eric Sorenson, president and co-founder of Strategies 360.
A former journalist at the Albuquerque Tribune, Chris understands both media and politics and has expertise in crisis communications, media relations, message development, government relations and strategic communications.
"We're delighted to have somebody with Chris's background and credentials join our growing family. He's the right person to allow us to serve New Mexico right from the get-go," said Ron Dotzauer, CEO and co-founder of Strategies 360.
S360 noted that Chris has broad experience in policy topics including economic development, budget, education, health care, behavioral health and government reform. He also brings statewide reach with strong contacts throughout New Mexico.
Chris holds a master's degree in political science from The American University in Washington, D.C., and a B.A. from the University of New Mexico in communications and political science.
"I'm very excited Strategies 360 is making a strong investment in New Mexico," Chris Cervini said. "The S360 team, like me, is committed to offering the highest level of service and providing New Mexico clients with an impressive range of offerings. Joining this talented, western-focused team was a no-brainer."
Chris can be reached at: chrisc@strategies360.com or 505-980-6110.
Strategies 360 specializes in creating the environment for client success. The firm started in 2004 in Seattle, and now has a total of nine offices in Alaska, Montana, Oregon, Spokane and Olympia, Wash., Idaho and Washington, D.C. Clients range across dozens of industries, including energy, natural resources, technology, health care, agriculture, land use, manufacturing, education, transportation, nonprofits, and others.
June 1, 2011 at 02:03 PM in Media, Public Policy | Permalink
Comments
great, another democrat turns to the dark side of being a paid mercenary for hire. Can we now look forward to seeing Chris at the Roundhouse fighting those darn climate change rules, or maybe some evil manadate that insurance companies dont screw New Mexicans?
Posted by: Not impressed | Jun 1, 2011 2:11:48 PM
Don't we need people with these skills on our side? We need to counter the candidates and issues of the other side, and sell ours to voters and decision makers.
Posted by: Michelle Meaders | Jun 1, 2011 2:33:22 PM
Those of us who know Chris view this as an extremely positive development for our party. He will not disappoint. He is an excellent choice to work for Strategy 360. Tear 'em a new one, Mr. Cervini!
Posted by: Steve Brockett | Jun 1, 2011 3:38:22 PM
When did DFNM become a blog that provided advertisment for consultants? Hope 360 paid for the Ad space here.
Posted by: DemandTruth | Jun 1, 2011 5:17:23 PM
Many of us know Chris Cervini for his hard work on behalf of Dem candidates and causes, which is why I published this post.
Posted by: barb | Jun 2, 2011 1:10:43 AM