« State Senator Peter Wirth: Pocket Veto Politics | Main | Six More Labor Unions Join Martin Heinrich's Campaign for U.S. Senate »
Monday, May 16, 2011
Can You Help? Special Mother-Daughter Dogs Need Good Home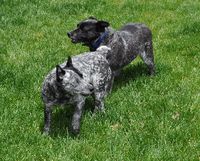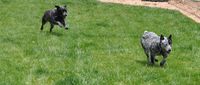 Click photos for larger versions
Amanda Cooper has been working with CARMA of Corrales, an all volunteer animal rescue group,  on finding a loving home for two very special and deserving canines, and is now asking for our help. The two blue heelers -- mama dog (Ema, 4 years old) and her daughter (Sage, 2 years old) -- were picked up, wandering in Corrales. Unbelievably, their former owner purposely abused and blinded Ema -- and now her daughter, Sage, expertly helps guide her mother around. They're a very close-knit duo, and a very loving one to each other and humans alike. But they need a new home badly and soon. By all accounts they would be wonderful companions for any dog lover.
Amanda reports that they do very well together in dealing with the world despite Ema's blindness, and they're so sweet they'll break your heart. The daughter, Sage, is still very timid but very sweet and good. She'll continue to improve with a bit more loving and understanding care.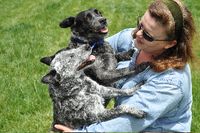 Channel 7 News, KOAT Albuquerque, recently did a story (click to watch the video) on the two dogs, plus the son of Ema. The young male pup has since found a home, but unfortunately Ema and Sage have yet to be fostered or adopted. That's why we're turning to you -- either to adopt the dogs yourself or to help spread the word to people who might be willing to adopt or foster the two sweeties.
If you or someone you know is interested in learning more or adopting the dogs, please contact CARMA of Corrales. Email Barbaracarma@msn.com or call Barbara at 321-6275. Pass it on!
May 16, 2011 at 06:25 PM in Animal Protection | Permalink
Comments