« 4/12: LWVCNM Hosts Talk with Paul Stokes on Voting/Election Issues in the 2011 Legislature | Main | Frustrated Students Call Press Conference in Response to UNM Budget »
Monday, April 11, 2011
Stephen Jones: Harry Truman Had It Right, Harry Teague Didn't
This is a post by contributing writer, Stephen Jones, of Las Cruces.
"Given the choice between a Republican and someone who acts like a Republican, people will vote for the real Republican all the time," President Harry Truman often said.
Faced with the so-called wisdom of the chattering class and the august advice of Washington's political insiders, Truman chose instead to take his own counsel and run his own re-election effort, his way. In the process, as we all should know, Truman transformed his often forecast loss into a solid victory, going away. In doing so, he overcame two fractious third-party efforts by former Democrats and recaptured both houses of Congress to boot.
A day after his historic election, from the rear of a train platform at St. Louis Union Station, Truman held aloft the famously overconfident journalistic faux pas of the Chicago Tribune, whose headline read, "Dewey Defeats Truman."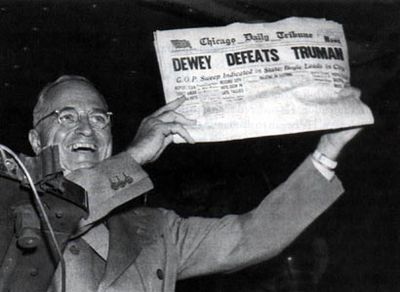 Harry Truman, as was most often the case, got it right. If Democrats expect to win they need to run on honest principles, get a backbone and stand for something. We need not look too far afield to see that Harry Truman's plainspoken wisdom still holds as true today as it did in 1948. Faced with difficult re-election efforts, two of New Mexico's freshmen Congressmen banked on totally opposite strategies, both in their voting records in Congress, and in their re-election efforts in 2010.
In New Mexico's 1st Congressional District, Martin Heinrich established a progressive voting record in Congress and ran forthrightly on that record in his re-election campaign. In New Mexico's 2nd Congressional District Harry Teague frequently ran away from the tough votes, or failed to support or deliver on many of the key national and local issues that he was first elected on, and which his constituency expected of him. Instead, he expended much of his energy and political capital trying to placate conservative voters in his southern New Mexico district that never had any intention of backing him for re-election and who were always destined to be far beyond his reach.
In his 2010 re-election efforts, Heinrich fielded an enthusiastic and energized base of supporters and won with over 52% of the vote in a district whose boundaries were drawn for his Republican predecessor. Teague, in contrast, ran campaign commercials running away from the Democratic Party and took an arms-length approach to the progressive base of voters in his district. Teague lost, and most importantly he lost badly, not at the hands of progressive critics, but by the votes of the very constituencies on which he had expended all his energy.
In his 2008 election, Harry Teague captured 50% of the vote in his home base, Lea County in far southeast New Mexico (see chart). In 2010, Harry Teague only garnered a devastating 21% of the vote in his home base (see chart). The same happened in Chaves and Eddy Counties.
In Doña Ana County, the largest county in the district, Teague captured 60% of the electorate in 2008 and held onto a solid 57% of the vote in his 2010 re-election effort. Harry Teague rolled up an even more impressive victory in Grant County, where he took 61% of the votes cast. In 2010, Teague won Luna and Hidalgo Counties as well.
Given the high registration numbers in Doña Ana County and the low voter turnout in Lea, Chaves and Eddy counties, Harry Teague might have won if he had been a little more progressive in the votes he cast in Congress, and if he had run another kind of campaign. Instead, he tried to play it safe. In the end, the majority of voters in the 2nd District just weren't all that happy with Harry Teague, and what had been a promising start to a Congressional career ended after only one term.
Hindsight is 20/20, of course, but last year's election should be instructive to Democrats everywhere, from the President on down the line, both inside and outside the power centers of the Washington, D.C. "beltway" and in Santa Fe. As Harry Truman told us back in 1948, when Democrats keep to their principles and stand for something, we win. When we don't, we lose.
To see more posts by Stephen, visit our archive.
April 11, 2011 at 11:49 AM in By Stephen Jones, Contributing Writer, Democratic Party, History, NM-02 Congressional Race 2008, NM-02 Congressional Race 2010, Progressivism, Rep. Harry Teague (NM-02), Rep. Martin Heinrich (NM-01) | Permalink
Comments
I wonder if Teague gets it yet. When he voted against health care reform and for anti choice amendments many predicted he would lose in 2010. I wouldn't be surprised if he is blaming progressive like the president does.
Posted by: Old Dem | Apr 11, 2011 1:14:51 PM
That district has been incredibly precarious for Democrats for years... Because they have always refused to run to the left in order to win the district. Everyone seems to think that district is too conservative to elect a true progressive... The truth is the district has never really been given the opportunity to be excited about a candidate who acts like a Democrat. If Shirley Baca got more votes against an 11 year incumbent in that district, than John Arthur Smith did against an unknown for an open seat, why would we keep trying to act like John Arthur Smith and expect to win the seat?
Posted by: Marshall | Apr 11, 2011 10:38:38 PM
This isn't really fair to Harry. He had a much tougher district than Heinrich AND he was running against the man who had previously held the seat for six years. Heinrich was not running against Heather Wilson, who might have been able to beat him.
Posted by: Ellen Wedum | Apr 11, 2011 10:49:10 PM
I understand that the past Congressman established a strategy and that it was a difficult election to win, and these were, after all, entirely his decisions to make. We live in a representative democracy. However I am pointing out that the district (and beyond the boundaries of the district, the state and the nation) is not as conservative as many would have us believe, and that some of those assumptions, on the part of some, ought to be reconsidered.
Posted by: Stephen Jones | Apr 11, 2011 11:36:53 PM
Spoken like someone who knows little about the diverse thinking in the district you describe. SE New Mexico vacillates between conservative and ultraconservative. This year was especially brutal and the conservative machine (the oil and gas industry) did a masterful job of convincing residents that universal healthcare was bad, immigrants were taking their jobs, and their taxes were going to skyrocket. Harry Teague is not responsible for all of that - and your assessment of him is unfair. If you knew Harry like I know Harry, you would apologize.
Posted by: diane denish | Apr 12, 2011 9:01:10 AM
Unfortunately, Teague also did a good job of "convincing residents that universal healthcare was bad" by voting against it. If nobody ever dares to counter the lies and spin that the right wing pushes, how will we ever convince people we are right? To win an argument and change minds you have to engage in the argument. You can't just pretend you are your opponent.
Diane Denish mentions that the conservative machine succeeded in getting their warped message to the people. Why didn't we get our message out there? I think partly because our candidates refuse to publicly support what they support in private and then pretend they don't. Voters can pick this up.
It was a tough year and the right wing is brutal and dishonest but we have to admit that acting like fake Republicans isn't the way to win against that.
Posted by: Esq. | Apr 12, 2011 9:32:42 AM
I agree that that acting like Republicans will only piss off the Democrats and lose votes for a candidate. I need to point out that Congressman Teague's vote against the healthcare bill matched Congressman Kucinich's vote and reasons AND Congressman Teague explained his vote before Congressman Kucinich did. That lends some liberal credibility to Congressman Teague.
I think that Congressman Teague voted to support his constituients and should not be criticized for that.
Posted by: Terry Riley | Apr 12, 2011 10:01:58 AM
That was his excuse anyway, that it wasn't good enough. He did support the anti-abortion amendment though that I think made people even more mad.
Posted by: Linda | Apr 12, 2011 2:24:59 PM
I hate to say it but Diane Denish's campaign suffered from a similar problem. She must have listened to the outside consultants to come up with the idea that it was a good idea for her to refuse to draw any lines in the sand between her and Martinez on immigration and the pit rule-environment. We see where that got us. I am so sick of being a Democrat who has to vote for candidates who are ashamed in some way of being Democrats.
Posted by: roadrunnertogo | Apr 12, 2011 4:08:41 PM