« Guest Blog: Albuquerque City Council vs. Libraries | Main | 4/22: Rivers and Birds Hosts Eco Film Night on Earth Day in Taos »
Thursday, April 14, 2011
Sen. Tom Udall Welcomes Las Cruces Mayor Pro-Tem to Testify on Transportation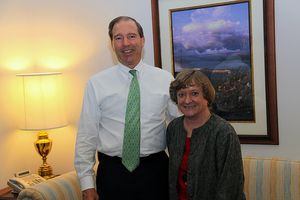 Senator Tom Udall (D-NM) welcomed Las Cruces City Councilor and Mayor Pro-Tem Sharon Thomas to Washington today to testify before his Environment and Public Works Committee on the importance of surface transportation for New Mexico communities. Click here to watch Thomas' testimony.
Udall, a member of the committee, invited Thomas to participate in the panel to ensure that New Mexico priorities are being addressed as the Safe Accountable Flexible Efficient Transportation Equity Act: A Legacy for Users (SAFETEA-LU) bill comes up for re-authorization.
"I felt it was important for the committee to hear from a New Mexican about the importance of this long-term reauthorization, and I applaud Sharon for her powerful testimony," Udall said. "A long-term reauthorization will allow communities to strategically plan for important maintenance and improvements, and determine where critical capacity expansion can occur. I will continue pushing for its passage in the Senate."
Thomas focused her statement on the need for 'livable communities.'
"In New Mexico, too often, transportation planners have torn out our Main Streets for better traffic 'flow' and destroyed our small towns. We want to see transportation planning that takes into account all users of the roadway, as well as the surrounding context for that roadway. As part of the Surface Transportation Authorization, we would like to see financial support for livable communities projects, such as the recent TIGER grants, that can help us build communities that are safer, more livable, and welcoming to everyone," Thomas said in her testimony to the committee.
Thomas is a retired English professor who moved to Las Cruces in 2003. She has been a city councilor since 2007.
April 14, 2011 at 04:06 PM in Las Cruces, Sen. Tom Udall, Transportation | Permalink
Comments