« Rep. Martin Heinrich Urges President Obama to Keep Pledge on Afghanistan Troop Withdrawal | Main | Hector Balderas for Senate Campaign Announces Endorsements by Local Officials »
Thursday, April 28, 2011
Officials Dedicate New $10-million Hospital in Santa Rosa, NM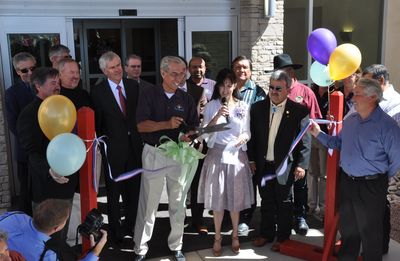 Robert Cordova, Chairman of Guadalupe County Hospital Board of Directors, cuts ribbon to signal opening of new $10-million facility. Looking on to Mr. Cordova's left is U.S. Senator Jeff Bingaman. To Mr. Cordova's right (holding microphone) is Ms. Christina Campos, Administrator of the Guadalupe County Hospital. (Click photo for larger image.)
Earlier today, USDA Rural Development State Director Terry Brunner was joined by U.S. Senator Jeff Bingaman in Santa Rosa to participate in the dedication of the newest hospital in New Mexico.
During the dedication ceremony Brunner stated, "The opening of this ARRA-funded medical facility is a good example how the Obama administration is working to build much needed infrastructure in rural communities across the state." He added, "Providing quality health care in rural communities is a major challenge. We want to make sure that those living in Guadalupe County or traveling along I-40 have access to the same level of care that they would see in a metropolitan area."
The new Guadalupe County hospital replaces the existing 56-year-old, 10-bed acute care hospital with a new 10-bed 21,410 square foot hospital and a 10,000 square foot medical clinic.
The funding for the new hospital was made possible by a $9,400,000 American Recovery and Reinvestment Act (ARRA) loan through USDA Rural Development's Community Facilities loan program. The program provides funds to build essential community facilities and provides fundamental equipment for these facilities in rural areas of population of 20,000 or less.
The new hospital, built on the southwest side of Santa Rosa, is equipped with the most modern up-to-date medical equipment will now be able to provide higher level of medical care to the 5,000 residents of Guadalupe County and the surrounding area..
Over the years traffic along the Interstate has increased, and so has the need for more and better medical services for those travelers on Interstate-40. It is estimated by the State Department of Transportation that more than 30-thousand vehicles travel through Guadalupe County along Interstate-40 each day. The hospital is one of two that provides emergency medical services along the 290 mile stretch of interstate highway between Albuquerque and Amarillo, Texas making it strategically placed along the highway.
USDA Rural Development's mission is to increase economic opportunity and improve the quality of life for rural residents. Rural Development fosters growth in homeownership, finances business development, and supports the creation of critical community and technology infrastructure. Further information on rural programs is available at any local USDA Rural Development office or by visiting USDA Rural Development's web site.
April 28, 2011 at 04:02 PM in Healthcare, Obama Administration, Rural Issues, Sen. Jeff Bingaman | Permalink
Comments
ME & Barbara,
Thanks for the posting. It was a wonderful day and truly just the foundation of better things to come!
Many thanks,
Christina Campos
Posted by: CCampos | May 7, 2011 2:21:50 PM